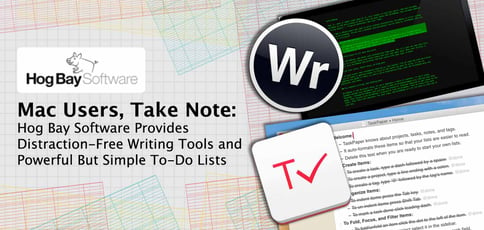 TL; DR: If you're a Mac user looking to increase focus in a circus of digital distractions, Hog Bay Software's productivity tools may be just the ticket. The company's simple, easy-to-use apps include WriteRoom, a distraction-free writing platform; and TaskPaper, a plain text to-do list backed by a robust outliner. With ongoing improvements for both platforms in the works, Hog Bay Software aims to help users drown out the noise to an even greater extent.
The same technology used to boost efficiency may weaken our brains through a flood of distractions. According to 2015 research performed by Glenn Wilson at London University, those who face persistent digital interruptions, such as emails and popups, experience an average IQ loss of 10 points — more than double that of marijuana users.
Those attempting to juggle multiple tasks may also see their productivity go up in smoke. Studies show that chronic multitaskers produce up to 40% less output and make a whopping 50% more errors than their laser-focused counterparts.
Jesse Grosjean, Founder of Hog Bay Software, knows how mentally exhausting it is to toggle back and forth between tasks. His two main applications, WriteRoom and Taskpaper, were created to help users drown out distractions and rediscover the lost art of concentration.
"With WriteRoom, I get a pleasant feeling when I can change up my environment by blanking out multiple background windows and other visuals," Jesse said. "It's a fun way to focus on what I'm actually writing instead of various little distractions — it just feels nice."
Whether you're looking to jot down a to-do list or write a product description, Hog Bay Software provides the tools you need to form a barrier between yourself and the always-on tech world. With ongoing improvements in the development pipeline, the company is committed to crafting technical solutions that are efficient without getting in your way.
The Tools You Need to Quiet the Noise
Jesse named Hog Bay Software after his hometown in Maine, where his mother and father create local pottery and handwoven rugs. The company was officially founded in 2003 after Jesse completed college and spent time working with the Human–Computer Interaction Lab at the University of Maryland, College Park.
During that time, he developed a keen interest in user interface design as well as writing and organization programs. Hog Bay Software's first significant achievement was a comprehensive note-taking app with search and indexing functionality known at Mori. The feature-rich application worked well, but Jesse found himself turning to Mac's stripped-down TextEdit program far more frequently than his own.
"That's when I started to brainstorm simpler, text-only approaches, which led to the development of WriteRoom," Jesse said. "Computers are amazing tools — and a lot of their magic lies in the basic ability to delete a line of text and write a new one. My goal was to create a very simple application that could highlight that basic feature."
From that point on, the minimalist at heart used simplicity as a guiding force for app development. "WriteRoom helps with the simplest of tasks: Throwing text on a screen and blocking everything else out," he said. "It doesn't do too much, and that's intentional."
As such, Jesse said he's been careful not to add unnecessary features that could distract from the program's primary use case. After all, simplicity is where Hog Bay Software's applications shine.
"I wouldn't recommend WriteRoom as something that people use from the time they write their first line until publication," he said. "Instead, it's a way to change your view, create a new perspective, clear your mind — and then you can copy and paste your data into a more complex word processor when you're done."
WriteRoom: A Full-Screen Writing Environment
That said, WriteRoom does boast a carefully curated feature set for working with text, including a live word count; reading time estimates; word, sentence, and paragraph commands; customizable background images and textures; and a variety of typing sounds.
The standard WriteRoom layout provides a minimalist interface with a black background and vivid green text designed to immerse the user in the words on the screen in front of them. If you're in the mood for a different writing environment, WriteRoom's creative user community has created a range of free downloadable themes.
A user with the online identity PixelGrinch, for example, has whipped up a variety of templates, including a natural wood background; grid layouts in a rainbow of colors; and designs inspired by retro computers like the Commodore 64 and Commodore 128.
These templates add a little variety to the program while maintaining the simplicity WriteRoom users know and love. Jesse said he personally uses the software as a motivational boost. "I use it when I need to change things up and get something done," he said. "I don't think users necessarily write a book in WriteRoom, but they turn to it when they're stuck and use it to formulate ideas."
WriteRoom was one of the first distraction-free writing environments to hit the scene. Today, the industry is swimming with competitors, and Jesse said he's looking for new ways to stand out among the masses. "I'm working on upgrading WriteRoom to include a library of files that you can easily switch between," he said.
TaskPaper: Plain Text Lists for the Tech-Minded
Satisfied with the simplicity of WriteRoom, Jesse was inspired to build another tool that like-minded programmers might enjoy. At the time, he said productivity was becoming somewhat of a trend, and readers were snatching books like David Allen's "Getting Things Done" off shelves.
"I thought about it, and the thing programmers like most, other than a notebook program, is a to-do list," he said. "There were lots of those on the market, but I started to notice that it was easier to open a text file in TextEdit and jot down a list rather than software with a busy interface and buttons everywhere."
With that in mind, Jesse designed TaskPaper as the to-do list companion for WriteRoom. He released the simple to-do list for Mac in 2006, and despite various upgrades, the program still retains its original plain text foundation.
"It's much simpler than most programs, but I've added code to make it flexible and scriptable," he said. "Overall, it's a plain text list maker that does everything very simply. With that said, it attracts a geeky programmer type of user because they can hack it."
The program's newest release, TaskPaper 3, includes the core TaskPaper experience plus a number of new editing features. Users can now fold items, hiding the tasks indented under them. Outline level guides now reinforce the underlying structure, indicating where additional elements are hidden. The latest edition also includes a search syntax, CSS-powered themes for styling, and a JavaScript scripting API.
Ongoing Improvements for Both Platforms
Other than creating Bubbles, a sweet little app Jesse devised to keep his young daughter amused on a plane ride, Hog Bay Software has long been focused on improving both WriteRoom and TaskPaper on an ongoing basis.
For now, he's focused on adding a library look-and-feel to both apps that will enable users to better manage multiple files. "Taskpaper has a query language that you can filter your document with, but I want that to work over multiple files," Jesse said. "WriteRoom will have a very fast, text-based search as well as a library."
Jesse's almost two decades of work on these projects is a testament to the software's maturity today, and he has no plans to sit on the sidelines any time soon. "I'll be here, keeping myself entertained," he said.