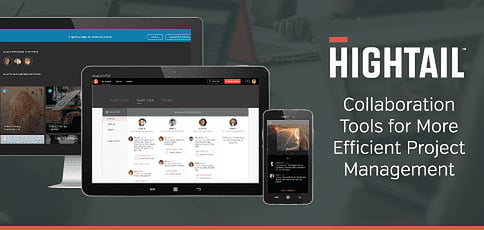 TL; DR: Successful businesses know the importance of collaboration when managing projects from conception through completion, and nowhere is this more apparent than in the creative space. Teams need to effectively communicate throughout a project's lifecycle to ensure the best possible product for stakeholders, and Hightail provides a solution. Hightail's collaboration tools remove the need to rely on clunky communication methods, such as email and FTP, making content review and approval cycles run more efficiently. With real-time commenting and feedback functionalities and a centralized project management dashboard, Hightail unifies the creative process with a visual approach to collaboration.
"If you must blink, do it now," a child's voice intones before the black screen begins flowing with an angry, wind-whipped ocean. Illuminated by the ominous yellow light of a bloated moon, a fishing boat carries a woman plucking a Japanese shamisen, the wind moving her song and vessel precariously through the treacherous swells.
The opening scene of Kubo and the Two Strings is a visually stunning masterpiece of animation, and the award-winning studio behind it, LAIKA, deserved its Oscar nomination for Best Animated Feature Film. Producing a film of Kubo's caliber doesn't come easy — it takes teamwork and seamless collaboration between animators, the director, and other stakeholders to make sure everyone's on the same page. But, as anyone familiar with transmitting large video files can attest, communicating via email and FTP can quickly become clunky and unmanageable.
That's why LAIKA turned to Hightail for a solution. Hightail's collaboration tools were built to make content review and approval cycles happen more efficiently and in real time.
"Whenever content is sent outside of the studio, my department is asked for a Hightail link," said Martin Pelham, LAIKA's Manager of Media Services. "People can now stream videos in Hightail and comment inline so all the feedback is contextual."
Hightail provides an answer to the shortcomings in typical file transfer protocols and email communication. With the convenience of real-time commenting and feedback functionalities, Hightail's tools allow businesses to optimize communication and house project management processes on a single, centralized dashboard.
"In a nutshell, Hightail is a tool designed for a forward-thinking marketing and creative team to help streamline creative collaboration," said Deborah Holstein, Hightail's VP of Marketing.
Purpose-Built Collaboration Technology Born Out of User Demand
Originally founded as YouSendIt in the mid-2000s, the company rebranded as Hightail in 2013 with a mission to move from only helping teams send files to providing a solution for the entire collaborative process.
"Our challenge is not just to deliver the final project, but the entire process of collaborating," Deborah said. "Websites, for example, are not made by any one person. They're made by teams of people working from their own perspectives. It's a nonlinear process — not a conveyer belt. It can feel messy, but the deadline always exists."
Because most creative projects involve input from several minds and incorporate elements from many disparate sources, bringing them all together under one entity is a challenge. Hightail eases the human problem of differing perspectives by allowing centralized and collective input on video files. Contextual commentary makes precise details much easier to explain.
"We knew we had to create an experience that was built for creative collaboration to address these problems," Deborah said. "Businesses were looking to connect teams in real time, and we provided the solution."
Deborah told us teams working in, say, visual creative media were looking for ways to better highlight edits and manage input during the creative review and approval process. For example, statements, such as "modify the shadow behind this character in timestamp 01:23:42," make a lot more sense when tagged onto the actual position in the video rather than conveyed via email. This process eliminates the need to search through the video file manually for both timing and to pinpoint details to the exact pixel.
Unify Creative Development From Idea Conception to Project Completion
Hightail provides advantages over video conferencing or email communication with its unique take on collaboration. Connecting via email or video creates a more passive review process, with creative teams in most cases still required to download files and modify them manually — and at a snail's pace.
"A lot of problems in the creative review and approval process come in because you're writing an email, saying 'find the spot with the shadow here,'" Deborah said. "The sort of precision Hightail provides means less miscommunication and leads to faster feedback and approval."
With Hightail, teams can review the files in real time together no matter where they are. Hightail's business plan comes with unlimited spaces, so teams can share large files, such as high-resolution images, videos, and PDFs, and directly provide feedback on them.
This gives businesses a unique and effective project management solution. Creatives can immediately share their work with stakeholders who can then relay revisions or give the green light using the service's Approval feature. The tool allows users to track version history so past revisions can be referenced and the project's evolution can be reviewed.
Companies, like LAIKA, have found Hightail's centralized management platform beneficial because all project activity and communication are stored in one location. There's no need to hunt down email chains to decipher how a team went from point A to point B. And Hightail is compatible with Dropbox, Google Drive, and OneDrive accounts, making it simple to upload files from the platforms companies are already using.
Competitive Advantages of Talent, Time, and Money Saved with Hightail
Hightail can be used to capitalize on the under-recognized pool of remote workers, giving aspiring animators, presenters, and others the chance to participate in projects for high-profile businesses. The use of remote networking eliminates the need for physical meeting spaces, which leads to faster workflow with less demand on workers.
Deborah told us the old process of collaborating via email can lead to employee burnout because of the stress of not being able to effectively communicate ideas. As a result, companies, especially those in the creative industry, were experiencing high employee turnover rates exceeding 30%.
"The cost is more than just losing a few employees," she said. "People who aren't communicating effectively are unable to give their full creative energy, which translates into less quality output."
The real impact of burnout due to inefficient cooperation methods, according to Deborah, are missed deadlines and large spikes in budgets, which can have lasting impact on business growth and revenue.
LAIKA's first significant use of Hightail for the movie The Boxtrolls outlines the process nicely. The company's creative team wanted to share a part of the movie with voice actor Simon Pegg, but the files were just too large to transfer over email. With a quick share of a Hightail link, Simon was able to review the clip and the team's input on his part. The resulting streamlined collaboration allowed the team to convey what it wanted Simon to accomplish without a clunky and stressful back-and-forth process.
New Plans to Increase Visibility Across Projects for Stakeholders
Without spoiling the finalé of Kubo and the Two Strings, it's safe to say LAIKA's production story had a happy ending. With Hightail's collaborative tools, the LAIKA team was able to more efficiently work together to bring their masterful storytelling and compelling animation to life.
Deborah told us Hightail is constantly evolving its product to better teams' abilities to discuss projects together. One of the big goals is to increase visibility for stakeholders and managers into the projects they're overseeing.
"You can have one view in our dashboard to see everything that's going on," Deborah said. "What we're adding to it is a red, green, and yellow status so stakeholders can get a sense of what's happening across all the different pieces of content their teams are building at a glance."
According to Deborah, 70% of businesses note more and more stakeholders and reviewers are entering into the creative process. And, with Hightail's collaboration solution, they can streamline project management and get to approval faster.