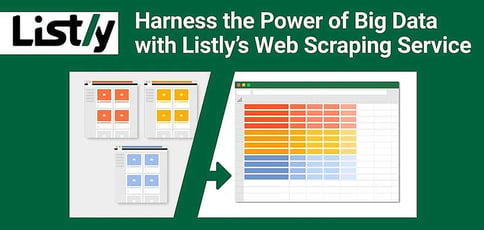 TL; DR: Listly, a powerful web scraping tool, allows users to capture clean and well-organized online data to gain valuable business and research insights. The company's user-friendly Databoard and browser extension make it easy to import data from single and multiple pages into Excel with just one click. With an efficient, South Korea-based team focused on customer satisfaction, Listly is helping clients across the globe unlock the power of big data.
The vast amount of data available online is almost unfathomable. Google, Amazon, Microsoft, and Facebook alone store an estimated 1,200 petabytes of information combined. To put that figure into perspective, consider that it's possible to store humankind's entire catalog of written works (in every language, starting with the beginning of recorded history) in just 50 petabytes.
And there's no end in sight. Internet users create an additional 2.5 quintillion bytes of data daily — a pace that's rapidly accelerating with the growth of the Internet of Things. For businesses and researchers who leverage bulk amounts of data effectively, big data potentially equates to better insight, increased efficiency, and greater competitive advantages.
The challenge is making sense of it. According to Changmin Choi, there are three ways for individuals who lack programming skills to overcome this hurdle: Become a programmer, hire a developer, or use online data exaction software. As Founder of Listly, a robust web scraping tool, Changmin favors the third option.
"Processing data collection is a heavy task that requires repetitive maintenance," he said. "It is time-consuming if you're a developer, and it is expensive to hire someone."
Listly, on the other hand, allows users to capture data quickly and easily based on a freemium pricing model with tiered plans supporting an increasing number of URLs per month. "Our mission was to streamline the way people get their data from various resources," Changmin said.
The automated tool harvests site data, organizes it, and imports it into Excel with one click. The company's user-friendly Databoard and browser extension make it easier than ever to gain valuable business and research insights. With an efficient, customer-centric team based in South Korea, Listly is helping its worldwide client base realize the benefits of big data collection.
Capture Data Quickly and Easily to Gain a Competitive Advantage
Listly is used monthly by more than 15K businesses and individuals worldwide to solve a range of problems.
As many marketing teams know, successful sales campaigns depend largely on quality lead generation. Yet, according to HubSpot, 61% of marketers report that their top challenge is generating traffic and leads. For businesses looking for leads, Changmin said Listly provides an ideal solution. "About 30% of our customers use our service for lead generation," he said.
Online retailers constitute another 30% of the company's client base. "Our eCommerce customers often use the tool to monitor their competitors' product specifications and prices," Changmin said.
Researchers and journalists also turn to the service when building datasets using artificial intelligence and machine learning. Data journalism, a new breed of news writing, requires reporters to leverage vast amounts of online data to shape their stories. To that end, Listly provides a powerful advantage. "We see various cases where people use Listly to build datasets for AI-driven research and data journalism," Changmin said. "Professors and students at Emerson College in Wisconsin even use Listly in their data journalism-related courses."
Changmin told us others use the tool as a way to export internal data within a company, gather feedback for marketing, and monitor SEO results, among other purposes. "We save customers time and money by helping them pull clean data from the web that they can use to fulfill various needs," he said.
Extract and Arrange Data from Thousands of URLs with One Click
With Listly, users can extract data from a single page, multiple pages, and parent-child pages in one click. Single-page extraction proves useful for tasks like archiving all Instagram comments in a post, making a list of all companies mentioned in an article, or creating a spreadsheet of a competitor's products sortable by price.
"Our customers love our one-click conversion function that takes data from a web page to an Excel file with just one click," Changmin said. "For the customer, it feels like magic."
The platform becomes even more fascinating when capturing data from multiple pages — such as the results of a job search on LinkedIn, or a Zillow real estate search where one inquiry produces numerous results. It also enables users to capture data from hierarchical parent-child pages.
"Most data extraction tools on the web have issues capturing the data when the content of each page is different from one another," the company stated in a guide published on Medium. "Building a tool that takes into account these different cases would be extremely tedious. Your main work should be data analysis, not data cleansing."
Listly also allows users to register thousands of URLs at once and export all data into a single spreadsheet with just a few clicks. "Just copy and paste the URLs to Listly, and our services can automatically extract data from hundreds or thousands of web pages into a single Excel file with one action," Changmin said.
Ease Adoption with an Intuitive Databoard and Browser Extension
There's no doubt that automation is playing a growing role in modern marketing campaigns. On average, an estimated 51% of companies currently use some form of automation to propel their marketing efforts, and more than half of B2B companies plan to adopt the technology soon.
That said, we know from common sense and personal experience that we're far more likely to put technology to use if it's not a challenge to do so. Recognizing this, Listly designed its user interface, known as Databoard, to be as user-friendly as possible.
"We know people have trouble collecting data, and we know our service makes that process so much easier," Changmin said. "We think we have the best, most easy-to-use data scrapping program there is."
Signing up to access the interface is a matter of entering an email address and password. Once you're in, there are two ways to extract data: either add a URL where indicated on the Listly website or use the company's handy Chrome extension.
In most cases, both methods work similarly. However, Listly recommends using the Chrome Extension rather than adding a URL when you cannot directly access the page using the URL — for example, when the page requires a login or actions like clicking and mouse-overs.
Interested in taking the service for a spin? Your first 10 URLs per month are free. Alternatively, Listly's Personal plan provides 3,000 URLs for $30 per month, and the company's Business plan allows for 100,000 URLs per year. Both plans include email support. Listly also offers annual plans that cover more than 100,000 URLs a year, including phone support, for a custom fee.
An Efficient Team Based in South Korea Serving Clients Worldwide
Changmin, based in South Korea, built Listly from the ground up just two years ago. Today, he continues to serve as the team's primary developer, along with one marketer and one designer — both of whom also possess development skills. "We are a small team, but we are also a smart team," Changmin said.
Despite the company's home base, Changmin told us that most of his customers (about 90%) live outside South Korea. More than 20% are from the United States, though Listly serves prominent markets in Taiwan, Spain, and Japan. The remaining customers, Changmin said, span 26 countries.
"We respond to customers' requests worldwide day and night," Changmin said. "This is one of our unique tenents."
To that end, Changmin said Listly is continually evolving its algorithms to ensure customer satisfaction. "We are very confident that we can build the solutions needed to solve any problems our clients have to a maximum extent," he said.
Considering how much data is online, that's a tall task — except when considering how much data Listly can handle.