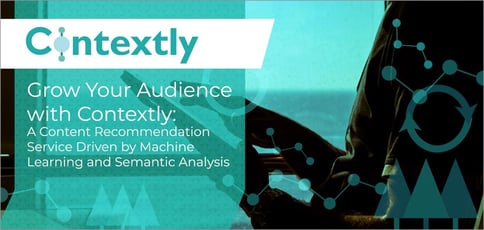 TL; DR: Contextly is an editorial engagement platform that keeps readers exploring sites through relevant links to useful content. The recommendation system helps publishers build and maintain trusted consumer relationships while understanding which stories resonate with their audience. With new features in the pipeline, including enhanced design tools, Contextly aims to make it easier than ever for publishers to capture and maintain reader attention.
Like it or not, trashy, bottom-of-the-barrel ads are ubiquitous online. Even if you frequent the most reputable news sites, it's hard to avoid grotesquely illustrated clickbait urging you to discover the miracle trick for losing belly fat in one week, find the cure for toe fungus, or get paid millions working from home.
These thinly-veiled scams are often the product of a publisher's contract with traffic brokers, and they can bring in revenue depending on click rates. But while these sponsored links may earn the publisher a few bucks, they also put readers at risk and damage the site's credibility.
Over the last few years, Ryan Singel, Founder of Contextly, said he's seen publishers moving away from the sponsored links model in favor of recommendation systems that build a loyal, engaged audience. "There's been a mindset change, especially with larger sites," he said. "Readers are sick of being sent away from good sites through bad ads, and publishers realize they are better off cultivating loyal readers who will subscribe to their sites."
Ryan, who has more than a decade of experience writing and editing for Wired, said that some publishers who previously felt like they couldn't turn away offers from traffic brokers now realize they absolutely have to. He created Contextly in 2010 to offer an engagement-centered alternative that won't send readers away from sites through embarrassing paid links.
The powerful content recommendation system provides news sites and other publications with the high-quality editorial tools they need to build and monetize loyal audiences. The platform keeps readers engaged through relevant links to useful content while helping publishers understand which stories resonate with them. With plans for ongoing development, including enhanced design capabilities, Contextly is making it easy for publishers to capture audience attention in a customized way.
An Editorial Engagement Platform Helping Publishers Thrive
When Ryan worked at Wired, he said the editorial team was deeply involved in many production-related tasks. For example, pointing readers to related, previously published coverage required a laborious coding process.
Determined to find a better solution, Ryan turned his frustration into action, and the result was Contextly. "There were lots of ways to add intelligence to the process while at the same time reducing the amount of work that the editorial side had to do," he said.
The platform quickly gained popularity, and by November 2012, Ryan left Wired to run Contextly full time. Initially, the company focused on hands-on work with larger publishers but eventually transitioned into a self-serve model within the WordPress environment.
Early on, Contextly enjoyed particular success with an unexpected niche of independent dog walkers who were working to establish a robust online presence. "They have their own websites where they write about what they do so you can find them via search," Ryan said. "One of them used us with success and word spread. Soon, we had this wave of dog walkers interested in Contextly. It was interesting to watch how that dispersal happens on the web."
Ryan's favorite aspect of Contextly is its ability to make it easy for publishers to choose related stories. After he launched the company, Ryan brought on Co-Founder Ben Autrey, a machine learning whiz with years of experience building graph-based ranking, recommendation, and inference systems. With Ben's expertise, Contextly began to offer an (overridable) smart default recommendation setting designed to expedite the editorial workflow.
"We have a pretty big schism," Ryan said. "Customers that do use the editorial tools use them extensively, and others primarily rely on smart defaults to reduce their workload."
Build Credibility and Maintain a Trusted Relationship with Readers
Ultimately, Ryan said Contextly's value proposition varies based on the type of publications it serves. "The one thing we've found is that people publish for so many different reasons," Ryan said.
For customers like Stitch Fix, an online personal styling brand, the goal is to attract as many readers as possible in hopes of converting them into loyal paid subscribers. Cult of Mac, on the other hand, is focused on building its readership base and increasing credibility.
"Everything we do in terms of our recommendations goes back to that publisher's own content," he said. "For some publishers, we do that cross-publication if they have sister sites, but our focus is typically on smaller sites and niche sites that value maintaining trusted relationships with their readers."
Contextly enhances the reader experience through personalization. For example, the platform uses cookies to suggest specific stories that may be of interest when a reader returns to the site. It also keeps readers abreast of trending content, so they don't miss out on the most popular news items.
In addition to directing readers to relevant content, Contextly automatically recommends related products and offers standalone modules that highlight content such as newsletters and whitepapers. The platform allows publishers to lay out these recommendations in a variety of formats, including in-story sidebars, siderail modules, and the main module at the end of each article. All layouts are responsive and completely customizable.
The popularity of these features is a testament to the fact that publishers are focused on building relationships rather than attracting as many one-time viewers to a site as possible.
"It's great to see a core set of publications focus on something other than just doing as much volume as possible," Ryan said. "That's largely how I think we survived the juggernaut that was Outbrain and Taboola and the amount of money they were throwing at publishers."
Receive Convenient Daily, Weekly, and Monthly Reports
Contextly also offers publishers the ability to analyze the performance of their sites and the recommendation platform itself through daily, weekly, and monthly emails. The reports highlight popular posts, offer information on what percentage of readers finish each article, and give users insight into the type of content that provides long-term value.
The company opted to serve up the information through email rather than a dashboard to save editorial staff the trouble of dealing with yet another interface.
"We send out information on the amount of traffic they get, how far people get into each story, which stories are evergreen, which ones they are clicking on," he said. "Writers and editors love it because they don't have to go to a dashboard to collect the information."
When it comes to development, Ryan said Contextly avoids chasing trends. When Facebook introduced its proprietary format for publishing news, for example, Contextly didn't jump to create a plugin — because the feature wouldn't offer much to its customers.
"We know our audience, and there are features that seem mundane that are really important to them — such as being able to specify a custom image size, having full control over how things look, or saving time through emailed performance reports," he said.
New Features Including Additional Design Tools
The company is currently working on a set of improvements tailored specifically to its clients' needs. For example, Ryan said Contextly Channels, previously offered only with a one-year contract, will soon be extended as a feature within the self-serve portfolio. With Contextly Channels, readers can subscribe to stories that fall within a small number of topics, increasing their attention and loyalty.
The company is also trading in a single responsive design for separate desktop and mobile layouts. "Breaking the two apart will allow publishers to get into the fun stuff when it comes to design," Ryan said. "We're excited about seeing what people will do when you give them more design tools."
Beyond that, the company will continue to focus on making its tools more flexible and intuitive for the self-serve market, securing its position in the industry.
"We no longer call ourselves a startup," Ryan said. "We've been around almost 10 years, and we hope to be at it for another decade."