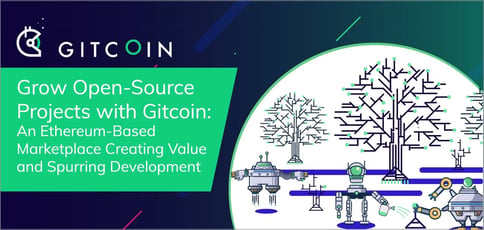 TL; DR: Gitcoin, a distributed platform for software developers built on Ethereum, is on a mission to grow the open-source community. The blockchain-based job marketplace empowers developers to join forces and monetize their skills while helping businesses access quality talent. With a focus on challenging the status quo, Gitcoin is building a foundation for sustainable open-source funding.
The general consensus among the developer community is that open-source software is a phenomenal thing — and it's easy to see why. Compared with proprietary software, it's cost-effective, secure, flexible, free from vendor lock-in, regularly updated, and backed by some of the most innovative and supportive communities around.
There's only one problem: The open-source universe is unsustainable in its current state. Open-source software development often begins as a passion project, and while the work is fulfilling, it's also time-consuming and frequently unpaid. After the code is released, many open-source packages are managed by two or fewer maintainers — who also tend to be overworked and underpaid.
Community collaboration plays a significant role in driving these projects forward. But, at the end of the day, a minority of developers are responsible for maintaining the open-source software that's beloved by startups and tech behemoths alike.
Gitcoin was developed to change that. The decentralized application, built on the Ethereum blockchain, is fostering a community where developers can collaborate and monetize their skills. Founder Kevin Owocki, who frequently uses open-source tools to improve his skills as a software engineer, built the platform in 2017 to add value for burned-out developers and maintainers.
"The idea behind Gitcoin was to capture the value of the contributor and enable funders to find quality developers who are able to keep their projects alive," said Frank Chen, Data Scientist & Product Manager at Gitcoin. "Essentially, it's a double-sided marketplace for open-source sustainability."
Today, Gitcoin is continuing to nurture the open-source community through the power of blockchain. The distributed platform, designed to challenge the status quo, is helping both generate sustainable project funding and mobilize talented developers. By navigating the intersection between monetization and open-source software, Gitcoin is finding a way to finally incentivize work in open-source software.
Empowering Developers to Collaborate and Monetize Their Skills
In its earliest days, Frank said Gitcoin was primarily a bug bounty platform designed to recognize and compensate developers and maintainers who contribute to open-source projects. A few months in, Joseph Lubin, founder of the blockchain software company ConsenSys, took Gitcoin under his wing. With access to additional resources, the platform quickly evolved to promote open-source sustainability on both sides of the market.
Unlike other bounty-based platforms, Gitcoin was built specifically for Web 3.0 — the next frontier in internet innovation. "Web 3.0 will encompass the blockchain protocols and decentralized applications that are being built right now," Frank said. "Gitcoin has a strong connection to this space, which serves as a significant differentiator."
Blockchain is still in its formative stages. Though many blockchain-related projects employ utility initial coin offerings (ICOs) as a method of fundraising, Gitcoin isn't issuing a native token. The company views utility tokens, which provide future access to a company's products or services, as an early use case of the open-source financial system. As such, the team behind Gitcoin suspects they're not the ideal long-term monetization strategy. Therefore, Gitcoin is exploring various business models for use in a Web 3.0 setting.
Instead of issuing a utility token, Gitcoin enables coders to access and exchange Ethereum-based payment tokens. This way, developers can be paid independently, and all payment rights can be enforced via Smart Contract, mitigating risk.
"Gitcoin gives coders a platform to monetize their work, grow the open-source community, and participate in revolutionary projects," Frank said.
Showcase Your Projects and Acquire Quality Developers
On the other side of the marketplace, funders can use the Gitcoin Bounties product to find and attract talented developers. Bounties may be used to save time on non-core tasks, pin down global talent, and even garner interest around open-source projects.
"Gitcoin is a place where funders broadcast their projects knowing they can find a network of quality developers on the spot," Frank said. "One of the metrics we track is the median time for a bounty to be picked up by a contributor. We're averaging just five to six hours, which demonstrates how easy it is for funders to get the help they need."
Frank said Gitcoin has seen approximately $400,000 in completed work and a million dollars in platform value go through the Bounties program, which speaks to its ability to support avenues for open-source sustainability.
In addition to its Bounties program, Gitcoin seeks to fund contributors to the open-source ecosystem through CodeFund. The ethical, turn-key advertising platform allows users to distribute their message in front of a targeted audience of software developers who specialize in multiple programming languages. To maintain the trust of the developer community, CodeFund only displays ads that are relevant and meaningful to users and vows never to track, profile, or sell information.
Another Gitcoin product, Kudos, allows users on both sides of the marketplace to show appreciation for a job well done. The unique badges, which can be bought and sold in the Kudos Marketplace, also showcase the talents and skill sets of individual Gitcoiners.
"Kudos are similar to the recommendations that you give on LinkedIn, but in the form of unique artwork given to contributors and funders on the Ethereum blockchain," Frank said.
Gitcoin Grants: Sustainable Funding for Open-Source Projects
The freelance job market is known for its freedom and flexibility, but it can be unnerving to go without a consistent paycheck. Gitcoin's newest product, Grants, allows open-source maintainers to generate steady cash flow to support their work through periodic contributions.
Grants are powered by ERC-1337, a standardized interface for recurring subscriptions on the blockchain. Unless the grant owner specifies a required token, contributors can pay with any ERC-20 standard token.
"Through Grants, a software developer who has completed a bunch of bounties and is consistent with them can ask for support through a recurring subscription — it's essentially like Patreon," Frank said. "For example, someone could open a Grant and say they're seeking $1,000 in ERC-20 tokens per month to fund their work on a particular project."
The product has gained a lot of traction during the past few months. "I've seen it have a pretty big impact on contributors who want to have some longevity in this space," Frank said.
Dan Lipert, Principal Engineer at Gitcoin, said Grants can also be used to fund non-programming related tasks. "Not every open-source contribution has to do with programming," he said. "Through Grants, we can support everything from open-ended research to documentation efforts."
Frank said funders and contributors to the open-source marketplace are the motivation behind innovations like this. The team frequently visits open-source and Ethereum-oriented conferences to solicit feedback that can help improve Gitcoin's various products. Users are also welcome to submit feedback via the GitHub repository at any time.
Navigating the Intersection of Decentralization and Monetization
As for what the future will hold, Frank said Gitcoin will continue to focus on the topic of monetization, both internally and for open-source contributors.
"It's new territory, especially with topics like monetization in open source, since there's a culture and ethos centered on fairness and assigning value where it's provided," he said. "The way revenues work on a blockchain will be vastly different than how they work in Web 2.0."
Dan said there's also room for improvement when it comes to user-friendliness in the crypto space.
"In upcoming quarters we'll be working on smoothing out the user experience and trying to bridge the gap between Web 2.0 and Web 3.0," he said. "We'll make sure that the UX is clean for a Web 3.0 experience, so you don't have to go through a complicated process of obtaining crypto assets in order to participate in the platform."