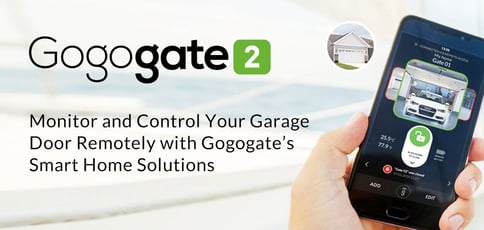 TL; DR: Gogogate, based in Barcelona, has pioneered the smart gate and garage opener space since 2013. Today, the company is following the success of Gogogate 1 and Gogogate 2 with ismartgate, a freshly branded version of the product that brings new features and levels of smart home compatibility to the well-known system. With ongoing internal developments and partnerships with other companies in the sector, Gogogate is committed to leading the charge to modernize the entry points to our businesses and homes.
Most of us have worried about leaving appliances on, doors unlocked, or garages open upon leaving the house — and if you haven't, you're either lucky or extremely laid back.
The anxiety typically strikes after driving a mile or two away from home on the way to a can't-miss event. This forces you to choose between the peace of mind that comes with knowing your home is safe and the assurance that you'll arrive at your destination on time. Either way, you lose.
Fortunately, smart home technologies providers, such as Gogogate, are helping customers cross at least a few concerns off their worry lists.
"With Gogogate 2, we introduced the first universal garage door and gate controller capable of operating up to three doors or gates that also included features like user management, voice commands through If This Then That (IFTTT), and controls based on GPS and time," said Juan Roca Arderiu, General Sales Manager at Gogogate. "We also had video camera integration and garage temperature alerts."
Today, the company is furthering its success with ismartgate, a rebranded version of the Gogogate product line that adds new features and improves compatibility with various smart home systems.
Instead of turning their cars around to check garage doors or gates, users can verify whether they're opened or closed by using a simple smartphone app and make adjustments accordingly from a remote location. Users can also grant different levels of access to these entry points — such as total access for family or employees, restricted access for recurring guests, or one-day access for sporadic visits.
Moving forward, Gogogate is committed to leading the charge to modernize the entry points to our businesses and homes, both through ongoing internal developments and partnerships with other companies in the smart home sector.
Pioneering Smart Garage Solutions Since 2012
The Barcelona-based company was founded in 2012 by parent company Remsol.
"We launched the solution around the same time as two competitors in the smart garage segment: Chamberlain MyQ and Garageio," Juan told us. "Since we were competing against very big companies, we decided to focus on making our product the best and most feature-rich in the category, rather than competing on price."
The technique worked well, allowing Gogogate to offer a powerful solution that could stand up to its peers. By the time Gogogate2 was released, the company could provide voice commands on Google and Amazon Assistant through IFTTT applets, multiuser support, custom audio that is played when doors are opened and closed, and third-party camera integration. Users could control the devices through one mobile application or even through their smart watches.
The product allowed customers to choose between wifi and wired Ethernet connection. In the case of an internet outage, the device could create its own backup wifi network to ensure seamless connectivity. Gogogate 2 also featured temperature sensors so users could choose to open the garage slightly when temperatures spiked.
Gogogate 2 also introduced significant monitoring capabilities, allowing users to view their garage or gates using up to three compatible IP cameras, which could be set up in different locations for a comprehensive viewing experience.
"From the Gogogate 2 app, you could not only open and close garage doors, but also see that you were opening and closing them and have video records of all activity," Juan said. "We also included alerts that would signal when a door was opened or closed."
ismartgate: The Next Generation of Gogogate
Last year, Gogogate was discontinued and replaced with ismartgate, which includes all of the features of Gogogate 2 and more.
Whereas Gogogate 2 allowed the user to leverage voice commands on Google and Amazon Assistant through IFTTT, ismartgate includes native support for Apple HomeKit and Google Assistant, plus Amazon Assistant through IFTTT.
In terms of IFTTT compatibility itself, Gogogate 2 only included actions, such as the ability to open or close a door, and allowed for limited use with other products and services. ismartgate provides both actions and triggers (data that prompts an applet to run) for complete automation of a gate or garage.
ismartgate also introduces a wireless sensor for gates, fully waterproof sensors, the ability to view three doors in the same screen, and obstruction detection via HomeKit, among other add-ons. Features vary based on whether the buyer purchases ismartgate LITE or ismartgate PRO.
"The LITE version is designed for single garage doors or single gate owners, of which there are plenty," Juan said. "The PRO VERSION can operate up to three garage doors or gates, just like the Gogogate 2 did, but in this case, there is a focus not only on residential but also commercial and industrial customers."
Juan told us the product can be used on roll-up storefront doors, warehouse gates and garages, and other setups that require frequent traffic.
Compatible with Apple HomeKit and Google Assistant
The main difference between ismartgate and its competitors is the system's native compatibility with major smartphone platforms, such as Apple HomeKit and Google Home.
"Our goal is to be the most smart home-friendly system out there so that, whether you have a Samsung, Apple, Alexa, or Google Home, you can always think of us," Juan said. "With HomeKit, for example, you don't need to buy any extra bridge or accessory — you just install ismartgate, and it's compatible — you don't even need to use our app if you want to control the garage or the gate directly from the HomeKit app."
ismartgate will soon feature native compatibility with Amazon's smart home devices, Samsung SmartThings, and Chamberlain products. Juan said the company's approach to compatibility is part of its overall strategy to offer one of the best solutions on the market.
"We're really universal, and we still include all the features of Gogogate 2, such as user management, integrations, a calendar of events, and video records," he said.
It's possible to find these features in the range of different smart garage and gate opening products available today, but Juan said it's hard to get all of them in one solution.
"For example, the MyQ doesn't have user management, their video feature is quite expensive, and they are not truly compatible with HomeKit because you need a bridge," he said.
Ongoing Internal and External Developments
In the future, Gogogate will focus on both improving ismartgate and using its expertise to develop solutions for other companies.
"Most of these companies are garage door companies or companies that manufacture operators for gates and garages," Juan told us. "In Europe, we work with the number one manufacturer of garage door openers and one of the biggest manufacturers of gate automation as well."
In terms of ismartgate, the company is working on a platform for small and medium enterprises that helps with maintenance tasks. Juan said that, when it comes to internal development, Gogogate weighs both customer feedback and nearly a decade of internal industry experience.
"We keep track of what our competitors are doing, but often, we see that they are following our lead," he said.