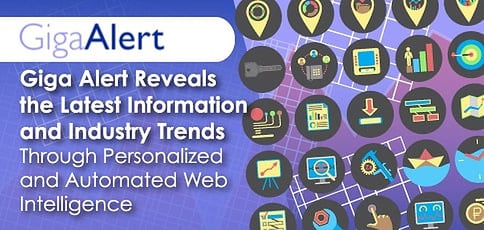 TL; DR: From simple news alerts to generating leads, monitoring competitors, and tracking keyword trends, Giga Alert helps professionals and businesses manage their online presence and brand reputation. The company offers a variety of automated search and web intelligence tools to reveal the most recent and important information. After beating Google to the concept of Google Alerts, Giga Alert takes information much further than manual keyword searches by providing unique filtering and customization capabilities.
Web intelligence refers to a broad spectrum of data regarding anything online. The information encompasses many categories and use cases such as pattern recognition, predictive analytics, and data mining.
As web intelligence becomes increasingly familiar — and critical — to business operations and success, more and more organizations are learning how to leverage the data into valuable insights. Manually gathering the information can be a mundane and arduous task, but tools like Giga Alert can automate and manage the process.
Launched in the mid-2000s, Giga Alert was among the first to provide web intelligence and monitoring services. Originally branded as Google Alerts, the company monitored recently indexed pages and alerted users when specific keywords appeared. Google eventually rolled out its own alert platform and eventually requested a name change.
Similar to Google's own alert system, Giga Alert scours websites, indexes content, and reports specific changes that the user is looking for via daily emails. Over the years, thousands of customers have used Giga Alert to research personal information, curate news clippings, and manage brand reputation by allowing users to comb through and compare dozens of sites in a matter of minutes.
Alerts Based on Automating Everyday Searches
In the early days of search engines, the internet was significantly smaller. As social media, content management systems, and website builders made content creation much more accessible, the web has grown tremendously.
Fluid, dynamic web content is nearly impossible to keep up with, let alone sort through and manage on a daily basis — that's where automated media monitoring services like Giga Alert come in to close the gap.
Giga Alert uses the Yahoo index and scans thousands of results with each search. Using proprietary technology, Giga Alert uses metrics and metadata to detect the relevancy, frequency, and newness of discovered pages. Search results become more refined as the Giga Alert algorithm learns from a user's chosen keywords and begins to automatically suggest possible related search terms.
Giga Alert users can easily access their account to search for new keywords, see the results of previous searches, and modify searches using a wide range of criteria. Users can monitor online information according to parameters such as the frequency, time, and depth of content and alerts, while advanced searches include personalized features such as preferred domains, file formats, and target languages. At the same time, results can be filtered by country-specific TLDs and other attributes.
Although Google offers a similar service to users, the tool lacks many of Giga Alert's features and complex algorithms. Instead of Giga Alert's concentration on web intelligence, Google takes a broader approach by offering a wide range of basic web services.
"In comparison to Google Alerts, the Giga Alert service differs in that our service offers a more comprehensive search," a Giga Alert spokesman told us. "For example, Google Alerts will only notify you about new items that appear in the top 20 results for each search term. Meanwhile, our Platinum service can notify you of new results that appear anywhere in the top 1,000."
Managing Search Results to Get the Most Relevant Info
Giga Alert does more than simply deliver automatic snippets of information to users' inboxes — it makes sure they see the most important content first. The platform's unique SightPoint feature organizes and curates results based on previously clicked results and related keywords.
By analyzing these search attributes, SightPoint automatically learns the user's search habits and will give automatic suggestions that produce more precise results. The feature also rates the estimated relevance of results based on a scale of one to five, displaying more stars beside more pertinent results.
Aside from personalization features, Giga Alert lets users sort through old and current searches through the company's own online browser. Users can also organize results based on case-sensitive and exact-match filters, as well as receive alerts via RSS or HTML feeds.
With the company's FreshSearch and intelligent matching technologies, Giga Alert ensures that results are always new and current. Other features include search scheduling, alert sharing, and the ability to easily integrate dynamic content into one's site.
With so many built-in features, Giga Alert is a top choice among many professionals. Featuring a simple and incredibly user-friendly interface, users merely need to sign in via Giga Alert's website to access the most valuable information. With billions of pages indexed and refreshed daily, Giga Alert's sheer power and ability to cut through the fluff means fast, accurate, and relevant business research is just a few clicks and keystrokes away.
Professional Tracking for Any Business Size
Giga Alert offers a unique and effortless way to conduct important business research, with artificial intelligence and proprietary algorithms doing the majority of work.
Because of the variety of use cases, Giga Alert offers a variety of plans, with users able to choose the correct tier for their needs. Beginning with Giga Alert Personal, users can leverage up to 1,000 search results daily and filter results by example.
With Giga Alert Premium, users gain access to comprehensive technical support and can collaborate with other users. As for Giga Alert Professional, users can include up to 50 search terms, schedule searches twice per day, and share results with up to 10 other recipients.
The company's top package, Giga Alert Platinum allows up to 100 search terms at a time, with 15,000 search results tracked daily. Platinum also comes with priority technical support, as well as the ability to instantly add searches to one's account. Giga Alert is also available for corporate licensing.
No matter the type or size, Giga Alert has businesses covered. As an award-winning web intelligence tracker for more than a decade, Giga Alert offers an unmatched research experience in more than 120 countries. Used by marketers, doctors, educators, and journalists, Giga Alert enables users to react nimbly to online content, granting them what the company describes as the power to be informed.