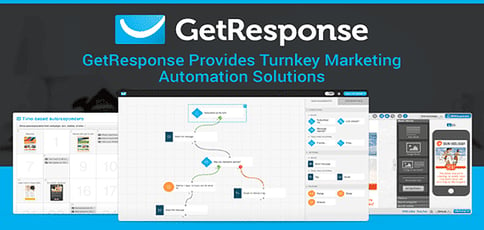 TL; DR: GetResponse makes it easy for companies to effectively serve their customers and increase conversion rates with a comprehensive suite of marketing solutions that includes responsive email design, email autoresponders, webinar building and hosting, and landing page creation. The GetResponse team has been working 'round the clock to perfect its new marketing automation platform, which was created to streamline workflows, engage businesses' repeat customers, and convert casual visitors to their sites. Functions, like web traffic tracking, customer scoring and tagging, and an abandoned cart solution, make GetResponse an emerging leader in the field of marketing automation. And the low cost of admission to the GetResponse platform makes it accessible companies of any size.
Most people at 16 aren't pushing to revolutionize online marketing, at least, I know I wasn't. However, back in 1996, a 16-year-old Simon Grabowski was plugging away in his parents' attic, teaching himself programming to automate an email marketing campaign for his website Travel Poland.
"My website at the time acted as a database for different hotels in Poland," Simon said. "One of the challenges I had was reaching out to my customers by email. I was sending so many, and it just wasn't intuitive. It just wasn't fast enough."
Simon needed some type of software to make it possible for him to quickly reach out to a far greater number of prospects. So, he started working on a script, a simple code, to overcome the problem.
"I wasn't a developer extraordinaire, by any means," Simon said. "I was essentially learning by trial and error, consulting these two bibles of Perl programming language. One of the things that really pushed me was resilience. I just knew I needed to get this done because I was sick and tired of sending so many emails manually. I knew there had to be a better way."
Once he had a working prototype, Simon soon realized that the tool he had built was much bigger than his website. He knew other companies could take advantage of the automated email platform. And with a $200 investment to create the database environment, GetResponse was born with Simon at the helm as CEO.
"In the beginning, I was pretty much a one-man army. I was in charge of the design, the code, customer service," Simon said. "One of the largest milestones for me was hiring my first employee. We were signing up 20 to 30 new accounts per day, and I just wasn't able to handle it by myself."
From there, GetResponse really picked up steam and became the email marketing powerhouse that it's known as today. GetResponse now signs up more than 2,000 new customers to its solutions each day, and the possibilities seem endless.
Simon and the GetResponse team are excited about the future, especially with the launch of its new marketing automation platform. GetResponse's latest solution allows businesses to create complex marketing campaigns with simple yet powerful workflows and build scenarios to get the real-time view of the journey customers take around a business's website.
"Our customers were asking if automation was possible, or if we could build a feature that can do more than just email marketing or follow up autoresponders," Simon said. "They needed additional marketing automation features and solutions to things like cart abandonment, so we decided to fill that need."
Scalable, Automated Marketing Platform Converts Casual Visitors & Engages Repeat Customers
GetResponse's marketing automation platform starts with its intuitive interface, which makes the once daunting task of setting up workflows and complex campaigns easy for marketers.
"The platform's interface is magical," Simon said. "It allows users to design flowcharts just as if they're building blocks."
In fact, Simon noted that the interface was inspired by Scratch, an online platform where children can learn to program stories, animations, and games.
"I saw my 10-year-old building simple games with Scratch and thought that it would be great to set up a marketing automation platform to have a similar look and feel," he said. "The interface makes it easy for marketers to set up their information and flowcharts any way they desire and change it as they see fit. It's very accessible."
The benefits of GetResponse's marketing automation platform can really be summed up by the different functionalities that allow marketers to score and tag customers, track movements through their online spaces, and reach and convert customers who abandon shopping carts.
Move Prospects Through Buying Cycle with Web Traffic Tracking
The marketing automation platform lets marketers set up a cycle that begins with customers entering a certain web page. As the customers progress through different pages, their steps can be tracked. For example, step one may be the customer filling out a form, and step two might be the customer clicking on a link. Web tracking allows marketers to see which pages are getting the most traffic so they can direct that traffic to the pages they desire. The platform allows you to personalize a customer's journey and create a great experience, and the information you gain from such a cycle is invaluable.
By adding GetResponse's JavaScript to their sites, businesses can start tracking who is visiting, how often, and why. It's based on if/then logic, one of the sentiments on which GetResponse based its marketing automation platform. If certain conditions exist on a business's website, a marketer can filter the data to define how customers are interacting with the site and uncover what they're doing and why they're there; marketers can then take specific actions to direct the customers where they want them to go.
Get to Know Your Customers with Scoring & Tagging
Once the traffic is tracked, marketers can employ the tagging and scoring features. These allow businesses to get to know their customers and analyze their routines.
"You can score customers based on the actions they perform on your site," Simon said. "If they visited the website, you can assign a score of 1 point. If they sign up for your newsletter, that might score a 5. If they fill out a larger quote request, that could earn 10 points. And, when you add up all the scores, you have a customer who has, say, 60 points, and you know that's a good customer that you'll want to follow up with."
Tagged customers can be tracked, and marketers can design automated workflows to trigger specific follow-up actions.
Convert Cart Abandoners & Regain Lost Revenue
GetResponse's statistics tell us that two-thirds of online shoppers fall short of completing their online purchases. That's a lot of potential revenue that can be lost forever. With GetResponse's marketing automation platform, businesses can take action to regain this revenue.
"Customers abandon the ordering process for many reasons," Simon said. "They could be busy and on to something else; they could be frustrated and not finishing. With abandoned cart automation, you can actually capture those leads and still have another go at selling to that customer."
The feature works by timing a customer's cart beginning with the first item placed there. If no action is taken after a certain amount of time, the automation platform registers the cart as abandoned. The automated workflow immediately sends out a follow-up to that customer to try to recapture his or her business.
"We think this is a gorgeous feature, especially in retail spaces," Simon said. "Retailers want customers to finish their orders."
A Multicultural Company Bonds Over a Passion for Customer Care & Innovative Products
As it does with its products, GetResponse takes its company culture very seriously. Simon's aim is to create a workspace built on contributions from the entire team.
"I know it's cliché to say that you want to surround yourself with people who are smarter than you, but it's true," Simon said. "The culture of the company is something we're very focused on. When we decide whether a person is a good candidate for our team, 50% of that decision is based on how capable that person is at doing the job. The other 50% is based on whether they can match our culture, and if we feel that they're going to be a good team member."
Product development is so important at GetResponse, and the company's culture reflects that. Every member of the GetResponse team embodies the company motto of CANI: Constant and Neverending Improvement.
"If I had to say just one thing about GetResponse, it would be that we are product driven," Simon said. "It's never been about financing, about venture capital. We just focus on the product. That's our passion and what drives us forward."
Because GetResponse is widely international in scope, its employees must operate in a multicultural environment. Interaction with international customers sometimes necessitates thinking outside of the box to connect across cultures. GetResponse aims to provide five-star customer service and is very successful in finding the right people to fill these roles.
Though its focus is on product development and customer care, it's not all business at GetResponse. Simon makes sure there is room for fun. He wants his team to enjoy walking through the door each day.
"We throw an annual gala dinner to show our appreciation of our employees," he said. "Our last gala was Wild West-themed, and we had plenty of cowboys singing karaoke. We also try to spoil our employees with free breakfast and snacks. It's a great place to work."
Thanks to Growth, GetResponse Broadens Access to Marketing Tools
GetResponse has grown exponentially since the early days when Simon was coding in his parents' attic. The company now signs up over 2,000 new customers to its solutions every day, with a nice percentage of those being paid accounts.
The pricing plans remain attractive for marketers, and this opens the door for smaller businesses that would have otherwise been priced out of the market.
"Right now the pricing for marketing automation is pretty expensive, making it more of a platform for larger companies," Simon said. "We have what it takes to become a go-to marketing automation platform for SMBs, and it's about pricing, intuitive interface, and ease of use. That's our core focus."
A large contributor to GetResponse's success is the way it's approached marketing automation. By finding a need and providing a solution for the SMB niche, GetResponse has been able to offer its clients tools beyond email marketing, including the new automation platform.
"There have been quite a few players in the industry who have explored marketing automation," Simon said. "But we saw a lot of things that could be done differently. We didn't like several facets of automation that were present in the industry, and we felt that we could offer more for less."