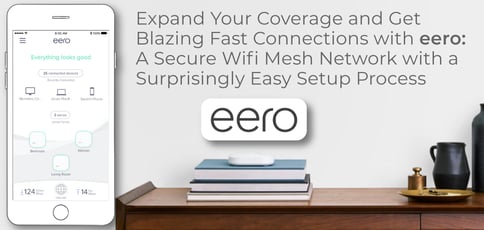 TL; DR: The eero home wifi system replaces routers, forming a wireless mesh network that can expand to cover any living area. The secure technology is capable of handling the increasing demands of IoT networking to ensure connected devices consistently perform. Now, as part of the Amazon family, eero is accelerating its mission to make the technology in our homes just work.
A shiny new batch of IoT technologies has entered the market during the past decade, tempting us with the promise of effortless home management. There are intelligent doorbell cameras, internet-connected thermostats, automated lighting, and even smart refrigerators available for homeowners looking to upgrade their surroundings.
But to make investments worthwhile, consumers must ensure their home networks are capable of handling these advanced solutions. That's where wifi mesh networks such as eero come in. The home wifi system, privately funded and developed in San Francisco, is designed to blanket homes in fast, dependable connections.
"We entered the marketplace at a time when IoT was really taking off, making reliable connectivity more important than ever before," Nick Weaver, Co-Founder and CEO of eero said. "By focusing on connectivity as the foundation of the home, we were able to build products and services that make the technology in your home just work."
In 2014, frustrated by the wifi solutions on the market and unable to find a better solution, Nick set out to build eero with co-founders Amos Schallich and Nate Hardison. Since then, the company's goal has been to continuously improve the home wifi system through frequent software updates, making it faster and more secure while adding new features.
Today, the eero home wifi system is both powerful and secure enough to handle the demands of IoT devices while overcoming physical obstacles to full-home coverage. Moving forward, the company aims to accelerate its mission to make the technology in our homes just work through a recently announced acquisition by Amazon.
A Network Powerful Enough to Handle the Demands of IoT
In an era where long working hours are commonplace, and we actually glorify busyness, there's no doubt that time has become a valuable commodity. To that end, eero hopes to help users squirrel away as much time as possible.
"Think about all of the time you lose to buffering, latency, or sluggish connections," Nick said. "If you add all that up across your devices and multiply it by the 365 days in a year, that's a lot of time you get back when your technology just works."
The plug-and-play system is designed for effortless setup out of the box, whether you're tech-savvy or new to setting up wifi. According to eero, the intuitive process takes most customers fewer than 10 minutes. Start by simply plugging the eero device directly into your modem, and the company's app will guide you through placing additional devices throughout the home to ensure speedy connections in every corner.
The company features two main devices: the eero Pro and eero Beacon. The eero Pro can broadcast on three wireless radio bands simultaneously and features two Ethernet ports, making it suitable for any rooms with Ethernet wiring.
At half the size of the eero Pro, the eero Beacon can be plugged directly into any outlet to expand the system throughout the home and includes an LED nightlight that adjusts the brightness based on the time of the day.
"Our mission is to make the technology in your home just work and, so far, the products and services we have delivered in support of that mission have delighted customers," Nick told us. "In fact, our home wifi system is rated 4.6/5 stars on Amazon.com."
TrueMesh Technology That Navigates Any Obstacle
Thanks to next-generation software known as TrueMesh, wifi connections can jump between eero devices, traveling down hallways and around walls for better overall coverage. The next-generation technology, built specifically to work with eero hardware, intelligently routes traffic between eero Pro and eero Beacon devices to avoid interference.
TrueMesh's dynamic routing algorithms were developed using machine learning and data from countless real-life homes to ensure the software will pass internet connections through the most reliable route while adapting to complexities.
In addition to eliminating interference, the technology improves the speed of the local area network (LAN). Based on initial testing, eero estimates that customers with average networks may see improvements of up to 40% in increased speed. TrueMesh technology also allows customers to scale their systems quickly and easily through the addition of as many eero devices as needed.
"As people are adding more and more connected technologies to more and more rooms in their homes, we need to continue offering products and services that can support them simply and securely," Nick said.
eero's TrueMesh software is automatically updated at least once a month to improve performance, fix bugs, and add new features. In May of last year, the company introduced eero Labs, a testbed for the latest innovations the company has to offer. These cutting-edge, experimental features are still in beta and disabled by default. However, users are welcome to test the features by turning them on within the company's app.
eero Plus: An Additional Layer of Protection
Nick said eero's top benefits include high performance rates, flexibility, ease of use, and ROI. "But if I had to choose just one, it would be that eero delivers amazing wifi for every device in every room so that you never have to think about your wifi again — it just disappears into the background of your life and home, the way it should be," Nick said.
And it does so securely with eero Plus, a premium subscription service that safeguards personal information on connected devices both on and off the home network. For example, the security offering features a virtual private network (VPN), allowing users to browse the web, whether they're at home or using public wifi.
The service also provides anti-malware software that will scan and protect devices as well as advanced browsing protection powered by a database of known threats.
"Our eero Plus service proactively keeps you safe from malware, spyware, and viruses by alerting you to unsafe websites before they even load," Nick said.
Other perks include a password manager for the entire family, ad blocking on every device connected to the network, and content filtering for simple parental controls across multiple devices. Nick said features like this are largely the product of user feedback.
"We start with the customer and work backward from what they need, either by addressing something they ask for directly or inventing on their behalf," he said.
Now an Official Part of the Amazon Family
In March, eero announced that it has joined forces with Amazon to launch new products and services, improve upon current products through more frequent software updates, and plan for global expansion. The company has already worked in partnership with Amazon and TP-Link to develop Wi-Fi Simple Setup, a device that makes it easy to set up new IoT gadgets.
"In the very near future, when customers who own both an eero system and an Echo unbox connected devices purchased on Amazon, the devices will automatically look for the eero network and use encrypted credentials to connect," Nick said in a recent post on the eero blog.
In the meantime, Nick said Amazon and eero will continue to learn from each other to advance the future of home connectivity.
"We are excited to be part of the Amazon family and use the resources now at our disposal to scale faster and deliver superior wifi to even more customers," he said.