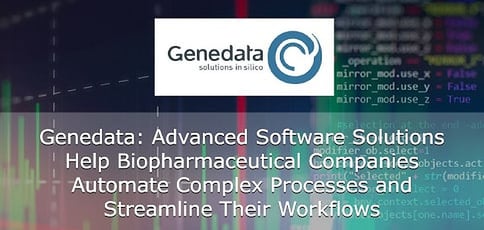 TL; DR: Genedata helps transform large volumes of data into important scientific discoveries by providing time-saving software, consulting services, cloud hosting, and operational IT support help companies increase the speed with which they work. By automating complex experimental processes, the company also helps researchers identify dead ends early in the R&D process, saving biopharmaceutical organizations millions of dollars. Dr. Othmar Pfannes, Genedata Founder and CEO, shared with us how Genedata combines the expertise of scientists and software engineers to make R&D more efficient.
For biopharmaceutical scientists analyzing vast swaths of data, the scientific process can be very slow.
But that's where Genedata comes in. The company provides enterprise software, consulting services, and IT management to biopharmaceutical companies for automating complex processes and streamlining workflows.
The company works with the top 50 biopharmaceutical companies worldwide by producing software that analyzes terabytes of scientific data generated by state-of-the-art lab technologies. For example, the software helps discover genetic markers to predict breast and ovarian cancer or supports companies deciding to end projects early in the research and development process — saving them months of work and millions of dollars.
In fact, Founder and CEO Dr. Othmar Pfannes considers some of his company's biggest accomplishments to be helping its customers become more efficient by supporting them to fail projects early, before wasting investment.
"Our software can predict, very early on, if a drug candidate will work as it's supposed to or has certain side effects that won't be good in the long run," he said, adding that companies wouldn't otherwise find out these facts until clinical trials.
Streamlining the scientific processes helps companies work more efficiently and on grander scales, as Genedata systems enable researchers to capture, process, and analyze more data.
"We look at different experimental workflows and try to make them consistent, focusing on automating them and making them as scalable as possible," Othmar said. "We see automated workflows becoming more and more valuable to biopharmaceutical companies to generate next-generation drugs, and so we want to automate them so they can generate these drugs as efficiently as possible. Ultimately, we are looking to automate complex scientific processes. That's our contribution to the market."
Encouraging Collaboration Between Scientists and Software Engineers
In 1997, the Human Genome Project was in full swing. The world's largest collaborative scientific research project aimed to sequence and understand all the genes present in human DNA. To Othmar, the project's momentum presented a significant opportunity to help the pharmaceutical industry analyze and manage the large volumes of data.
"We wanted to write software to help the pharmaceutical organizations make sense of that data," he said. "We wanted to create the software and infrastructure behind it to store and process all the information."
Genedata blended science and technology from the very beginning by having computational scientists and lab scientists work with software engineers.
"We didn't put people in different silos, but we made sure they worked together from Day One," Othmar said. "The scientists need to understand the complexity of software development, and the software developers need to understand what the scientists are looking for in terms of how they want to use the software. Getting them to collaborate has been a major part of our success."
Adapting to 20+ Years of New Technology and Challenges
Having scientists and software engineers work hand in hand has also helped Genedata evolve over the past 21 years, as Othmar described the company's well-rounded approach to adaptation and shifts in technology needs.
"Initially, we saw it as purely a software problem," he said. "Nowadays, we see it as a computational problem, which includes hardware, software, and taking care of logistics, processes, and infrastructure, as well as a corporate culture issue."
Driving much of the change in Genedata's offerings is, simply, the growing amount of data that needs to be stored, processed, and analyzed.
"In the past, data volumes have increased by orders of magnitude more than I anticipated, and it seems it will continue in the future," Othmar said. "The data challenges have become tremendously larger than I anticipated 20 years ago."
But the data challenge is also an opportunity for Genedata, especially as customers increasingly store information in the cloud. In addition to just delivering software, Genedata also provides IT-related operational services, such as monitoring software performance and assisting with maintenance and updates.
"We can go straight to Amazon or Azure or Google and basically operate the software there," Othmar said. "In the old days, we had to enter into the datacenters of pharmaceutical organizations, which was much more difficult because of security issues. The cloud makes it easier to provide these operational IT services."
Using Artificial Intelligence to Discover Next-Generation Drugs
According to Othmar, artificial intelligence will be a major driver for Genedata innovation during the next several years. The company, which has several artificial intelligence-related projects in the pipeline, already uses deep learning to help scientists reduce the time needed to categorize cell samples.
"We looked at a workflow that is extremely manual, that takes several people three or four months at a time," Othmar said. "With our software, the task now takes just a couple of minutes."
Similarly, Genedata works to speed up the identification of viral contaminants in biopharmaceutical samples important for manufacturing. Biosafety assessments generate massive amounts of genomic data that can be time-consuming to analyze. Early detection of contamination allows organizations to solve the problem before they have to shut down entire plants, Othmar said, which could cost hundreds of millions of dollars and sometimes means the companies cannot generate a drug for a year or longer.
Genedata software supports many different instruments and technologies, all of which generate highly complex and valuable data. Another example where Genedata is currently active is the characterization of proteins — creating a fingerprint of a protein's specific properties.
"Proteins, also known as biologics, are the next-generation drugs, and we have a very strong position already today to help biopharmaceutical companies to decide on the quality of these molecule very early on in discovery, all the way to manufacturing," Othmar said.