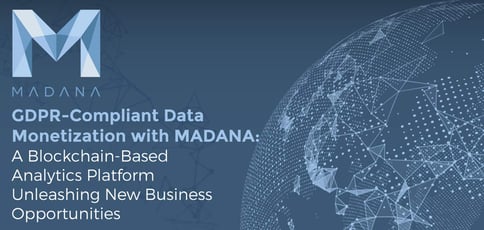 TL; DR: MADANA, a blockchain-focused startup based in Germany, is securely bridging the gap between raw information and insights through an innovative solution for data analysis. The platform will allow producers, plugin providers, and buyers to interact via a GDPR-compliant marketplace to fuel artificial intelligence while maintaining privacy. As MADANA continues to onboard clients and investors, the company is coming closer to unleashing fresh opportunities for businesses worldwide.
As the largest technical institution in Germany, RWTH Aachen University is known for nurturing some of the brightest minds in science and technology. Its alumni include Nobel laureates in physics and chemistry, as well as industry leaders like Franz Josef Och, chief architect of Google Translate.
If all goes well, RWTH Aachen may have a few more names to add it its list of notable alumni, as MADANA, a blockchain-based analytics platform, has roots in the university.
"Two of our Co-Founders and some of our staff met while studying at RWTH Aachen University, one of the leading schools for computer science and entrepreneurship in Germany," said Dennis Gilburg, Marketing Manager at MADANA.
Named after a word blend created using portions of the phrase "market for data analysis," MADANA allows users to retain control of their data while monetizing it in an anonymous way. The ecosystem will enable stakeholders to share insights, rather than raw data, fueling artificial intelligence in a privacy-oriented fashion.
MADANA bills itself as PrivTech, meaning that it employs methods of protecting data in accordance with the law while minimizing possession of personal data — all without losing the functionality of an information system. With PrivTech, new entities can enter the data analysis market, accelerating growth.
The company is currently progressing along its development road map. It is focusing on team expansion, undergoing pilot projects with enterprise partners, and has acquired its first clients through partnerships with renowned consultancies such as Accenture and Capgemini. Ultimately, MADANA aims to bridge the gap between data and insights.
Serving Data Producers, Plugin Providers, and Data Buyers
The community-driven market for data analysis includes three main stakeholders: data producers (devices, companies, protocols, apps, and dApps), plugin providers (data scientists, analytics companies, app developers, and institutions), and data analysis buyers (individuals, companies, and institutions).
MADANA works by connecting data producers with plugin providers who deliver algorithms and scripts that are used to analyze information for insights. Data producers and plugin providers are then matched with data analysis buyers who want to purchase those insights.
The analysis process takes place within MADANA's Analysis Processing Entity (APE). "Here, the encrypted data sets are entered and matched with the algorithms from the plugin providers, and the analysis takes place within a so-called trusted execution environment," Dennis said. "The environment is mathematically proven to be tamper-proof; you can think of it as a black box no one has access to."
The data analysis buyer can access the encrypted results via a private key; in the meantime, all raw data is destroyed. This three-pronged technology — a mix of asymmetrical encryption, a trusted execution environment, and blockchain — makes up the core of MADANA's technology, which is patented in Germany.
The platform has a number of real-world use cases spanning various industries. The MADANA PAX Token (MDN) (PAX is short for privacy, accessibility, and exchangeability) is MADANA's primary payment method, but incentivization also plays a significant role within the system. In the retail arena, for example, a brand could generate a best practice request. It would then be matched with relevant customer data, and a secure analysis would take place. Once completed, the retailer would use the resulting insights to better target customers, while the customers who submitted their data would receive a personalized offering, such as a voucher.
A Privacy-Oriented Ecosystem for Sharing Insights, Not Raw Data
The General Data Protection Regulation (GDPR), adopted on April 14, 2016, and enforceable as of May 25, 2018, implements data protection principles applicable to citizens of the European Union and European Economic Area. Intended to give individuals control over their personal data, the regulation imposes stiff penalties for non-compliance.
Dennis told us that Co-Founders Christian Junger, Dieter Schule, J.-Fabian Wenisch, and conceived of MADANA well before GDPR took effect in Europe. But while the rulemaking served as an obstacle for many other companies, it created a competitive advantage for MADANA.
"We started developing MADANA without knowing about GDPR, but we were GDPR-compliant by nature due to the fact that at no point in time do we store data within the analysis process," he said. "Being instantly compliant actually helped us gain traction in the market."
Because buyers purchase insights, rather than raw data (which is destroyed after the analysis takes place), the system provides a reasonable level of protection when it comes to personal data, satisfying GDPR's guidelines.
"One of MADANA's most important advantages is respecting the data producer's privacy, and that's why our method allows you to contribute anonymously while getting paid," Dennis said.
No third parties are involved, and trustworthiness is achieved through an open-data analysis market run on multiple smart contracts and based on blockchain technology.
Fueling Artificial Intelligence in a Privacy-Conscience Way
It's no secret that the artificial intelligence industry has been heating up during recent years, with no signs of stopping. New artificial intelligence-based consumer products from companies like Google and Amazon are hitting the market more frequently than ever, making our homes smarter every day.
In 2015, the global artificial intelligence market, which includes machine learning, computer vision, natural language processing, and machine reasoning technologies, spurred a whopping $126 billion in revenues. And according to market research firm Tractica, annual revenue from artificial intelligence software alone is projected to increase from $9.5 billion in 2018 to $118.6 billion in 2025.
Meanwhile, the world's largest countries are laser-focused on winning the artificial intelligence race, with the United States and China leading the pack. But Europe, Dennis said, is lagging behind. "There's not enough money being put into the development of AI, especially in comparison to the U.S. and China," he said. "However, companies in those countries still need access to our data to fuel their products."
At the same time, the implementation of GDPR means that Europe is one of the places where data is most regulated, making it difficult to access. That's where MADANA comes in, providing a GDPR-compliant solution for data monetization. "We hope to act as a bridge to revenue in that respect, opening up markets in Europe," Dennis said.
A Focus on Growth: Plans to Onboard Clients and Investors
Exciting things are in store for MADANA. The company recently signed its first client, a prominent German edge computing company, and is waiting on patent approval in Germany before filing worldwide. Dennis told us MADANA is currently working with venture capitalists as part of its funding phase, which will wrap up in the third or fourth quarter of 2019.
The company's ERC-20 standard token, MADANA PAX, will likely be distributed to contributors who invested in the cryptocurrency during previous token sales within the next few months.
In the meantime, the MADANA team will continue to focus on onboarding new projects and hiring more people. "It is going to be a busy year," Dennis said.