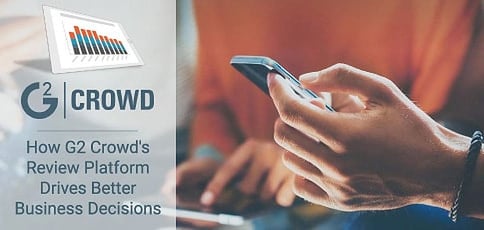 TL; DR: It's no secret making business decisions can be tough. The process of discovering the right products and services for your organization is wrought with risks to your bottom line. Luckily, G2 Crowd is making these choices easier. The company's review platform houses upward of 250,000 independent, authenticated user reviews of business technologies that highlight the voice of the customer. As a result, the more than 1 million buyers who turn to G2 Crowd each month are finding greater transparency in B2B purchasing, giving them the peace of mind that the decisions they're making will deliver the greatest returns on investment.
As modern consumers, we're constantly bombarded with choices. There's no shortage of advertisements telling us where to grab the best burger and which new vehicle can get us there. However, the stakes can be a bit higher than the cost of a hamburger dinner in the B2B world where weighing the pros and cons of product purchases can mean the difference between a business's success or failure.
Depending on the size and scope of a buy, millions of dollars in potential revenue could be on the line, which is why organizations need to carefully consider the investments they make. This is especially true when it comes to employing new technologies that drive mission-critical operations.
The Founders of G2 Crowd recognized B2B buyers needed a better way to ensure transparency in the purchasing process to enjoy maximum returns on expenditures. So they devised a solution.
G2 Crowd's review platform allows businesses to leverage the voices of more than 250,000 independent, authenticated users to make data-driven buying decisions on the technologies that will most benefit their organizations. And G2's Communications Director Adam Beeson witnessed this firsthand on a tradeshow floor.
"This sales guy came over and said 'You guys just got me a sale,'" Adam recalled. "He told us he was about to close a deal when his buyer asked for more information.That's when he whipped out his laptop, went to G2 Crowd, and told the client to 'go ahead.'"
After spending 20 minutes on G2 Crowd's review platform, the client was sold. And according to Adam, the reviews are usually all a potential customer needs to see to convert to a sale.
Adam told us the customer voice is one of the most important factors in a buyer's decision. Barring strict cost-to-budget ratios, businesses ultimately want a product that will be worth their investment, rather than a waste of time and funds. And the influence of online reviews is so far-reaching that they are often used even when a consumer plans to buy a product in person.
"We all use reviews in our lives," Adam said. "In many ways, you can have more insight from reviews on Amazon than when you're standing in Target holding the same product — that actual experience from people who have used it offers you more information than simple observation."
Data Covering Hundreds of B2B Products and Services Each Week
To provide potential buyers with the most helpful product feedback, G2 Crowd only publishes 100% user-generated reviews. Each review is checked for accuracy and quality to ensure it meets G2 Crowd's strict standards for transparency and truthfulness.
"Every review is user-submitted," Adam said. "We verify them all and view their Linkedin profiles. We'll read the review and make sure it meets our quality standards. We also look at the reviewer and make sure they're not an employee or competitor — and we use human beings to do it."
G2 Crowd currently has a directory of more than 250,000 published reviews, but upward of 32,000 have been rejected due to the company's thorough vetting process.
"We add about 500 new companies and products to our site every week," Adam said. "We have over 1 million visitors to our site each month."
With so many potential buyers looking for reliable reviews, the need for accuracy is paramount. To assess a review's legitimacy, G2 Crowd collects and analyzes 36 different data points within each submission — a much more thorough system than the standard star review format used by many sites.
"We want to understand more about the usability, the implementation, and the customer service, so we ask a lot of questions," Adam said.
Bringing True Transparency so Prospective Buyers Can Find the Right Fit
Adam told us G2 Crowd's philosophy is that buyers come first. One of the most important factors in providing honest reviews is to ensure true transparency on the part of sellers.
"Our vision is to bring transparency to the B2B buying process, and we believe this is provided by actual users talking about their experience," Adam said.
Reviews provide true-to-life insight into the personal experiences surrounding various products. Unlike a sales page, reviews detail specific pros and cons, as well as describe how well the product performs in practice.
When weighing the possible benefits of a new product or service, decision makers know most products are imperfect. Thus, the best decisions are based on a best-fit approach, using a balanced overview of the positive and negative aspects, with a strong lean toward the positive.
"What we find is that buyers are looking for the best fit," Adam said. "There was a time when everybody thought you had to have all five-star reviews for your product to be perfect. We actually found that people with reviews in the 4.8+ range actually receive less traction than those in the 4.3 to 4.7 range — people want to see the good and the bad."
A Review System That Fuses Cutting-Edge Tech and Human Ingenuity
One of G2 Crowd's biggest advantages is its avoidance of a purely software-based verification approach. To prevent fake or paid reviews from slipping between the cracks, G2 Crowd's thorough review process is handled by a combination of human ingenuity and powerful analytics.
"Our research team does reports on most of our categories," Adam said. "To be included in a report, a product must have a minimum of 10 verified reviews."
From there, the company can generate two different reports from the research team's combed data — grid reports and index reports.
A basic grid report measures factors, such as market presence and customer satisfaction, with numerous subsets. The report is then segmented into small, medium, and enterprise sections, making it easier to evaluate product effectiveness relative to business size.
Index reports, on the other hand, encompass a variety of smaller aspects such as usability and how quickly the product can be implemented.
"You can see which products give the best results," Adam said. "We offer all these types of reports through our research team, and no vendor can pay any amount of money to influence these reports — they are strictly based off the data we collect."
Operating at the Intersection of Technology and Philanthropy
In addition to helping for-profit businesses sell their products, G2 Crowd is involved in charity work through its G2 Gives program. G2 Gives donates to a variety of causes and organizations, including New Story, an organization that builds homes for families living in slums.
"We're always looking for ways to reach people and invite them to write reviews for G2 Crowd," Adam said. "G2 Gives is the philanthropic arm of our company. Right now, we have a review campaign going on where, for every review, we will donate $10 to New Story."
G2 Gives is also raising money for various disaster relief efforts, including home building for the many people devastated by the 2010 Earthquake in Haiti.
"Our goal is to build 80 homes in Haiti, and we will donate $10 on behalf of everyone who writes a review through that campaign," Adam said. "We also raised more than $12,000 for Red Cross hurricane relief earlier in 2017."
G2 Gives is also attending Dreamforce to collect 3,000 reviews — and thus fund five homes in Haiti in a single week. By incentivizing reviews, G2 Gives not only helps businesses, but also helps improve lives around the world.
"If you think about it, all we're asking for is people's opinions," Adam said. "Let's be honest, people have plenty of opinions, and they love to share them."
Reviews help B2B buyers make informed decisions, while sellers have a chance to let their products shine. While perfect, five-star reviews are rare, a product's strengths are sure to be highlighted, while weaknesses can be seen as growth opportunities.
"For credibility's sake, you can't be perfect," Adam said. "However, any flaws are your opportunity to show what might be one of your greatest assets out there — your customer service."