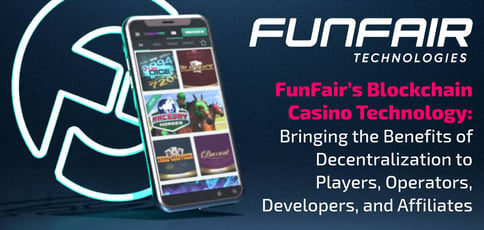 TL; DR: FunFair Technologies, created in 2017, is driving change for players, operators, developers, and affiliates in the casino space with its decentralized gambling platform. Headquartered in Singapore with additional locations worldwide, the company's blockchain-powered casino technology is bringing fair, transparent, and low-cost gaming to a market often plagued by fraud. Now, the company's latest release, FunFair Wallet, is making the experience accessible to users on any browser or device.
Digital casinos are becoming magnetic attractions for gamblers worldwide. In 2017, the global market for online gambling reached nearly $46 billion — a figure that is expected to double in the coming years.
Online casinos are also accounting for greater shares of the gambling market worldwide. In 2015, for example, the gross yield from the online market accounted for 10% of the gambling market at large and is forecasted to increase to 14% by 2020.
As the popularity of online gambling channels soars, so do incidences of fraud, leading to an increasingly common perception that games are stacked in favor of the house. Now, FunFair Technologies is leveling the playing field with a gambling platform that taps into the security and transparency of the Ethereum blockchain.
"Our goal was to create a completely decentralized casino platform that would benefit all parties within any transaction — players, operators, game developers, and affiliates," said Lloyd Purser, SVP of Business Development at FunFair. "The key benefit is that the whole experience can be proven to be fair."
Created in 2017 by Jez San, Jeremy Longley, and Oliver Hopton, the Singapore-based company aims to revolutionize online gaming by providing low-cost, high-quality online casino experiences powered by cryptocurrency.
To do so, the FunFair platform combines technology layers. The Ethereum blockchain provides transparency and security, casino games (run through smart contracts) enable real-time gameplay, and branding and marketing tools allow operators to make the technology their own. Now, with the release of FunFair Wallet, the company is making the experience accessible to users on any browser or device.
Enjoy Transparent and Fair Gaming Experiences
Lloyd told us that FunFair coined the term Guaranteed Fair to describe the platform's ability to verify each transaction in a game via open-source algorithms for random number and seed generation, as well as hashing.
"Through the use of Ethereum smart contracts, we can publish the result of the game, and we can publish things like the random number generator, which is what drives the outcome of any game," he said. "This way, the customer knows the game was played fairly and that it wasn't in favor of the house. If the game has to pay out, it's clear that the card deck is not being manipulated in any way."
The platform is also transparent in that the casino never assumes custody of players' funds. In traditional, centralized casinos, players deposit money into the casino's bank account and have to request to withdraw their earnings.
"In most regulated markets, it's not such an issue, and money gets paid back relatively quickly but not instantly," Lloyd said. "Then in markets where the customers aren't afforded the same protections, there may be further delays, game anomolies, or other issues. That can't happen at a FunFair casino."
When a customer engages with FunFair, the cryptocurrency they bring to the game is held in escrow on the blockchain. The casino brings cryptocurrency to the game as well, but in a large enough sum to cover any bets. That money is also held in escrow on the blockchain until the game is complete.
At that point, any winnings above what the player has brought to the game are sent directly to the player's crypto wallet — without any hassle.
The FUN token: An Ethereum-based Cryptocurrency
FunFair's native digital coin, the FUN token, fuels every part of the platform's gaming ecosystem. Players use tokens as betting chips and collect them as rewards upon winning. They are used to incentivize and pay third-party game developers who wish to create content for the FunFair platform, as well as gaming affiliates who receive payment for each customer they refer.
All parties enjoy real-time payments through the platform. Ownership of the tokens is anonymous, but transactions are recorded publicly.
"In a centralized casino, an affiliate would bring players in and earn a percentage of all the revenue generated by the players, but it's a very closed system," Lloyd said. "With the traditional model, affiliates often question whether they are getting paid the right amount, and they're not afforded much protection."
Under a traditional system, affiliates who operate as a small business — and thus depend on payments for living expenses — may face long delays. But, by using blockchain and smart contracts, FunFair can issue payments in real-time directly into their crypto wallets.
"All the affiliate needs to do is add their Ethereum address to the links they push out online, from banners to texts, whatever they may be," Lloyd said. "And we track that so every time the referred customer generates revenue the affiliate gets paid in real time — providing consistent revenue streams. It's quick, easy, and transparent."
There are 11 billion FUN tokens currently in existence; no additional tokens will be created. More than 6.54 billion are now in circulation, with the remaining tokens in storage.
Minimal Infrastructure and Low Operating Costs
The innovative blockchain-powered casino technology also removes barriers to market entry for operators. Lloyd said the FunFair platform allows operators to run their own online casinos with a smaller staff and lower infrastructure costs than a traditional model would require.
"We reduce overhead, increase security, and decrease operational costs in terms of having to process deposits, withdrawals, fees — all of it," he said. "We set up and run all parts of the licensed casino so the operator can focus on core business objectives."
The first casino built on FunFair, CasinoFair, is owned and operated by TTM BV, based in Curacao. It is now live, bringing residents in countries where online gambling is legal a host of fast and fair games. Another brand, the first third-party white-label on the platform, Crypto Casino, is also up and running, offering 30,000 free credits to first-time members and referral bonuses to those who bring in new players.
FunFair aims to foster a better relationship between gaming operators and players through fair, open gaming, which prevents operators from acting unethically or illegally. "Everything is verified on the blockchain by thousands of nodes as opposed to single databases in a centralized system," Lloyd said.
At the end of the day, Lloyd said it's the real-time payments, lower operating costs, and fairness through transparency that will draw crowds to the innovative casino platform.
"As things scale up, we think that is what will help boost participation," he said. "Your average users don't care about the technology, whether it's blockchain, centralized, or decentralized — they care about the benefits and the experience."
Just Launched: A Proprietary Crypto Wallet
In September, the company launched a crucial piece of the online casino puzzle: the FunFair Wallet. The ERC20-compatible crypto wallet supports any browser and any device, providing a seamless experience for new and existing users on the CasinoFair and Crypto Casino platforms.
"Since the launch, we've maintained our position as the most progressive blockchain casino provider, and the launch of the bespoke FunFair Wallet and second-generation platform interface will confirm this position as we strive for mass adoption," said Jez San OBE, FunFair Founder, in a press release.
Lloyd told us that the company is also working on features that will allow users to import various cryptocurrencies and even fiat money into the wallet in exchange for FUN tokens.
"We're excited about the future," he said. "As with any blockchain project, the next 12 months will be a very interesting and important part of our evolution."