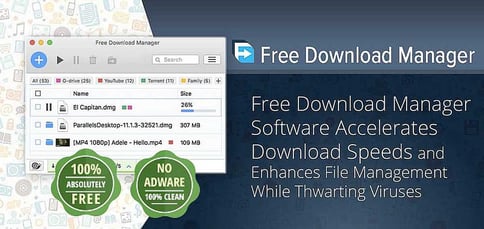 TL; DR: Free Download Manager (FDM) is a powerful software that allows users to download files up to 10 times faster by splitting up the data. The free tool has a host of other features, including traffic usage adjustment, organizational tools, broken download resumption, and control file priorities, all presented in an intuitive interface. FDM is available on both Windows and Mac OS X, and its website includes links to other useful productivity tools for businesses and individuals. For those reasons, FDM has earned our Developers' Choice™ Award for helping users boost performance and manage workflows.
An entrepreneur may lose hours of productivity while waiting to download the solutions he or she needs to launch a business. At established companies, employees collaborate using large documents and often spend valuable time staring at their computer screens while waiting to access a file.
An array of issues can converge to create frustrating lag times when downloading files, and most workers have endured long waits for important documents to come through. Nearly everyone has felt the agony of watching a download bar fill up slowly, pause, and then crash. But it's more than just annoying; it also wastes time and resources.
A study by Sandisk found that the average person loses a full working week each year waiting for sluggish computers to respond. In the UK, the biggest problem was the time it took waiting for uploads and downloads to finish.
That's why a group of programmers teamed up to develop Free Download Manager, a solution that streamlines the process of downloading large files and mitigates those slow, time-wasting experiences.
The solution includes support for Windows and Mac OS X, a user-friendly interface, and tools for downloading videos from popular platforms like YouTube. It supports proxy, BitTorrent, HTTP, HTTPS, and FTP. And FDM is both incredibly fast and reassuringly safe.
FDM has helped countless users download files faster with its intuitive design and powerful features, and has positioned itself as one of the best free download software solutions on the market.
Powerful Tools and Features for Downloading Across Platforms
FDM users have access to a range of powerful tools whether they're working on Windows or Mac OS X.
The software supports downloading through the BitTorrent protocol, which is used to distribute data and boost speed. It also supports enhanced audio and video files which allows users to preview recordings and videos before downloads are completed — and even convert them into different file formats once they're complete. The software also allows for quick downloading of YouTube videos.
The software splits files into several sections and downloads them simultaneously, which accelerates speed. And the solution also aims to quell the frustration of a download halting halfway through. FDM resumes those file transfers at the point when they were interrupted, so users don't have to restart the process.
FDM also includes an intuitive management system that helps users organize files by type. Its scheduler allows users to pause and restart downloads, as well as establish or break off connections. If users are browsing the internet while they download large files and don't want web pages to load slowly, they can easily adjust traffic usage settings through FDM.
In addition to these helpful features, the latest version (5.1) was designed with an even more streamlined user interface and friendlier approach to configuration. The software alerts users to security risks or malicious files by including user comments on the file in the program window before download.
The customer support team at FDM is also dedicated to helping users around the world. The team communicates in more than 30 languages — from Albanian to Vietnamese. This ensures that users around the world can connect to helpful support they can understand — and that understands their needs.
How Free Download Manager Stands Out in a Competitive Market
Professionals often work under strict deadlines and time is a valuable commodity. If the CEO emails a large document that everyone needs for a meeting that's starting in half an hour, download speeds become critical. Especially if everyone else in the office is busy using bandwidth to finalize their presentations for the same meeting.
Workers may have millions of reasons why they need to download files quickly, which is why more than a dozen free download managers have been developed. And users willing to shell out $20 or more for software have even more options.
While all of those free products are designed to make the downloading process easier and faster, none do it as efficiently as FDM. The differences are clear, starting with a well-designed user interface — a rarity for a free product. Many products on the market are put together by developers who are unsure of how the average user will interact with their tools.
FDM includes an array of features to cater to any user. No matter what they're downloading — whether its a presentation or a video game — they can customize their experience.
Software Solutions for Both Developers and eCommerce Entrepreneurs
The FDM team hasn't just built a great product — it wants to understand its users and create solutions that support their needs. For example, the team knows many eCommerce professionals and coders use its solution to download work files, so it built specific tools to help them do their jobs faster and more efficiently.
Developers looking for more customized solutions can visit FDM's Development Tools page and discover a variety of compelling products. One of the free tools it suggests is Fiddler, a debugging proxy that displays all Internet traffic from a user's PC. There's also BlueJ, a Java development environment program made for beginners. Developers with an artistic bent can download SCRATCH, an application for creating interactive animations, games, and slideshows with graphics, photos, and sound.
Entrepreneurs can visit FDM's Business page to find solutions tailored to them. Product designers can use the Bartender tool to create, edit, and print labels, barcodes, and RFID tags, among other materials. Many businesses also use MYOB Accounting Plus, a program known for its financial tracking features. And for companies looking to spread the word about their services, RoverSoft's Bluetooth Advertising software lets users deliver ad files to cellphones and mobile devices through Bluetooth protocol.
And those are just a few of the hundreds of programs FDM users can find on their site to boost their productivity. FreeDownloadManager.org is much more than a place to find a tool for increasing download speed; it's also a resource for a plethora of useful solutions.
Building a Community Through Support, Forums, and Tutorial Pages
No matter how extensive the list of software solutions a company has, building a community is about more than suggesting apps and gadgets. It's also about reaching out to users and bringing them into the fold.
One way FDM supports users is by giving them an easy way to reach out for support. If users run into a problem or can't figure out how a feature works, all they have to do open a new ticket on the website's support page.
The site's blog is another useful resource. Anyone who wants to ensure the download tool is operating at its highest level can check the blog for the latest updates, learn about fixes for identified bugs, and discover new features.
In its community forums, users can get together to chat, suggest new features, or translate download tools to another language. It's an active space filled with helpful people, useful advice, and plenty of tips.
The FDM team understands that its products should do more than solve a single problem. They should bring people together, unite disparate communities, and improve people's lives all while helping them download files quickly and efficiently.
And, with all of the resources users can access through FDM, everyone from developers to eCommerce entrepreneurs and game lovers have a place to congregate, share, and learn.