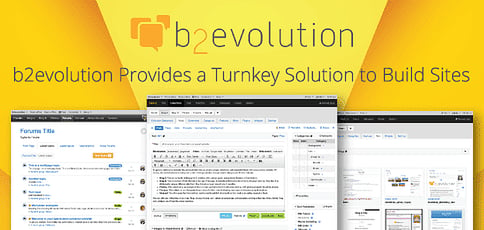 TL; DR: In response to the need to install and employ third-party plugins in WordPress, many site owners were looking for a fully equipped alternative. In 2003, François Planque launched b2evolution to serve as one of those alternatives with a unique approach. Developed as a turnkey solution, his platform for building and maintaining websites stands out with all features integrated into the core. The CMS is a robust publishing tool that offers anti-spam protection, multi-blogging, digital marketing tools, SEO features, and a state-of-the-art administrative console that includes server-side analytics. Even better: The upcoming release of b2evolution promises to make backend administration even more user-friendly.
WordPress is known for their extensibility, and the level of customization that can be achieved with the blogging platform is a driving factor behind its popularity. However, the dependence on third-party add-ons creates the need to constantly install updates to and find additional plugins for the websites it powers. Developers and site owners were looking for a turnkey alternative.
Enter François Planque, who launched b2evolution with an emphasis on integrating all features directly into the core code.
"Unlike WordPress, b2evolution is more focused on having a strong solid framework to rely on for future developments," François said. "Most features needed for common websites have been integrated in order to be immediately available within b2evolution. The platform is generally regarded as being very stable and secure."
With b2evolution, François brought users a single solution to build and maintain websites. By eliminating the need for plugins that could jeopardize his goal of stability, François created a solution ready to go right out of the box.
Identifying a Need for Security, Focus Turned to Integrating Stability
Although WordPress and b2evolution are (correctly) viewed as competitors today, they didn't start out that way. In fact, they share a common ancestor.
As the name implies, b2evolution is the product of b2, and so is WordPress.
François became involved with b2 back in 2002. The software was in its infancy — version 0.6 — and still had some bugs to work out. As with most of the b2 community at the time, François anxiously awaited the next version of the software, but, sadly, that release never happened.
In April of 2003, after the b2 project developer went MIA, François rolled up his sleeves and got busy updating the b2 software himself, adding features that he wanted to see in the platform.
After a few weeks of coding, the original b2 project developer returned. Shortly thereafter, he proclaimed WordPress the official release.
François had no desire to rewrite his software, yet again, to accommodate the WordPress branch, so he stuck with his own release and dubbed it b2evolution. That being said, it wasn't the extra dev work alone that led François to part company with WordPress. He saw the two projects moving in different directions.
"WordPress worked on packaging blogs with a wide variety of designer themes and allowing extension with plugins," François said. "Meanwhile, b2evolution's approach is radically different: First, we focused on security and stability, which we quickly realized was going to require a complete rewrite of b2, which we did."
"Once we were satisfied with the level of industrial strength we had reached with the b2evolution platform, we started to realize that adding third-party plugins completely undermined this effort," he said. "90% of third-party plugins are not developed to proper security and efficiency standards. This is a major problem in the WordPress world, and they have never been able to solve it."
3 Benefits of Managing Self-Hosted Sites with a Comprehensive Platform
Strong security isn't the only advantage of b2evolution. The platform also offers webmasters a comprehensive set of features as part of a turnkey solution to web application delivery.
The flexibility of b2evolution allows users to control the complexity of their sites by adding multiple blogs and collections or just a few pages. Social functionalities of comments sections are easily manageable with an effective anti-spam tool. This, coupled with the ability to market and track analytics, makes the b2evolution platform an excellent foundation on which to build websites.
1. Run Multiple Blogs and Collections on a Single Installation
Site owners and developers are able to roll out multi-blog solutions from one installation. The development team designed the b2evolution software in such a way that blogs are a type of collection of objects. Other kinds of collections supported by b2evolution include photo galleries, forums, and online manuals.
That design gives users the ability to launch multiple, diverse websites without the hassle of re-installations and additional configurations.
"Technically speaking, all collections are similar: They are a series of items (blog posts, forum topics, etc.) to which you can attach comments," François said. "In each collection, you can use one or more item types, each of these having different properties and possibly different custom fields. These extensions shifted b2evolution into the CMS category and pretty much out of the narrower blog tool category."
It is a sophisticated implementation that offers users a significant amount of flexibility in how they structure their websites.
2. Communicate & Moderate Seamlessly With Social & Management Tools
Online marketers who understand the importance of engagement will appreciate b2evolution's social tools. The platform offers a built-in comments section so visitors can leave feedback. As you're moderating commentary, you can take advantage of b2evolution's anti-spam tool as well.
"The community-wide anti-spam blacklist allows every single b2evolution administrator to benefit from an automatically updated list of spam URLs and keywords that b2evolution uses to automatically block comment spam," François explained. "Since we introduced it, this system has been very effective in cutting down comment spam. We have also added several additional anti-spam mechanisms to block spam robots."
For those who want to set up a website for a community, b2evolution makes it simple to create and maintain forums, allowing visitors to send private messages to one another as well. Both community managers and anyone who needs user-generated content benefit from these features.
The b2evolution management interface allows administrators to create, edit, and delete users. Admins can grant varying levels of access to visitors, which is a great feature for forums designed for a specific subset of users.
3. Market and Track Analytics for your Sites with a Complete Campaign Interface
"Beyond publishing: marketing" — the phrase illustrates a strong selling point of the b2evolution platform. While traditional CMSs make it easy for website owners to publish content, b2evolution acts as a complete digital marketing solution.
For starters, b2evolution users aren't required to use a third-party autoresponder such as MailChimp or AWeber. The platform includes its own email marketing tool, and an SEO solution is offered as a part of the core software.
Server-side analytics and goal tracking are examples of other marketing features users can employ to gauge the efficacy of their branding efforts.
Open-Source Software Tailored to Any Type of Organization
According to François, b2evolution paying clients "are mostly enterprise and university intranet/extranet setups." However, since the software is free and open-source, the majority of users include small businesses and individuals who use b2evolution autonomously.
The testimonials page on the b2evolution website is filled with words from satisfied customers.
"With my first site, I had a few template issues, but no issues with the software," writes Pamela. "The second site took less than a day to work out…Waaaay cooler than what I used to use."
Hari agrees, writing: "The backend is more configurable and powerful than WP. It's more like a CMS than a blog and it has several powerful features like multi-blogging and per-post enabling/disabling post filters (like smilies, smart quotes, auto-links, and other code)."
On the Horizon: Customize or Reorganize Sites With Version 7's Widgets
François says the upcoming release will include the ability to "very easily" add or remove sections and collections from websites. In other words, the user-friendly management interface is about to get even more intuitive.
The next update will also include widgets that give users the ability to "customize and re-organize virtually everything on the webpages."
Underneath the surface of the outstanding feature set, though, is the b2evolution core mission: to make it easy to build and maintain a full-featured website. "We aim to do that by letting the website owner keep full control over his or her content and user privacy," François said. "This means offering b2evolution as a free and open-sourced, self-hosted platform instead of a service with an obscure, uncontrollable, and ever-changing terms of service agreement."