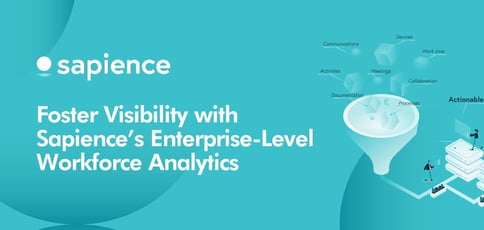 TL; DR: As the ongoing pandemic continues to force businesses worldwide to embrace an increasingly remote, server-run workforce, many leaders are turning to outsourced governance solutions to power productivity. Sapience, a leader in effort analytics, provides visibility into employees, processes, and technology while working to safeguard privacy. With new releases like Sapience Vue, designed specifically to support the COVID-19 era workplace, Sapience is using data to reimagine the way businesses manage their people.
No one could have predicted the extent of upheaval that 2020 would bring — yet, here we are. In addition to the masks that now adorn our faces, one of the biggest adjustments affecting everyday life during the ongoing pandemic is the transition to a remote workforce.
Businesses worldwide have stepped up to adopt radical change in the transition to remote and socially distanced workplaces. An overwhelming 74% of CFOs and finance leaders responding to a Gartner survey distributed in March 2020 said they planned to move a portion of their previously on-site workforce to permanently remote positions because of COVID-19.
With the right technology, businesses can go from merely surviving this tumultuous experience to thriving in a new normal. According to the team at Sapience, the emergence of remote work is now driving them to manage productivity of salaried workers, whose primary skill is knowledge. Historically, businesses have leveraged such solutions to manage hourly employees only.
"In 2020, it became clear that the nature of work is changing forever. COVID-19 remote work scenarios are accelerating adoption of management solutions for the knowledge-based workforce," a representative from Sapience said. "Knowledge workforce management is one of the fastest-growing software sectors, expected to reach up to $1.8 billion over the next decade."
Sapience has used data to help employees and employers work smarter for more than a decade. This year, the company added solutions to its catalog that provide unprecedented visibility into work patterns via fully automated, real-time reporting. Ultimately, the company's goal is to facilitate greater control and confidence in managing both in-office and remote workforces.
Over a Decade of Digital Transformation Experience
Digital transformation, a process in which businesses drive change through the adoption of new technology, has been a buzzword for the past decade or so — and for good reason. In terms of infrastructure, updating outdated and cumbersome on-premises legacy systems with virtual servers running in cloud computing environments can boost security and agility, providing an edge over competitors.
But digital transformation also means streamlining workflows with digital processes that reduce or replace manual work. That's why Sapience was founded in 2009: to build a software product that would enhance employee productivity via automatic insights on how they spend their time.
"From outsourcing governance, lean management, and process automation to productivity improvement and employee engagement, Sapience provides the most advanced enterprise-level workforce analytics for customers seeking to move from manual self-reporting to actual data," a representative told us.
In 2017, as the market appetite for big data and predictive analytics increased, the company expanded, moving its headquarters from India to Texas and adding new features to its globalized product.
"For more than a decade, Sapience has developed a consistent track record of helping its clients implement their digital transformation strategies," the Sapience team said. "Customers have saved tens of millions of dollars on outsourcing, improved work output by up to 40%, increased time spent on core work by up to 30%, and increased correlations between effort and output by as much as 64%."
Today, over 200,000 active users in 18 countries leverage Sapience's technology to enable digital transformation through automated work pattern reporting, real-time analytics, and advanced management tools for digital assets.
SaaS-Based Effort Analytics via Sapience Vue
Over the years, an increased focus on digital transformation has coincided with a shift toward Software-as-a-Service (SaaS) methods of software delivery. Unlike traditional software installed on-premises, SaaS solutions leverage a cloud-based approach in which applications are accessed remotely from a server.
To make it easier for employers to adapt to the changing workforce landscape in 2020, Sapience used the highly accessible SaaS model to deliver its newest product, Sapience Vue. The workplace productivity solution, designed to boost COVID-19 era productivity without compromising privacy, runs on highly secure Microsoft Azure cloud servers and can be reached via a simple web browser. All data (at rest and in motion) is encrypted.
"Sapience Vue was launched to provide unprecedented visibility via fully automated and real-time reporting into work patterns, employee engagement, productivity, asset management, workforce capacity, work habits, and team utilization for greater control and confidence in managing in-office and remote workforces (employees and vendor)," a representative told us.
The team behind Sapience takes individual privacy seriously, working to ensure that today's focus on real-time data and analytics doesn't infringe on employee rights.
Unlike intrusive surveillance techniques, including periodic screenshots, keystroke capture, location tracking, and personally identifiable information (PII) sharing, Sapience Vue employs transparent, fact-based data analytics to quantify work activity.
The idea is that increased transparency offered through shared data builds trust within the organization, which facilitates an environment for objective conversations about performance and expectations. The software is also completely customizable, giving company administrators control over what type of data is tracked and at what level of detail, based on unique preferences and needs.
The technology has been so vital in helping organizations navigate the new world of work that in August 2020 it was named a winner of the TMC Pandemic Tech Innovation Awards. The designation is meant to acknowledge software, hardware, and other services that effectively help businesses and society function effectively in the face of pandemics.
"One client — a financial services company with 11,000 employees — has been able to see work from home productivity improvements of 30 minutes a day, gaining 100,000 productive hours in one month," a Sapience rep told us.
What's more, Sapience Vue's user-friendly dashboard provides real-time visibility and work activity metrics, and APIs ensure easy integration with mission-critical business apps. The result is a scalable, turnkey solution for managing remote workforces with low system overhead.
Fundamentally Changing the Way Businesses Operate
Moving forward, Sapience plans to continuously expand its global footprint to shape the future of worker management.
In September, the company announced that it is working with the supply chain provider Redington to bring Sapience Vue's cloud server-based solution to a broader consumer base. Redington frequently partners with leading global innovators, such as Oracle, IBM, Microsoft, HP, Cisco, and NetApp, to help bring novel technology solutions to businesses across India.
"This major joint go-to-market and distribution partnership with Redington — a $7.3 billion information technology solution distributor — will enable the Sapience Vue solution to be resold through a network of 30,000+ channel partners, system integrators, and value-added resellers," a Sapience representative told us.
R. Venkatesh, President, Enterprise Business Group at Redington India, said the collaborative effort is key in a world where remote work is becoming the new norm.
"Our strategic partnership with Sapience Analytics will provide our partners with opportunities to offer this next-gen solution to their customers," he said. "They can help their customers drive employee productivity and increase operational efficiency through this data-driven digital transformation solution. We see that our partners will be able to support their customers in making their remote workforce contingency plans a success."