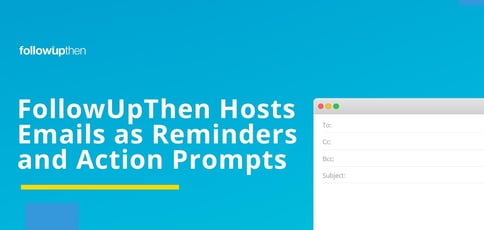 TL; DR: FollowUpThen is a personal followup assistant for modern workers. Bcc the service, and it will send a reminder at a specified time to prompt follow-up or accomplish other actionable tasks. Its latest version uses email as an API and integrates with third-party scheduling and CRM systems.
Email is celebrating its 50th anniversary in 2021, and email usage rates show no sign of slowing down. The number of email account holders reached 4 billion in 2020, according to Statista. An estimated 306 billion emails were sent and received each day in 2020, and the Radicati Group forecasts that number of emails traveling back and forth will surpass 376 billion emails by mid-decade.
While many businesses use email as a productivity tool, its very popularity can prove a distraction. And it's not just the time lost deleting spam and moving messages into folders. Remembering to respond to emails and following up on sent emails also claim precious time. FollowUpThen is a hosted service designed to help users better manage their email reminders and responses in a simpler and more efficient way.


Its appeal lies in its simplicity. FollowUpThen users schedule reminders by simply bcc'ing the service on messages to friends, family, or co-workers.
FollowUpThen keeps those bcc'd emails on its servers until the reminder is due. At that point, it follows up with the sender or (if placed in the 'cc' field) both the sender and original recipients. The email address specifies the time for the action. No additional information is necessary.
"FollowUpThen was built to solve an operational problem we had while working together on other projects — namely, not responding to each other's emails," said FollowUpThen Founder Reilly Sweetland. "We used it only internally for some time, making many improvements, and then we started to think there could be others with similar email management issues who would find it useful. It turns out there were."
Delivering Broad Appeal for Business and Home Email Users
FollowUpThen effectively accomplishes a simple task by keeping things straightforward. The service distinguishes itself from standard hosted software, a characteristic that may have to do with its lineage.
"The beginnings of FollowUpThen appeared while I was running a software consulting company," said Reilly. "We would exchange dozens of emails per day, and no matter what we tried, some of them would slip through the cracks."


Reilly wanted to solve that problem. The breakthrough came when they thought about using a date format in the email address (ex: 3days@followupthen.com) that would route emails to a hosted platform where emails could be parked until the reminder date.
"We prototyped FollowUpThen and released a version onto LifeHacker," Reilly said. "We were surprised at how positive the feedback we got was."
According to Reilly, the team initially thought it had created a handy bit of software for forgetful in-house email recipients.
"But it turned out that early users were using it to time-shift their life and control when they wanted to think about something," Reilly said.
Time-Based Addressing Offers Stylistic Flexibility to Suit User Needs
Users can embed FollowUpThen's explicit reminder syntax to its email address to specify a return time. For example, adding 1minute@followupthen.com or 2hours@followupthen.com to the bcc field will schedule an email reminder to arrive with that conversation at that future point.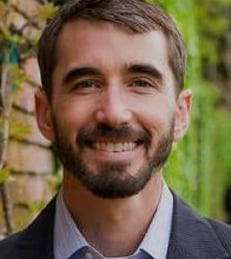 If users want an email returned to their inbox the next day, they can forward it to tomorrow@FollowUpThen.com. The service uses the same convention for snoozed emails.
FollowUpThen also offers the flexibility for variants and abbreviations in syntax style. For example, 1132am@followupthen.com, 1Nov2021@followupthen.com, 12pmAug25@followupthen.com, and monday3pm@followupthen.com all work as acceptable variants.
The system will work with any email client or mail server because FollowUpThen is simply an email recipient. It hosts forwarded copies of emails and sends them at a scheduled time.
FollowUpThen also enables users to schedule email reminders for other email recipients. Someone can cc an email 4days@followupthen, and both the sender and the recipient receive a follow-up on the specified date and time.
"When the reminder appears in your inbox, it will also include options to postpone, complete, edit or cancel the reminder," Reilly said. "Adding a reminder to an email conversation is a one-second operation because of any standard email client's address autocomplete option."
"Command Line to the Future" Declutters Inboxes and Stores Message
"FollowUpThen helps users shift the random pieces of incoming email information to specific points in their future schedule when it will be optimal to their purposes," said Reilly. "From the very outset, we wanted FollowUpThen to go beyond the basic snooze options that appear in mainstream email platforms, while at the same time retaining the simplicity that our users appreciate."
He added: "For our technical users, we characterize it as a 'command line to the future' because scheduling a reminder feels just like entering a terminal command."
The latest version of FollowUpThen offers Google Calendar and CRM integrations, extending the service's scope without moving away from the simplicity of its initial appeal.
"Instead of just sending a follow-up email, we can send everything a user might need to complete a task at a specific moment in time," Reilly said. "So, from that perspective, FollowUpThen has become more like a personal assistant — but with a command line."
A Two-Tier Pricing Model Provides Access to Value-Added Skills
FollowUpThen currently offers three premium plans and one free usage plan, but that is about to change.
The new version simplifies pricing by offering a free plan, and only one paid "unlimited" plan, with options to purchase additional "Skills " flexible units of functionality that help users accomplish specific tasks by adding information, performing actions in other systems, or controlling timing. Skills range between $2 and $20 per month.
Team pricing offers similar levels of flexibility. A team administrator can "hire" an affordable followup assistant for everyone on their team and optionally assign a "skill budget" to individual team members. This keeps the pricing affordable for most team members, while allowing specific team members the ability to install skills which facilitate their particular workflow (ex: automating data entry in a CRM).


Both new and current pricing offer a 20% discount for upfront annual subscriptions. businesses can try out any level of FollowUpThen plan free for 30 days.
"We also offer discounts for nonprofits," Reilly said. "So we grant 501(c)3-status organizations an additional two months free usage on their first year's subscription."
FollowUpThen also offers the popular no-charge Free Forever Plan.
"If you don't need any of our premium features, and your follow-ups stay below 50 active per month, you are welcome to use our free plan," Reilly said. "We just ask our free users to spread the word and tell their friends and colleagues about FollowUpThen, and we call it even."
Incremental Efficiencies Can Result in Business Productivity Gains
FollowUpThen has steadily expanded its user base, and the company seeks to establish close ties with its user community. Just as FollowUpThen is not an easy service to categorize, its fans do not fit neatly into traditional user profiles, said Reilly.
Typical FollowUpThen users may be called "productivity geeks," he said
"I'd self-identify as one of those productivity geeks because I believe that productivity is a mindset just as much as it is a piece of software," Reilly said. "But more generally, our users are individuals or businesses who feel strongly about the concept of personal productivity and who have invested the time to discover our tool's potential."
FollowUpThen plans to gain traction as an enterprise-level solution that can integrate with other platforms, including CRMs.
"We now want to build relationships with our users who are working in large organizations to facilitate a companywide upgrade and help whole companies to achieve productivity gains at scale," Reilly said.
Advertiser Disclosure
HostingAdvice.com is a free online resource that offers valuable content and comparison services to users. To keep this resource 100% free, we receive compensation from many of the offers listed on the site. Along with key review factors, this compensation may impact how and where products appear across the site (including, for example, the order in which they appear). HostingAdvice.com does not include the entire universe of available offers. Editorial opinions expressed on the site are strictly our own and are not provided, endorsed, or approved by advertisers.
Our Editorial Review Policy
Our site is committed to publishing independent, accurate content guided by strict editorial guidelines. Before articles and reviews are published on our site, they undergo a thorough review process performed by a team of independent editors and subject-matter experts to ensure the content's accuracy, timeliness, and impartiality. Our editorial team is separate and independent of our site's advertisers, and the opinions they express on our site are their own. To read more about our team members and their editorial backgrounds, please visit our site's About page.