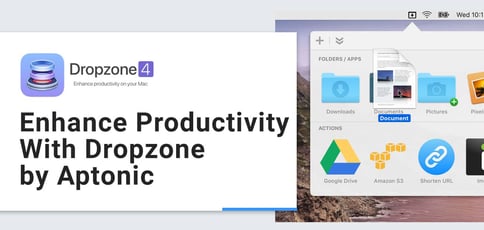 TL; DR: Dropzone by Aptonic is a tool that allows users to boost their productivity on Mac. The locally hosted application delivers drag-and-drop functionality to speed up moving and copying files, launching applications, uploading folders to cloud-hosted sharing platforms, and shortening URLs, among many other tasks. Aptonic's goal with Dropzone is to make life easier for macOS users, and with its latest launch of Open URL, it continues to do just that.
The onset of the global coronavirus pandemic in 2020 brought with it myriad challenges. Concerns about health, well-being, and maintaining connections became top of mind for most. But, in the business world, the need for organizations and professionals to pivot and adapt to the new distributed workforce paradigm was paramount.
Executives and managers worried about productivity losses with the new work from home model. And professionals just wanted to find a way to continue to produce and create at the same clip they did in-office. The result: productivity software download rates skyrocketed. By the end of 2020, people had completed 7.1 billion downloads of these applications, a 35% increase from the previous year.
Collaboration and communication tools are usually what come to mind when thinking about the shift into the home office and staying productive. But, as most professionals can attest, the need to stay organized, easily move and arrange file folders, and manage uploads and the like all have a positive impact on productivity and the ability to streamline workflows.


And this is where Dropzone flourishes. With drag-and-drop functionality, the locally hosted Mac application by Aptonic allows users to move and copy files, install and launch apps, upload files to sharing platforms (such as Google Drive), and even shorten and open URLs. And the features don't stop there.
"For differentiation, the idea was always to create something that really enhanced drag-and-drop on the Mac and extended what users could do by simply dragging a file," said John Winter, Aptonic Founder and Dropzone Creator.
Built to Enhance Machine Functionality and Streamline Workflows
John told us that Dropzone started out as an app called Dockdrop — a free tool he developed with a simple premise. All users had to do was drop a file on the application's "Apps Dock" icon, and it would be uploaded to a server and placed on the clipboard.
"That concept was an immediate hit and Dropzone grew out of that idea of making it really fast and easy to share files," John said. "People started requesting lots of new services that they wanted the app to allow uploading to, such as AWS, Dropbox, Google Drive, SFTP, and a great many others."
This led to the creation of Dropzone and, ultimately, to the app's multipurpose functionality. John then added the ability to move files, open apps, and share images, among other tasks, through a simple process.
"In the end there were so many ideas that I couldn't keep up, so I created a Ruby-based API for the app so people could develop their own actions," he said.
John told us that after the great reception came a few shifts in the Mac application development space and some challenges along the way. The introduction of the Mac App Store marked one of the first hurdles he had to overcome.
"A lot of productivity apps for the Mac from days gone by did not survive this transition," he said. "It created a lot of new challenges for developers because what apps could do became somewhat restricted due to sandboxing and communication between apps using mechanisms like AppleScript."
If Apple makes a change to its operating system, the ripples are felt throughout the development community. So John has had to do a lot of work to keep Dropzone available on the Mac App Store and comply with the platform's rules.
"It has ended up that I've needed to also have a version available outside the Mac App Store with some more functionality to serve certain customers because of the restrictions," he said. "I've also released a version for the Setapp which is an alternative App Store with fewer restrictions, and that has been a great way to reach more customers."
Achieving Productivity Through Drag-and-Drop Functionality
John's goal was to make using Dropzone easy so it doesn't interfere with a user's normal everyday workflows. It sits in the background, ready to help.
All one needs to do to use the app is drag a file to the top of the screen. Then, a group of action options will appear in a grid. Then, it's a matter of dropping the file into the desired action — such as upload to Dropbox or Google Drive — or if it's a URL, shorten it using the URL link tool. The user will then receive a notice that the desired action has been completed.
"I suppose a lot of what I like about the app is driven from how I like to use macOS," John said. "A lot of the time an idea for a feature in Dropzone comes from me thinking, 'Wouldn't it be cool if I could do this?' And the idea is usually simple enough, but then executing it and making it work well for thousands of users is always a lot more work."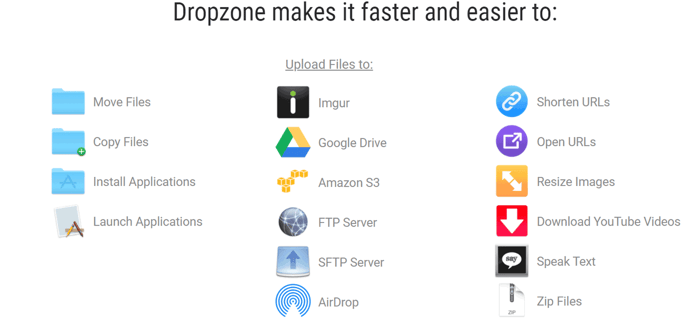 But John said he is up to the task because of the reward he receives from collaborating with users and the feeling he gets from creative success.
"Some people really fall in love with the app, but they have unexpected ideas," John said. "You work with them and end up creating something that's way more useful than anything you would have come up with on your own. So I think my favorite thing about the app is that it's many things and so there's so many opportunities to surprise and delight users."
The Future: Continuous Development and the Launch of Open URL
That notion jibes with how John told us he approaches the app's continued development. According to him, about half of the updates and new launch ideas come from him, and the other half come from listening to his community of users.
"I'm also not big into chasing the latest trends and I put a big emphasis on stability and robustness, which I think is something that is really underemphasized in the software industry these days," John said. "I know as a user how frustrating it is when you download an app and it's got some edge case because of your setup, so you just can't make it work as intended. So I usually spend a lot of time digging into user issues and making sure their issues are investigated and fixed."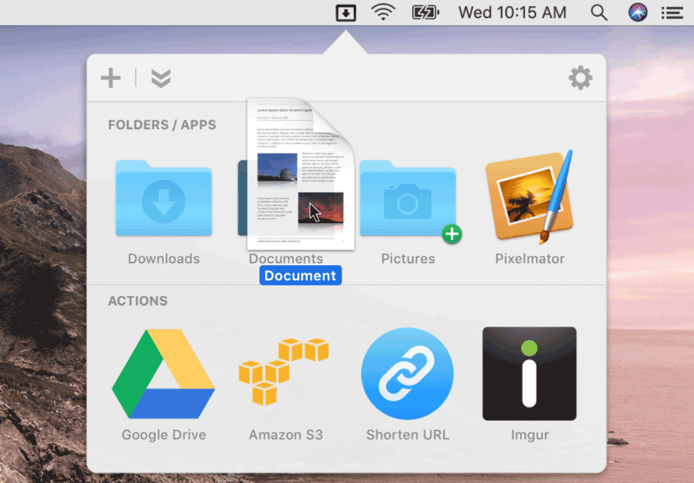 As for the future, John said he just added a new feature called Open URL. This allows users to add websites to their Dropzone Grid as bookmarks. All a user has to do is press F3 to open the Grid and then press a key they've assigned to have a page instantly open.
"There are more actions coming soon because I've recently been adding a way to create Swift actions for the app (besides Ruby and Python), which is going to make it faster to ship certain types of actions. And I'm excited to share some of these in future versions," he said. "The goal of the app is to make day-to-day life on macOS faster and easier. Of course, for everything Dropzone does, there is another way to do it. But Dropzone offers an alternative that is hopefully a lot faster and more fun."