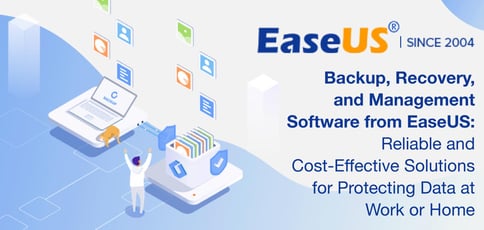 TL; DR: EaseUS, founded in 2004, is on a mission to provide reliable and intuitive data management software for individuals, small businesses, and enterprises alike. Users have installed some of the company's most popular products, such as Todo Backup and Partition Master, on millions of computers and servers worldwide. With continual updates designed to enhance performance based on customer feedback, EaseUS is well-positioned to deliver robust data management solutions for decades to come.
My professors in grad school had us so panicked about losing our precious thesis data that we kept copies everywhere we could — on flash drives, in the cloud, on backup hard drives, and even on printed stacks of paper stashed in various locations.
After years of overseeing academic projects, they knew one thing for sure: If something can go wrong, it will. Whether that meant mistakenly deleted files, hard drive failures, system crashes, software corruption, or even natural disasters, the result could be years of hard work down the drain.
To protect a range of users from such disasters at scale, EaseUS provides professional software solutions that are far more robust than the approaches I used as a student. Individuals, academics, professionals, SMBs, enterprises, IT admins, and service operators in more than 180 countries use the company's data management software for data backup, storage, and recovery, plus system cleaning utilities.
"I'm proud to say that our software is both powerful and easy to use," said Ada Scott, Marketing Manager at EaseUS. "To top it all off, our team offers what many software companies can't — quick and professional technical support 24 hours a day, seven days a week."
In a world where an estimated 59% of adults ages 25 to 34 share their poor service experiences online, and 44% of consumers take their business elsewhere after receiving poor customer service, EaseUS is taking a winning approach. That may be, in part, why the company has enjoyed consistent success for 15 years.
Today, consumers worldwide have installed popular EaseUS products, such as Todo Backup, Partition Master, Data Recovery Wizard, and CleanGenius, on millions of computers and servers. By providing continual updates designed to boost performance based on changing customer needs, the software company is poised to keep customers happy with a range of data recovery, backup, and management solutions for decades to come.
15 Years of Experience Serving Customers Worldwide
Ada told us EaseUS was established in 2004 at a favorable time in general for the software development industry, especially when it came to data security-related products. "At that time, good products could attract exposure quickly through word-of-mouth recommendations," she said.
The company was the result of the work that CEO Liu Jien and a small group of innovative tech pioneers put into what would become its first software product: Partition Table Doctor for DOS. The hard disk partition recovery and repair tool, released in January 2005, was followed by an early edition of the company's data recovery software in October 2005.
"At the very beginning, our first software could only be operated under DOS," Ada said. "So, our initial goals were to develop software that could be applied by more people in more situations over time."
Over the years, EaseUS did just that — expanding its tried-and-true products and introducing new tools to the rapidly evolving market.
"The main shifts we witnessed in the fields of data backup and recovery were the transformation from local disks to cloud storage and the need for mobile data recovery as a result of the increased presence of smartphones in our daily lives and workplaces," she said.
To keep up with these changes, EaseUS leveraged years of experience to develop a broad and diverse portfolio of cutting-edge data management software — from recovery and backup solutions to partition managers and transfer services — built to protect the data of Windows and Mac users in a reliable and cost-effective manner.
When it comes to innovation, EaseUS certainly isn't putting on the brakes any time soon. "At present, the company staff more than 100 employees, of which the research and development team makes up 64%," Ada said.
Safeguard Your Data for Free with EaseUS Todo Backup
Ada told us the next natural step after the release of the company's data recovery software in 2005 was the launch of its disk imaging software, EaseUS Todo Backup.
"After having the experience of losing valuable data, people began to realize the importance of taking care of their digital assets with easy and automatic solutions," Ada said.
EaseUS Todo Backup Free provides everything you need to confidently secure your digital life, from scheduling backups and cloning disks to safely restoring your system — all in a matter of seconds. For enhanced security, a quick and affordable upgrade to the Home edition unlocks premium options, such as the ability to transfer your system to a different PC or wipe a disk partition completely.
As with all of the company's solutions, the backup software has a long version history, culminating with the latest editions released on November 19: EaseUS Todo Backup Free 12.0 and EaseUS Todo Backup Home 12.0. These versions bring enhanced backup performance and support for the latest versions of Windows 10 and Microsoft Outlook, in addition to other minor improvements.
Ada said upgrades like these are the result of customer input as well as market research. Ultimately, EaseUS is on a mission to deliver a range of benefits to the individuals and businesses it serves — from dollars and hours saved to peace of mind and the ability to act with agility. And continual updates ensure the company can deliver such value.
"Our support team collects feedback and considers new needs, and our marketing department will gather related information via reviews from external professionals," she said. "Then, our professional products team looks into the field and examines new directions. Finally, this information is analyzed and researched to optimize our products."
New: Enhance Performance with Data Recovery Wizard 13.0
EaseUS recently unveiled a major upgrade to one of its most popular products with Data Recovery Wizard 13.0. The latest version of the reliable data recovery solution features a complete overhaul of the user interface, designed to intuitively guide users through the process of restoring data from a number of sources, including a PC, laptop, tablet, or removable storage device.
The all-in-one software is incredibly adept at restoring documents, graphics, video, audio, and emails, among other files, whether they were lost due to accidental deletion, a hard drive crash, formatting issues, or a virus.
Data Recovery Wizard 13.0 introduces support for data recovery from modern IoT devices, including DJI camera drones, GoPro equipment, and digital cameras from Sony and Canon. It also improves data recovery from corrupted solid-state drives (SSDs) — which is notoriously tricky in comparison with hard disk drives (HDDs).
Users are already raving about the product in reviews on the EaseUS site. "Excellent product," said customer Mid Wales. "I am a school teacher and thought that I had lost over 10 years' worth of school work on my external hard disk until I bought this product. Worth every penny. Thank you so much."
If you'd like to take the software for a spin, the free version can help to recover up to 2GB data, and it's easy to upgrade to the paid version if you need more than that. Otherwise, keep an eye out for more value-packed updates to all of the company's software solutions.
"We are always focusing on our customer's latest needs in data security and management, and, as a result, we will continuously release new products with simpler functions and relevant updates," Ada said.