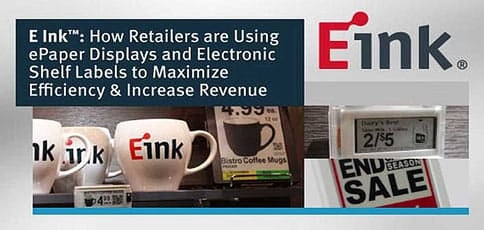 TL; DR: With a high contrast display that reads well in all lighting and a durable design that draws minimal power, ePaper combines the best of print and digital mediums. Engineered by E Ink, the world's leading innovator of ePaper displays for more than two decades, the technology first found success in eReaders and consumer electronics. E Ink has further innovated its technology to meet industry needs for low-cost, durable displays and electronic shelf labels (ESLs) that are adaptable to extreme temperatures and diverse viewing conditions within retail environments. By partnering with ESL suppliers, E Ink provides cost-effective solutions that are helping retailers maintain dynamic, accurate pricing and product location services that benefit both customers and their bottom lines.
The term electronic paper may seem like a contradiction, but there's no better way to describe it: ePaper looks like paper housed in an electronic device.
The secret of ePaper is electrophoretic ink (e-ink), which contains the same pigments as the ink used in the modern printing industry. Unlike LED displays, ePaper is also bistable, which means images remain visible even without power. And since ePaper uses ambient light instead of a backlight, it draws less power and creates a higher contrast, making it easier to read in any lighting and at any angle.
Mimicking the low-cost and high visibility of paper in a more durable form, ePaper is becoming a preferred display medium in both consumer and industry spaces. If you've ever read from a Kindle or Nook, you've interacted with a display engineered by E Ink, the world's leading innovator in the field of electronic paper display (EPD) technology.
"We have had great success in the eReader space because the technology is low-power and the displays are easy to read outdoors or indoors," said David Keefe, Director of Electronic Shelf Label (ESL) and Retail Signage Sales at E Ink. "Those attributes, in addition to its wide viewing angles, are also why E Ink is excellent for retail signage."
For more than two decades, E Ink has been developing the ePaper displays most commonly used in eReaders. In addition to consumer electronics, E Ink displays have found numerous applications in signage and advertising for many industries, and the company has partnerships with manufacturers that produce the ESLs that are quickly becoming the norm in the retail industry.
From MIT to Grocery Stores — Two Decades of ePaper Innovation
E Ink began in 1997 when a team of MIT Media Lab undergrads introduced their prototype of an electrophoretic display. Since then, E Ink's history is a record of firsts for the ePaper industry, from the first printed display in 1990 to the first three-pigment EPD in 2013.
Partnering with industry leaders, like Amazon, Sony, and Barnes and Noble, E Ink found its first success in the eReader space — especially with Kindle and Nook. From there, its display technology took off into other markets including digital signage, smart packaging and consumer products like mobile devices and smart watches.
E Ink continues to find many new applications as it expands into the retail space. The company is especially gaining traction among grocery stores and other retailers that use electronic shelf labels (ESLs) for inventory management, pricing integrity, and location services.
E Ink itself isn't an ESL company – it's a display company. But, because of its close partnerships with ESL suppliers, E Ink is helping to transform the way retailers use technology to advertise and manage their products.
Retailers Embrace E Ink for Signage and Dynamic Shelf Labels
Retailers are increasingly turning to ESL tags to meet the needs of fast-paced, customer-service focused environments. ESLs facilitate dynamic pricing, consistency between labeling and POS system information, and expanded compatibility with features like product location and reordering systems. They enable both retailers and consumers to quickly locate and gather accurate information about products.
ESL labels in retail environments require wide viewing angles, visibility under bright lights, extreme durability, and a versatility for different applications, which makes ePaper the best fit for the job. Plus, it's a low energy product, with the batteries powering E Ink displays lasting about five years.
Based on this compatibility, ESL display suppliers are E Ink's fastest-growing market, second only in size to its eReader market. Although E Ink doesn't serve retailers directly, its partnership with ESL companies enables it to gain valuable insights into the unique needs of retailers.
"We get a lot of good feedback about what retailers are looking for," said David. "We're doing a lot of product development to build displays that retailers want in their ESL tags."
One of the unique display challenges E Ink addresses for retailers in the grocery vertical is the wide range of temperature environments used to store their products. Historically, electronic devices aren't designed to withstand the extreme temperatures of hot cases or freezers, but E Ink's Aurora display works in temperatures ranging anywhere from just 5 degrees Fahrenheit to 122 degrees.
Another innovation E Ink developed with retailers in mind is the three-pigment Spectra — the first color ink display to be used in a marketed product. Spectra, which adds either yellow or red pigments to the standard black ink, helps retailers use color to draw customer attention to promotional events and special values.
Besides the standard two- or three-inch signage used in grocery displays, E Ink has seen increasing interest in larger sizes. E Ink's ESL display modules are available in a range of sizes through its partners to meet the needs of diverse retail spaces.
An Adaptable Display Technology Shaping Future Standards
Despite sounding like a contradiction, electronic paper has quickly moved from the realm of consumer technology to become one of the most adaptable displays for retail.
The clothing market is one area of expansion E Ink sees for the future of ePaper retail displays. Department store merchandise pricing has always been difficult due to high volume, price differentiation by size and color, and the addition of anti-theft devices. By combining ePaper displays with other partner solutions, E Ink is up for the challenge in apparel tagging.
"Two or three of our ESL partners are developing the tagging technology, and it is a great fit," David told us.
Another retail innovation E Ink is developing in partnership with Dai Nippon Printing is a point-of-purchase advertising tool based on E Ink's Prism technology, which displays colors and patterns in reaction to customer shopping behavior.
E Ink's key goal for the future is to become the industry standard for ePaper displays by continually innovating its technology to meet the display needs of current and future markets. This innovation includes building its displays' capacity for expanding ESL functions, like software and services, and driving down its own supply chain costs to reflect savings, especially to high-volume retail customers.
"It doesn't just have to be good technology; it has to be at the right price," David said. David attributes E Ink's strong growth over the last five years to this focus on the right technology at the right price.
With a history of firsts behind it, E Ink is looking forward to also shaping the future of ePaper display technology within retail and beyond.