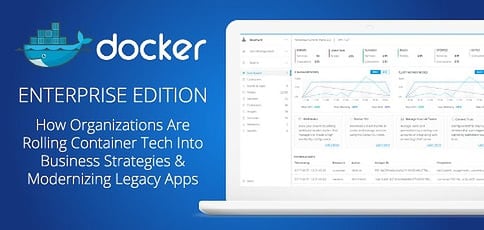 TL; DR: Widely viewed as the successor to virtualization, containerization has been making waves in the IT world for a number of years. And, since container software's beginning, Docker has been driving its growth and adoption. The company's platform was built to help IT and dev teams leverage the advantages of on-prem and cloud environments to speed up development projects and deploy applications with greater agility. Today, Docker continues to innovate the container space with a special focus on the enterprise. We recently chatted with CMO David Messina, who told us how Docker's new Enterprise Edition is allowing large organizations to roll container platforms into their business strategies, modernize legacy apps, and enjoy big returns on investment in the process.
It's late at night, and a bright-eyed entrepreneur is writing the latest app to finally push her humble business into the major leagues of software development. In contrast to the subtly lit room around her, an alarming, blinking message suddenly pops up from the taskbar.
The hard disk is failing, but she remains confident that her backups are recent enough. Erring on the side of caution, however, she quickly compiles what code she has completed and saves it to the cloud. When downloading the app from her secondary computer, she notices a major problem — the program refuses to run, insisting that this new system is missing the necessary software library. Having to take extra time to resolve the issue means that her latest app launch will be severely delayed.
On a larger scale, these hardware and software inconsistencies could result in a lot of lost revenue. Luckily, containers are the perfect solution to get software to run reliably across computing environments. And, since 2013, Docker has led the march toward container technology's widespread adoption.
"We built the Docker platform to overcome these challenges and usher companies into the digital era," said David Messina, Docker's CMO. "By containerizing applications, they become more secure, more cost-efficient, and portable between hybrid and multi-cloud environments."
In just a few short years, Docker created a revolutionary platform that allows true infrastructure independence.
As the word implies, a container is used to ship software from one machine to another, and Docker allows these apps to be packaged in a uniform, portable format with all the necessary libraries to run on independent of infrastructure. Unlike VMs, containers do not require a full operating system to run applications.
This allows businesses to run many more applications per physical server, which is why a number of prominent enterprise-level IT companies, including Microsoft, HPE, and IBM, have invested in joint solutions around the Docker container platform.
Working With IBM to Propel Businesses in Their IT Evolution
Containers are simple and use far fewer resources than VMs, which are a current favorite of many businesses. Just as virtualization was a game changer for how datacenters were operated Docker seeks to change the face of IT and has joined forces with go-to market partners, including IBM, in a continued effort to do so.
"We have worked closely with them under the common goal to propel enterprises on their modernization journeys," David said. "In October 2017 at DockerCon EU, IBM joined our Modernize Traditional Applications (MTA) Program and announced Docker Enterprise Edition, our container platform, for IBM Cloud."
IBM is just one of several partners working with Docker to help businesses achieve their modernization goals. Accenture, Cisco, HPE, and Microsoft have also teamed up with Docker to enable businesses to containerize their legacy applications and run these applications successfully in hybrid cloud environments.
In turn, Docker helps its partners by containerizing and powering their applications. IBM's next-generation solutions — such as Watson AI and Hyperledger blockchain software— run on Docker technology.
"This ultimately means that monolithic applications can become smarter with little legwork," David said.
New Updates and Integrations Mean Greater Flexibility for Customers
In early 2017, Docker released its new Enterprise Edition (EE), a container platform, which includes a number of orchestration, security, and compliance features to help enterprises scale their IT initiatives. Most of Docker EE's revisions were inspired by customer feedback and play into the most important of business needs, including security, reliability, and cost-savings.
"We have always emphasized the importance of security within the Docker container platform and integrated security features, including Docker Content Trust, image scanning, Role-based access control, and more that enable customers to recognize that Docker provides a unique opportunity to bolster security across the entire application lifecycle," David said.
By making it so apps can be deployed more rapidly and are more secure, Docker allows businesses to transform their IT operations without the need to completely remake their apps. Docker Enterprise Edition features security scanning, encryption, and, with the latest version, role-based access control (RBAC).
For multi-system scaling operations, Docker EE provides mainframe support, multi-architecture orchestration, and multi-tenancy.
"Most recently, we announced a seamless integration of unmodified Kubernetes for the Docker platform, alongside Swarm," David said. "In keeping with our approach to flexibility and openness, this decision had a lot to do with offering customers freedom of choice."
Kubernetes and Swarm are popular open-source orchestration solutions for automated application management and deployment and are capabilities integrated into a container management platform.
Helping Enterprises Innovate and Enjoy Better Returns on Investment
App migration problems can arise due to a number of factors. Most often, the culprit is as simple as a missing library or a mismatched line of code. Even so, the problem — and therefore the solution — may not always be obvious to the developer, making the re-tooling process tedious.
"Today's enterprises deal with a pervasive problem that is rooted in the ongoing battle between maintenance and innovation," David said. "They need to move quickly, but at the same time, they are weighed down by the time and money it takes to maintain legacy applications."
And this is a big deal from a revenue standpoint, as David told us the process often accounts for up to 80% of the IT budget.
Because the Docker container platform eliminates the tedium of app maintenance, businesses can immediately see results with very little effort. Furthermore, Docker benefits any business that currently runs applications on a server.
"The value of Docker extends across development and IT teams," David said. "The technology applies to any company that wants to deploy applications more rapidly across a secure software supply chain."
David used MetLife as an example, noting the company has been able to slash its operational costs by more than 50% and re-invest those cost savings to fund future innovations.
"It's these benefits that are getting the attention of the largest enterprises in the world," he said.
Leading the Charge in Enterprise and Open-Source Development
Founded in 2013, Docker has spent several years developing its Enterprise Edition platform. Still, the Docker team anticipates many future updates, as the challenges businesses face tend to evolve and multiply with time.
"We are laser focused on building a container platform that continues to set enterprises up for success and greater innovation," David said. "We now have over 400 enterprise customers, including some of the largest enterprises in the world."
Docker's extensive list of clients includes ADP, MetLife, Visa, and many other industry leaders.
Going forward, Docker plans to continue to work closely with enterprises, as well as bring DockerCon back to its hometown of San Francisco. DockerCon is an event where customers, partners, and the community can discuss news and trends and share their success stories with containerization. Notably, the gathering is where IBM first announced its profound success in using Docker EE for IBM Cloud.
"With Docker EE, companies save around 50% and are able to deliver applications 75% faster," David said. "This tangible and immediate ROI is why enterprises are relying on Docker as the platform for their modernization initiatives."
Contributing to Docker's massive success is its relationship with customers, as well as the open-source community. The Docker container platform enables users to speed up and automate the revision and deployment of apps — with the flexibility for users to utilize features that best suit their needs, including security and orchestration (Kubernetes and Swarm). Because these apps will be deployed and used across multiple platforms, the use of containers ensures that software is always working.
"As it has always been, we will continue to work closely with our customers and the community to meet their evolving and respective needs," David said. "The container ecosystem and open-source technology at large is at the forefront of innovation, and we are committed to helping lead that charge."
Software development is far from static — there is always a chance a new problem or growth opportunity emerges. As such, the software lifecycle should be as painless as possible to save money, time, and effort. Virtualization allows a multitude of applications to run on a single server, while containerization smoothes out all of its rough edges and perfects the process. As David noted, containerization is no longer an "if" but a "when" for businesses.