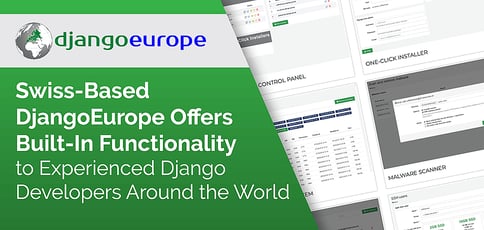 TL; DR: With datacenters in five countries, including the United States, DjangoEurope is making an impression on the worldwide hosting market. The company attracts web developers seeking reliable security, built-in functionality, and automated service at a reasonable price. And that's exactly what Founder Pascal Bader set out to deliver when he launched DjangoEurope. Since then, he's worked to ensure his hosting company provides the latest features for customers and supports a variety of platforms and languages in addition to Django.
DjangoEurope, a hosting company based in Switzerland, boasts a history that even the largest web hosts would envy. In nearly a decade of operation, the company has never had a security breach.
"Since DjangoEurope was founded, nobody has hacked into our system," said Founder Pascal Bader. "Other big companies have had a lot of problems with data breaches, so that is a very important area for us."
But how does a small Swiss company provide safeguards that better-known, international IT companies can't match?
Pascal told us DjangoEurope emphasizes security at every step, which can be a huge differentiator in the hosting space. Most of the host's success in data protection stems from Pascal's efforts in developing up-to-date checks. He devotes a significant amount of time to keeping the system safe and even has his tech-savvy friends check the platform for vulnerabilities.
"No one has ever hacked our system. Other hosting companies may not care as much about security, but we devote a lot of time and effort to safeguarding our system," Pascal said.
But security alone isn't enough to make a host stand out in the international marketplace. That's why Pascal built nearly every feature a developer would need into the host's control panel. DjangoEurope provides users with those built-in server tools so web developers don't have to start from scratch.
"A lot of software is already set up on our servers," Pascal said. "That way, users can work with tools provided rather than developing them again and again."
That proactive approach to addressing customer needs is one reason DjangoEurope is growing its reach as its functionality and security impress users worldwide.
Simplifying Hosting and Developing with a Comprehensive Toolkit
Although DjangoEurope's headquarters are in Zurich, Switzerland, the company has datacenters around the world, including locations in Germany, Finland, and the United States. These multiple datacenters provide a significant value for customers.
Each has standby power systems so, if servers go down, they can return online quickly. Further, the datacenters' automated systems protect IT infrastructure, websites, servers, and web applications.
Each datacenter provides redundant storage, and the company deploys automatic backups across its transcontinental locations so users never lose data because of a natural disaster or power failure. DjangoEurope stores daily backups for seven days and weekly backups for three months.
That commitment to reliability is a priority that echoes through all of its features.
Its automatic Django installer prompts users to enter their project name, website address, and admin login, and the process is complete in less than a minute. DjangoEurope allows Django administrators to purchase an unlimited number of users through its web interface.
Despite the company name, however, DjangoEurope isn't just for Django users. Instead, clients can use the company's web interface to set up a PHP site running on Apache or an email server equipped with a spam filter and IMAP support.
Perhaps most convenient is its web system through which users can manage their accounts and products. DjangoEurope clients can use it to access website configuration tools, email accounts and forwarding, and other features.
"We cater to people looking for web hosting, and our platform is designed with developers and site-building experts in mind," Pascal said.
Founder Pascal Bader Provides Personal Service to Customers
All the security, service, and features that DjangoEurope offers is remarkable given one fact about the company: Pascal does almost everything himself. While he still consults with co-founder Thomas Steinacher, who currently runs a Silicon Valley-based SaaS company called Close.io, Pascal monitors servers, develops features, and addresses concerns without the help of a team.
"If there are software problems, I help my customers. If a customer has an issue with their Django app, I can work with them to fix it," Pascal said.
And he handles server issues quickly.
"We have a Service Level Agreement, so if something happens with the server, I get notified by the SMS system," said Pascal. "I try to fix the server within 30 minutes and solve the problem, at the most, within four hours."
But how does one person address concerns with such efficiency?
"We have a Service Level Agreement, so if something happens with the server, I get notified by the SMS system. I try to fix the server within 30 minutes and solve the problem, at the most, within four hours." — Pascal Bader, Founder of DjangoEurope
Pascal has automated many of the company's features so he doesn't have to answer every question himself. For example, the company's support ticket system can answer the most common user questions.
"The system can detect questions and provide answers immediately," he said.
This ticketing system is more efficient and reliable than other types of client communication channels. For example, a phone-based system may be inefficient because of language barriers and complex explanations. But with his system, Pascal can send an answer from a database of solutions he previously provided to other customers.
"I can provide a lot of answers and examples through written communication. But to communicate these concepts over the phone is too slow. The ticket system is much more efficient," he said.
DjangoEurope Reaches a Balance Between Service and Affordability
DjangoEurope shows its commitment to users by offering a level of security that larger hosts can't. But Pascal's company goes further by ensuring users — both Django and non-Django — can access its services at an affordable price.
The company can strike this balance between price and service because of its unique and efficient structure. Pascal successfully runs the company himself and doesn't want to hire a large team that would drive up his pricing model.
Still, despite a reasonable price, the company isn't interested in coming in at the lowest cost. It wants to balance pricing with the robust suite of tools it offers to make its services accessible to everyone.
"We want to keep prices down, but we don't want to be the cheapest. Other companies may be cheaper, but we have a reasonable price to ensure a high level of quality," Pascal said.
DjangoEurope's pricing structure varies depending on how much SSD storage, RAM, processes, and users a company requires. The company's basic plan includes 20GB of storage, 1GB of RAM, 100 processes, and five SSH users. Its premium plan increases those levels to 50GB of storage, 4GB of RAM, 400 processes, and 15 users for 25 Euros a month.
Users have many payment options, with the company accepting PayPal and most major credit cards. It also encourages prepaid plans with a 10% discount for users who pay for a full year of service upfront.
DjangoEurope offers a compelling mix of built-in features, reliable security, and speedy customer support at an affordable price. Though Pascal has single-handedly built a hosting company that stands out from the rest, he remains committed to the company's original mission: making hosting easier.
"If people need help, we strive to help and support them as much as we can. The problem with the typical server is you have to do a lot of work. With our solution, you don't have to do so much work," Pascal said.