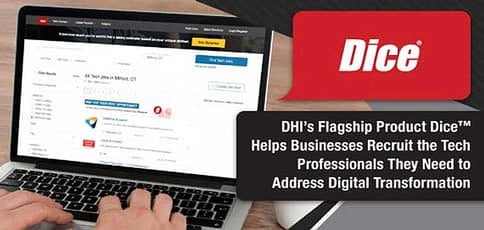 TL; DR: Modern businesses, regardless of industry, need to provide up-to-date information about skills, salaries, and company culture to attract the most desirable hires. Dice, part of the DHI Group, identified this need among tech brands back in 1990, and over the subsequent decades, has developed digital tools that provide tech companies and other organizations with resources to recruit competitively. One of Dice's most attractive features is its Open Web capacity, a function that connects recruiters to top candidates who may not actively apply for open positions. Job seekers, too, can determine the value of their skills, polish their application materials, and find their ideal position using Dice.
Companies have always faced competition in attracting top talent, which is why information about salaries expectations, recruitment strategies, and corporate culture development can be so invaluable.
In 1990, Data Processing Independent Consultants Exchange (DICE) opened in the San Francisco Bay area to address this problem. In 1996, Dice debuted one of the world's first career sites on the web — Dice.com.
Since its inception, Dice has connected companies with the qualified job seekers they need. Today's Dice offers more data and market analytics that better prepare companies for recruitment and identify the candidates they should pursue.
"Dice began as one of the first career sites, and, today, provides a comprehensive suite of recruiting solutions, empowering companies and recruiters to make informed hiring decisions," said George McFerran, EVP of Product & Marketing at DHI Group, Dice's parent company.
Dice is the flagship product of what became Delivering Hiring Insights — or DHI for short — in 2015. After acquiring career boards in six sectors, DHI developed recruitment strategies, data analytics, and job postings for candidates and recruiters. Dice is DHI's tool that's solely devoted to companies hiring in the tech sector.
Ultimately, the functions of DHI and Dice are the same: to give employers the knowledge, data, and job posting capabilities to find the ideal employees for their companies.
Providing Recruiting Tools to Help Identify & Onboard Top Talent
Dice aims to track the lightning-speed changes within the tech industry, including identifying salary figures and the shifting skills needs. One of Dice's key functions is to help recruiters and candidates focus on skills that are often most important to employers.
"In the tech world, skills are more important than a job title, years of experience, or education in determining competitive compensation, which is why Dice offers a skills-driven Salary Calculator," George said. "It pinpoints the compensation necessary to attract the best tech talent in your market."
Dice's Salary Calculator allows both job seekers and employers to view salary ranges for various positions, as well as determine how specific competencies affect pay. For instance, the calculator suggests that the annual salary for a senior Java developer in San Francisco, California with 5 years of experience would be between $82,500 to $129,500. But skills like JMS and Multithreading will add compensation to that base income estimate.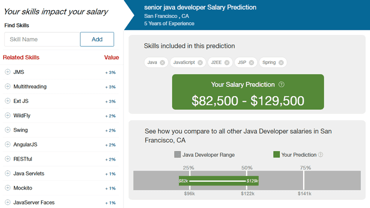 Further, tech professionals can use Dice to search for jobs, market themselves, and track the desirability of their skills.
Employers can use Dice's analytics and insights to drive recruitment strategies and attract the right talent for their positions. Dice's Ideal Employer rankings describe the working conditions at top tech companies. Google always ranks high because of its company perks, flexible work schedule, and committed team environment. Smaller employers can look to these rankings to determine which of these workplace culture features they could deploy in their own business.
"Our recruiting tools are designed to make the process efficient for employers hiring tech talent," George said.
Dice also lets employers post jobs on 3,000 partner websites to attract tech-specific talent. Posting prices vary based on the number of jobs a firm wants to post. Ultimately, though, the strategy is to find the best candidates among the 2 million active job candidates on Dice's website.
Data and Insights Show a Current Climate Ripe for Tech Advancement
Dice gives employers and job seekers the latest information about the technology field, which can prove invaluable in the ever-shifting tech landscape. The most significant changes are often the demand for skills around the newest technologies.
"We see emerging technologies like blockchain, AI, and machine learning driving the constantly changing demands for skills. In our latest salary survey, we found the best-paying skills include Platform as a Service (PaaS), MapReduce, Elasticsearch, Amazon Redshift, and Cloudera," George said.
Information about salaries and skills is conveyed to candidates and job seekers through features like "Dice Data" and "The Dice Report." The latter compiles the most significant changes in the tech field each month. The December 2017 report included an infographic of the most in-demand skills of the year. Sought-after skills were led by Docker and React.js, which saw an increased demand of 1,017% and 806% respectively between 2016 and 2017.
Dice also keeps employers informed about the most effective new hiring methods. "Businesses are looking for talent that surfaces in technical communities — from hackathons to contributions in open source communities and more," George said. "Specific technical skills make top candidates stand out, and businesses are paying closer attention to these communities to understand who those people are."
Tracking down these under-the-radar candidates is where Dice proves its worth. Dice can help employers find job-seekers they might not otherwise be able to recruit. Dice's Open Web compiles information from more than 180 social websites to create profiles of candidates who may not actively apply for positions. Once a candidate's profile is assembled, recruiters are then provided contact information for the candidates identified.
"Tools like Open Web aggregate social profiles and surface 'hidden gem' tech professionals who might be employed, but are open to hearing new opportunities," said George.
And new employees need to be encouraged and supported to continue developing the skills that made them such an attractive hire in the first place. "Once recruited, it's important that employers support the employees' desire to continue their work in these communities, which serves as professional development for the individuals and can inform company technology strategies," George said.
Dice Pairs Companies with Ideal Candidates for IT Needs
Since its inception nearly 30 years ago, DHI's Dice has given employers the tools to create competitive recruitments and identify candidates with valuable skills. More recent capabilities even include finding talented tech workers who aren't actively seeking employment.
In turn, candidates can put a monetary value to their skills, and connect with recruiters hiring at strong-fit tech companies.
"Dice is solely focused on tech professionals, and when employers post a job on Dice or search for candidates, they're not going to be engaging with anyone besides tech talent," said George.
Though DHI and Dice have changed, they still have a core mission: identifying and promoting skills required for success. "These are the technical skills supporting the build-out of emerging technologies," said George. "Employers and recruiters need to understand what candidates possessing these skills expect for salary and what matters most in attracting them."