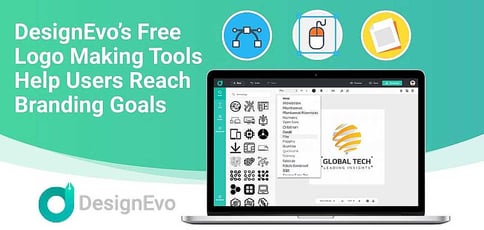 TL; DR: The PearlMountain team has been building graphic design software since 2006, creating solutions that have helped millions of users, but the software development company wanted to do more. Most of its software was developed for professional graphic designers, so the team decided to build a logo-creation tool anyone could easily use. The idea was simple enough: provide an affordable and intuitive way to create bold, original logos. And DesingEvo, the company's free logo designer, does just that by striking a balance between powerful features and a user-friendly interface.
A logo is the first thing that prospective customers, partners, and clients notice about a brand. That's why even the smallest businesses, startups, and entrepreneurs should work hard on developing a logo that looks great and embodies its mission.
Unfortunately, creating an impressive logo takes time — and money. Most business owners are focused on bringing new products to market, which doesn't leave them much time to work with a graphic designer to explain their vision. For those starting out, a shoestring budget may not include the funds needed to invest in complex, professional-grade graphic design software.
That's why the folks at PearlMountain created DesignEvo. It's a simple, intuitive tool that anyone can use to create bold, original logos from a library of templates, fonts, and royalty-free vector art. Best of all, the price point is more than affordable — it's free!
Why a Successful Software Company Launched a Free Logo Maker
Since 2006, PearlMountain has been researching and developing graphic design software aimed at helping customers become pro designers thanks to its intuitive, easy-to-use tools. FotoJet, the company's premier project, reaches millions of users in close to 200 countries. But rather than rest on its laurels, PearlMountain has continued to design complementary software, including Picture Collage Maker, Publish Plus, and PicGIF.
"After the launch of FotoJet, we received incredible support from users all over the world," said Candy Zhao. "That encouragement drove us to think deeper. We asked ourselves, 'What else can we do to help our users achieve their creative goals?'"
Ultimately, the team at PearlMountain decided to solve a problem similar to the classic dilemma of squaring a circle. On one hand, people who aren't design professionals don't know how to use complex graphic design programs with powerful tools that can be intimidating and difficult to learn. On the other hand, easy-to-use solutions often create logos that often result in something either too boring or too derivative.
"We knew our customers wanted simple tools – but they also didn't want to crank out bland, paint-by-numbers designs," Candy said. "Our team brainstormed ways to build a solution that would be user-friendly while also encouraging creativity and originality."
With more than 10 years of expertise in the graphic design software space, PearlMountain had the knowledge and resources necessary to create a powerful new tool. The result was an online logo maker it called DesignEvo.
"As soon as we launched, we saw small businesses, start-ups, and individual entrepreneurs use the solution to quickly create inventive and dynamic professional logos," Candy said.
Building a Passionate Team That Helps Millions of Users
Over the last few years, Candy said there has been a shift in the way software companies market their tools. She explained that brands used to market themselves to the general user, but today's brands are "far more likely to integrate with niche online communities."
As online spaces become more distinct and attract increasingly specialized visitors, it's difficult to announce a new product in a way that reaches all of its prospective customers. This is especially true for a product like DesignEvo, which is made for a wide variety of users.
"Out of all the pro logo makers, ours is the easiest to use," Candy said. "That means there are many people in many industries with many passions who need the tools we offer."
To spread the word, DesignEvo's marketing department didn't target a mass audience — instead it has gone after a number of smaller audiences. For example, it created a tool just for colleges and universities. The team built a variety of templates that resonate with the missions of educational institutions and added designs for books, pens, and more.
"We want to connect our product to specific communities, and we've built tools that help us do exactly that," she said. "[Our team loves] solving new challenges and adapting to the unpredictable."
A Wide Variety of Templates and Features Help Users Build a Brand
College and university templates are far from the only industry-focused solutions DesignEvo offers. Each template is designed to do more than simply provide a generic-looking logo into which a customer can plug in the name of his or her organization.
"We have a huge number of templates for all kinds of companies and businesses." Candy said, "What our templates do is provide a space within which users can let their imaginations run wild. Our tools are like steroids for the mind's creative muscles."
On the DesignEvo website, users can find over 7,000 logo designs, more than 100 fonts, and several varieties of icons for countless industries, marketplaces, and missions. Every template is fully customizable so users can make a logo that fits their exact specifications.
And everything a user works on is saved in the cloud, which is especially helpful for those who suddenly need to work on something else or those who have hit a creative roadblock. Users can take a break and come back to their saved design later to complete it or give it a final approval.
Whether you need a logo for an app, social media, your website, business cards, or merchandise, DesignEvo makes it easy to scale an image to any size without turning it into a pixelated mess. Whatever the reason, DesignEvo has a solution to help you create the design of your dreams — and if you need something else, DesignEvo can help there, too.
"Whenever our customers send us an idea, a suggestion, or feedback, we discuss it as a team," Candy said. "When it's urgent, we update our app on the very same day. When it's bigger picture, we strategize and see how we can add it to our solution."
DesignEvo is Focused on Providing an Intuitive Experience
DesignEvo has so many different tools, from gradient color adjustment to curved-font logo text, that users can create just about any logo. The software company's commitment to constant progress has ensured the updates and added designs are a fit for the wide range of customers who have come to use and trust the software.
"Every user has their own unique needs. Some really like the fact that we have so many logo templates. Others get a lot of use out of the re-edit feature and the preview feature," said Candy. "Of course, not every entrepreneur or business owner is working with huge budgets, which is why many of our customers love the fact that our product is free."
Customers and reviewers alike rave about DesignEvo, including Igor Ljubuncic, the founder of the website Dedoimedo. Igor said he loves how efficient it is because it doesn't require registration, allowing users to immediately start creating logos. "The interface is fairly simple…DesignEvo offers a very flexible, intuitive set of tools and artwork to get you enthused and engaged," he wrote.
"In terms of our competitors, the cheapest product that creates attractive logos costs about $100. Entrepreneurs who hire graphic artists have to dedicate a lot of time to finding and communicating with their logo designer," said Candy. "But DesignEvo users can do it all themselves, quickly and at the lowest price point of all – free!"