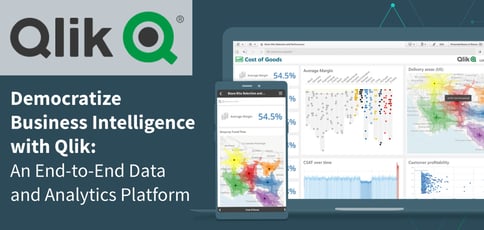 TL; DR: Qlik has been on a mission to help enterprises around the world access and derive value from data since 1993. To make the process easier, the company leverages a human-first approach to machine learning and augmented intelligence and offers training, consulting, and resources to encourage data literacy. With a focus on empowering people to drive meaningful social change, the company is making it clear that data has the power to transform both businesses and the lives of people around the globe.
North America is in the midst of an unprecedented opioid crisis as misuse and addiction continue to present a serious public health problem. In 2018 alone, 47,590 people in the U.S. and 4,614 people in Canada died from opioids — representing an increase of more than 300% over the past decade.
Health organizations are working diligently to improve recovery programs and provide support via overdose prevention and reversal drugs. Meanwhile, there's another tool that can be put to use to save lives: big data.
First responders in Surrey, British Columbia, are now working with the business intelligence (BI) company Qlik to use geoanalytics to map local outbreaks — and react accordingly.
"They use Qlik to identify hotspots around the opioid crisis, and based on that data, position ambulances where they knew they might have problems — thus saving lives," said Josh Good, VP of Product Marketing at Qlik, "That's the kind of thing we can make possible."
The company's end-to-end data and analytics platform empowers businesses of all types to improve decision-making and solve pressing challenges. By leveraging a data-driven approach, countries across the globe can better understand customer behavior, discover new revenue streams, and balance risk and reward.
Qlik's vision is to help its more than 50,000 customers in over 100 countries find the answers they need via a human-focused approach to machine learning and augmented intelligence, as well as data literacy training.
Ultimately, the company is making it clear that data and analytics have the power to transform both business and society, whether that means enabling social change or boosting revenue.
Helping More than 50K Customers Find the Answers They Need
When Qlik, originally based in Sweden, was founded in 1993, Josh said the company focused primarily on providing users with data analytics. "The problem back then was people couldn't get simple answers to simple questions," he said. "That is what led us to create the Qlik Associative engine — the technology we use for exploring data — in the first place."
One of the company's earliest missions involved helping the multinational food packaging and processing company Tetra Pak decide which machines it should buy based on the different containers it needed to create.
"We essentially solved a data-association problem, and we realized that our model was really useful for data analysis beyond just selling machines," Josh said. "From there, it evolved into a BI tool."
Josh said the Qlik platform helped inform the second generation of BI, which differed from the one-sided, report-centric offerings of the past.
"There was a very visual approach to the second generation of BI," he said. "Dashboards were big and colorful charts were exciting, but to stay ahead of the game, we knew visualization alone would not be enough — that was table stakes. We wanted to take it to the next level in terms of what those visualizations were telling customers."
Today, the company is headquartered in King of Prussia, Pennsylvania, and is turning its attention to the analytics of the future.
"Democratized third-generation analytics represents how we — with a self-contained cloud and data-independent architecture — will continue to deliver the value and business outcomes our customers expect," James Fisher, Chief Product Officer at Qlik, stated in a recent blog post.
A Human-First Approach to Machine Learning and AI
Josh told us that Qlik's third-generation data analytics platform, Qlik Sense, relies heavily on machine learning, augmented intelligence, and data literacy. The technology helps organizations make data-driven decisions via scalable multi-cloud architecture, a conversational interaction style, and an associative analytics engine that indexes data relationships.
"On the augmented intelligence side, getting humans to interact with the analytics is so important," Josh said. "With the typical black-box approach, data just comes out. Your answer could be 'four,' but you don't trust it, you don't understand it, and it's a lot less actionable because you don't have context."
That's why Qlik has put people at the center of its approach to augmented intelligence. If, for example, a company wants to explore its total sales during the past five years in a specific region, Qlik Sense will provide that data — and more.
"The platform will not only answer your question, but it will supply a bunch of other information, taking you down a path of understanding," Josh said. "If, for instance, your sales are up by 10% — is that good or not? Well, it's fantastic if your business was declining last year, but not so good if you were growing 40% as of last year."
Qlik Sense's augmented intelligence provides that context by automating processes and suggesting relevant insights. Users can even have a conversation with their data via the Qlik Insight Bot. Qlik's platform is designed to enhance human intuition, using the power of machine learning to make data actionable.
Qlik's Associative engine also helps users explore data without boundaries, trading in rigid, linear exploration for a multidirectional search across all information — much like the human mind works.
Data Literacy Training, Consulting, and Resources
Ultimately, Josh said the company views augmented intelligence as a pathway to data literacy, which the company defines as "the ability to read, work with, and communicate with data."
"When we use augmented intelligence to surface insights in the best context possible — when we show clients adjacent, associated information — their ability to understand and argue with data is enhanced," he said.
Qlik's leadership believes that data literacy can transform businesses, and that's why they put so much energy into helping business leaders master the skill themselves. "Our vision is to enable a data-literate world," Josh said. "Not making an effort in that regard would be like building cars but not teaching people how to drive."
Qlik's latest research report, "Lead with Data: How to Drive Data Literacy in the Enterprise," explores insights into the state of the industry and offers best-practice advice on how businesses and employees can achieve personal success and economic growth by leveraging modern skillsets.
According to the study, large enterprises with a firm handle on data literacy can be worth up to 5% more in total value, which equates to anywhere from $320 million to $534 million. At the same time, only 24% of decision-makers surveyed across Europe, Asia, and the U.S. reported feeling confident in their ability to read, work with, analyze, and make arguments using data.
To help bridge that gap, Qlik offers several resources, including a skills assessment, free and self-paced online courses, and a robust Data Literacy Program designed to build skills across organizations. The company also founded the Data Literacy Project, a worldwide community devoted to helping organizations thrive in a data-driven economy.
"I'm proud to be part of a company that cares about improving data literacy for anyone interested because it's providing massive social good," Josh said.
A Focus on Accelerating Customer Outcomes
Moving forward, Qlik will continue to enhance its third-generation BI solutions. In January, the company announced that it had acquired RoxAI, the makers of the Ping intelligent alerting software. The technology will expand Qlik Sense with actionable, self-service alerting and workflow automation capabilities.
The goal is to help companies accelerate the business value of data, empowering them to make faster, insight-driven decisions.
"The idea is to take analytics to where you're making your decisions in your daily life, rather than having to stop and check a dashboard," Josh said.