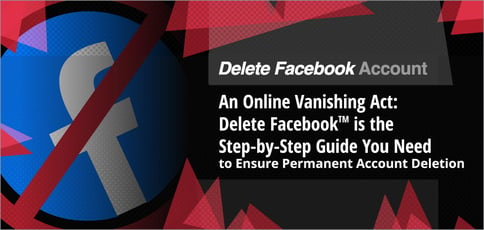 TL; DR: The aptly named Delete FacebookTM is a comprehensive guide detailing how to reclaim your data from one of the most powerful social media behemoths around. By outlining how to break free of social media's grasp, the guide helps foster a culture of data privacy awareness. With an ample dose of best practices to employ after you've deleted your account and considerations for other privacy-zapping apps, Delete Facebook is helping users worldwide wipe their social media slates clean.
Edward Cant has long been inspired by a remark often attributed to English politician Sir John Dalberg-Acton: "Where you have a concentration of power in a few hands, all too frequently men with the mentality of gangsters get control. History has proven that. All power corrupts; absolute power corrupts absolutely."
After founding Delete Facebook, the quote has become all the more relevant for Edward. "While I'm not suggesting that Facebook is absolutely corrupt, it's easy to see how an institution with that much power and reach would inevitably operate under people who don't necessarily have the best intentions," he said.
Edward launched Delete Facebook in 2010 with a simple objective: to help friends, family, and the general public find the social networking site's then-buried account deletion form. Over time, the site evolved as Facebook consistently failed to rein in data privacy issues.
"It's difficult to suggest that they haven't had enough time to fix these problems, considering that when I started making this site almost 10 years ago, they were already having trouble," Edward said. "Unfortunately, things don't seem to be changing as much as they could have."
Today, Delete Facebook has expanded to become a resource that highlights Facebook's historic, privacy-based issues and scandals while still fulfilling its original goal — to help readers break free of social media's grasp through a step-by-step guide. To foster a culture of privacy protection, the site also includes best practice advice after you've deleted your account and considerations for the safe use of other Facebook-owned apps.
Helping Users Break Free of Social Media's Grasp
In February 2004, a seemingly innocuous project started out of student Mark Zuckerberg's dorm room at Harvard University. Few could have predicted his social network would spark a massive change in the way we would eventually connect online. And even fewer would have wagered that 14 years later, Mark Zuckerberg would testify in two Congressional hearings on social media privacy and data abuse.
But that's precisely what happened. On April 10, 2018, the Facebook CEO appeared before the Senate Judiciary and Commerce committees to answer questions on the social network's role in the 2016 presidential elections, how it handles data, whether it is a monopoly, and how it should be regulated.
The next day, he faced a five-hour session of questions from the House Energy and Commerce Committee on Facebook's culpability in the Cambridge Analytic data leak, how it tracks users, its 2011 consent decree with the FTC, and privacy protections for minors.
"All around the world, there are examples of governments dealing with the implications of this tool being used in areas of politics and having effects that couldn't have been considered before," Edward said. "Unfortunately, many of these government representatives aren't educated enough to fight threats effectively."
In terms of the general population, Edward said many users are either not interested or unaware of the implications of having their data available and sold without permission. "It's a very difficult topic to broach with anyone who's not in the tech industry," he said. "I'm hoping that with the recent news about Facebook and social media in general, people are gradually becoming aware — it's just taking a very long time."
Fostering a Culture of Data Privacy Awareness
If you're looking for a refresher on Facebook's most recent blunders, check out the "Facebook in the news" feed on the Delete Facebook home page. There's a link to Chris Hughes, Co-Founder of Facebook, telling The New York Times that the social media giant should be broken up; a TED Talk on Facebook's influence on Brexit swing voters, and a Fast Company report revealing that Facebook allows anyone to look up users by their phone numbers — the list goes on.
"There's lots of news implicating Facebook in not-so-great security and privacy practices — and that has been their ethos the entire time: that the world should be more open and connected," Edward said. "But, over the last couple of years, it's become more evident how almost outrageously open they have been in terms of what they do with your data."
In the beginning, Edward included a tongue-in-cheek Facebook like button on the Delete Facebook site. In addition to providing a good laugh, the experience taught him a valuable lesson when it comes to third-party widgets.
"The most amusing part about it was that Facebook kept resetting it," he said. "We'd get 3,000 Facebook likes or whatever, and then the next week the count would go down to zero. Then we would get another 5,000 and be reset to zero again."
Edward eventually removed the widget from the site. Today, he recommends that app and web developers also reduce their dependencies on Facebook technologies by trading like buttons for share links and avoiding Facebook Connect for sign-ins. Both actions make it more difficult for Facebook to track users around the web.
Privacy Best Practices After You've Deleted Your Account
It may require a little more money or effort for developers to establish their own login system instead of using Facebook Connect, but Edward said the benefits greatly outweigh the costs of unintentionally helping Facebook track your users.
On the individual user side, Edward recommends following the Delete Facebook Guide, which includes information for backing up your data, revoking app permissions, account deletion, and even social consequences.
Next, he suggests switching to a free privacy-focused browser, such as Brave, which does not access any identifiable user data. "It's a browser that values your privacy first and takes care of a lot of common issues without any real effort on the user's behalf," Edward said. "My mom installed it, my partner installed it, and as long as they keep using it, it will be a massive benefit to them."
Edward is also a fan of DuckDuckGo, an encrypted search engine that keeps users anonymous and doesn't filter content through personalized search results. As an alternative to Facebook Messenger, Edward recommends Signal, a secure messaging app free from ads, affiliate marketing, and tracking.
Overall, the site is meant to be a simple, independent resource highlighting the state of the industry when it comes to social media privacy and offering advice on how you can protect yourself.
"I'm very happy with the site right now," Edward said. "It's imperative that people realize how their data is collected and how it could affect their lives if the wrong person gains access to it. Private information is private for a reason."
Considerations for Facebook-Owned Apps: WhatsApp, Instagram, Oculus
It's difficult to define where Facebook begins and ends when you consider that the social media giant acquired 80 companies between 2005 and early 2019. The most popular apps now owned by Facebook include WhatsApp, Instagram, and Oculus VR.
While Edward acknowledges the value in these tools — after all, they've made a world of difference by expanding communication channels — he's all too aware of their downsides. The most important thing is for people to be aware of what they're signing up for. Regardless of the social network, the problems are often the same," Edward said.
He said that users frequently have linked data between Facebook and Instagram, so even if you delete one profile, Facebook may still have your information. "Even if one is technically no longer in existence, you never know what they keep or what they delete," he said. "I'm hopeful that, as a result of various bits of legislation coming through, that will become more clear in the future."
Moving forward, Edward may work on a more robust scandal tracker designed to keep a close watch on Facebook's increasingly concentrated power. For now, he's pleased that his site ranks high on Google for anyone who enters the search terms "Delete Facebook."
"Other than a page that more lavishly provides information on exactly how bad Facebook scandals had become over the years, I'm focused on the technical aspect of keeping the site where it is in the search engines," he said. "It's so important to have it available."