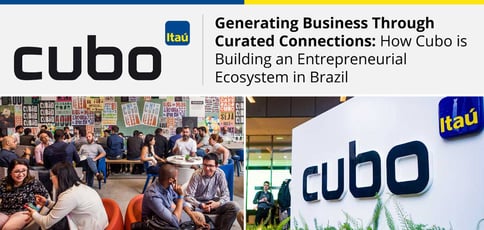 TL; DR: Cubo, launched in 2015 by Itaú Unibanco in partnership with Redpoint eVentures, brings together innovators, corporations, investors, and universities to address gaps in Brazil's startup landscape. The entrepreneurial hub delivers vast coworking space and valuable digital platforms for entrepreneurs with high-potential, scalable startup ideas. Through partnerships with major corporations and various investment opportunities, Cubo is helping to boost innovation within Brazil's business sector.
Brazil, the largest country in South America and the fifth most populous in the world, is known for its splendor. There's a reason it has become a top vacation destination: Between the lush beauty of the Amazon rainforest, the liveliness of Carnival, and a national passion for fútbol, tourists find the country undeniably exuberant.
Its business sector is equally spirited, with entrepreneurs representing a 38% share of the population as of 2018. Still, bureaucracy, limited access to capital, and talent sourcing problems have created a business atmosphere that can be hostile to innovation.
Cubo brings together innovators, corporations, investors, and universities to address gaps in Brazil's startup landscape. The innovation hub, launched in 2015 by Itaú Unibanco in partnership with Redpoint eVentures, seeks to promote entrepreneurship via access to strategic benefits and resources.
"We knew we had a majority opportunity in Brazil to foster an entrepreneurial ecosystem," said Pedro Prates, Co-Head at Cubo Itaú and Senior Manager at Itaú Unibanco. "From Itaú's perspective, if we succeeded by creating a center of gravity for innovation, we would be in a strategic spot to better understand how to connect the bank with startups."
Today, the entrepreneurial hub delivers both ample coworking space and robust digital platforms to high-potential entrepreneurs with scalable startup ideas. Ultimately, through hiring resources, partnerships with major corporations and universities, and various investment opportunities, Cubo is helping expand Brazil's promising business sector.
Addressing Gaps in Brazil's Startup Landscape Since 2015
It made sense for Itaú, the largest private sector bank in the Southern Hemisphere, to play a role in the acceleration of Brazillian tech startups.
"In 2014, when I was an executive at Itaú, we started discussing disruption in the financial services industry and how new entrants wouldn't necessarily respect the industry's boundaries," Pedro said. "To remain competitive, we knew that we needed to start seeing tech startups as opportunities for collaboration or acquisitions, rather than threats."
Itaú then joined forces with Redpoint eVentures, a venture capital firm based in São Paulo. Together, the teams visited some of the most developed ecosystems for tech entrepreneurship across the globe — from Silicon Valley and New York to Ireland, Israel, and China.
"When we came back, it was quite clear that the Brazilian ecosystem at the time had major gaps compared with other developed entrepreneurial environments," Pedro said. "The first of which was we lacked a place where serendipity could occur."
In other words, the community needed a physical location where talented entrepreneurs and startups could network with each other, and with investors and large corporations. In Silicon Valley, for instance, Pedro told us the entrepreneurial ecosystem has a physical center at Stanford.
"The other two major gaps we identified were a lack of capital when it comes to VC firms investing in startups, and less interaction between large corporations and startups," he said. "At the time, Y Combinator or Google Campus were not here in Brazil, so we thought, 'Let's be the first to create and foster an entrepreneurial system in Brazil.'"
A Strict Vetting Process and Open Investment Environment
The hypothesis that a physical hub would be valuable in generating business was correct, and it allowed Cubo to abide by high acceptance standards. In turn, investors and large corporations gained confidence in Cubo's startups and leaders, who went through a strict selection process.
"We launched in September 2015, and by the end of that year, more than 500 startups applied, and we accepted about 10% of them," Pedro said. "Cubo quickly became an outstanding curator."
By mid-2016, the hub secured more than eight sponsorships from prominent corporations that Pedro said began viewing Cubo as an arm of their open innovation departments. Today, Cubo still vets startups in terms of quality of the entrepreneur, the ability of the technology to reach desired outcomes, and the size of the market the startup is looking to obtain.
"Every corporation knows that Cubo startups go through a major selection process to ensure the startup is very strong and prepared for integration with them," Pedro said. "This helps us foster relationships between corporations and startups in Brazil."
According to Pedro, Cubo excels in two main areas: putting together a stellar group of startups and connecting them with appropriate partners and investors.
"We manage the selection process quite well, forming a well-curated community of startups," he said. "The second step is to connect talented entrepreneurs with corporations that are looking to invest in tech solutions. Generating business is our end goal."
Physical and Digital Expansion Efforts in Step with Demand
By 2018, Cubo had attracted so many entrepreneurs, startups, and corporations that the organization was forced to turn down qualified applicants due to lack of space.
"We realized that if we wanted to become the most relevant entrepreneurial hub in Latin America — and maybe even the world — we couldn't be entirely tied to physical space," Pedro said. "It was time to create a digital platform."
The team got in touch with the Cubo community for feedback on common pain points. Many startups said talent acquisition was a problem, especially when scouting for tech hires. Cubo's solution was a talent-matching platform used to share job openings.
"More than 35,000 candidates have registered on the platform looking for opportunities with our startups," Pedro said.
Cubo added several additional features to its digital platform that allowed residents and members to access benefits and strategic resources. Today, users can search by industry or business model to find the right connections, connect to large corporations, and receive special offers tailored to members. In 2019, the platform helped launch more than 180 projects.
In addition to digital resources, Cubo expanded its physical space by moving to another building in Vila Olimpia. The upgrade took the innovation hub from a six-floor building with room for about 50 startups to a 13-floor building with the space to accommodate nearly 150 startups.
The new building is large enough to host eight events per day and more than 2,000 attendees. Pedro told us people arrive nearly every day to attend these events, which focus on tech, entrepreneurship, and marketing, among other topics.
In the Future: Plans to Increase Partnerships and Expand Globally
As for what the future holds, Pedro said Cubo is always looking for ways to evolve. For example, the innovation hub is exploring partnerships throughout Latin America, as well as the United States and Asia, that could lead to global expansion.
Cubo is also laser-focused on helping close the tech talent gap within the entrepreneurial ecosystem.
"There is a shortage in developers, artificial intelligence experts, and other tech professionals here in Brazil — nearly all startups and large corporations are looking for this talent," Pedro said. "We have been looking to use our assets — our brand, our building, and our community — to fill this gap."
To do so, Cubo is hosting tech talent matchmaking events and also experimenting with how to educate new tech professionals.
"We're starting small, but we are starting," Pedro said.