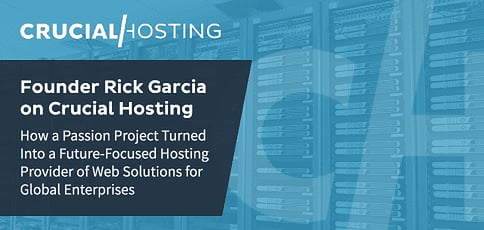 TL; DR: If you ask today's CEOs and CTOs what they expect out of a hosting provider, the answer is almost always the same — high performance and hands-on support. And, as Crucial Hosting Founder Rick Garcia told us, his company was built to deliver both. Rick started Crucial Hosting more than a decade ago to address the common pain points of downtime and lack of reliability organizations were experiencing. The result was a stable, highly efficient hosting platform businesses could rely on to power their modern web applications. We recently sat down with Rick, who told us how Crucial Hosting continues to maintain pace with technological changes and market demand to ensure high uptime rates for clients worldwide.
Downtime — it's a thorn in every admin's side. Depending on the size of a site or application, just a few minutes of unavailability online can cost millions in lost revenue — not to mention the damage that can be done to brand perception.
Virgin Blue offers an extreme example of this. In 2010, the company's servers went down, preventing customers from booking, reserving, and checking in for flights. The hardware failure, which lasted 11 excruciating days, affected more than 50,000 passengers and 400 flights. Faced with upset customers, lost profits, and a mountain of negative press, the airline not only lost millions of dollars but also saw a considerable chunk of its customer base turn to competitors.
While outages of this scope are now rare occurrences, even small instances of downtime can have negative impacts on businesses. In fact, the aggregate sum of revenue businesses lose to downtime each year equates to an astounding $26.5 billion.
Few know the ramifications of downtime better than Crucial Hosting Founder Rick Garcia. As an entrepreneur, Rick realized the hosting providers of the late 1990s and early 2000s weren't meeting the uptime requirements many organizations needed to remain competitive. At the time, downtime was almost expected, and poor customer support was par for the course.
Rick wanted to change this, so he put a team together and founded Crucial Hosting with a mission to keep businesses online.
"Cost wasn't really a factor," Rick said. "What we wanted to do was to really spare no expense and provide the fastest, most reliable hosting we could."
A New Approach to Hosting Born Out of Enthusiasm and Expertise
Prior to starting Crucial Hosting, Rick worked as a system administrator for an ISP where he primarily serviced Linux systems. In the late 1990s, the ISP also offered small-scale hosting, which, Rick noticed, had quickly become insufficient for some users.
"I saw a lot of people were turning up with new applications that really required a lot more horsepower than what was available at the time," he said.
Realizing the extreme lack of powerful hosts at the budget level, Rick eventually started Crucial Hosting with the resources he had.
Rick's goal was to provide the most reliable hosting possible — at any cost. This meant a full overhaul of hardware and software, implementing new setups involving redundancy and new operating systems.
"At the time, we hadn't seen resource-intensive software like WordPress or Magento come out, but we were already seeing that the old processors and single hard disk setups were failing with only the early adoption of PHP," Rick said. "That wasn't working for people anymore, and I decided to work on my own to make this new hosting a reality. The idea was performance, performance, performance."
Rick told us performance and stability are the ultimate goal of Crucial Hosting, reasoning that no one should have to pay for downtime when the point of hosting is to let one's web presence be known consistently and reliably.
To achieve the highest stability, Crucial Hosting would begin with a heavy focus on redundancy. Redundancy adds stability, as systems can remain online even if one or two components fail. RAID hardware setups, for example, store data redundantly across multiple hard drives. In the event of a hard disk crash, traditional servers would go down for a time and have to be restored immediately, while the other disks in RAID compensate for the failed component.
This makes for a kind of real-time backup, both at the hardware and data levels.
"We have redundant CPUs, network cards, and power supplies — all the way up to redundant networks," Rick said. "Every server we have is connected to an A side and a B side of the network, and these networks have their own hardware equipment and provide a separate backbone to the internet."
Offering Split Environments Years Ahead of Virtualization Trends
Along with offering high stability, Crucial Hosting stood out as an early adopter of virtualization.
"We were using virtualization as early as 2007, starting out with Parallels," Rick said. "We moved to more advanced virtualization, such as Xen and KVM, later. Virtualization software allows us to provide scalability like never seen before."
A parallel virtual machine (PVM) uses parallel processing to aggregate the computational power and memory of several systems in a network. Other methods, like Xen and KVM, provide a true hypervisor and do not require software to be installed on every connected system.
By providing split environments, Crucial Hosting was able to cut service costs significantly. Through advanced virtualization methods, the company could offer customers the power of a dedicated server without the extra space or cost.
"We rely heavily on virtualization for shared hosting and dedicated server hosting — we don't deploy anyone on bare metal," Rick said. "Everything's done with virtualization, so you can easily migrate from one hardware node to another."
One challenge the team initially faced was explaining virtualization to customers at a time when virtual servers were still relatively unheard of.
"There was still this general lack of understanding of what virtualization was," Rick said.
Overcoming Technical Challenges to Ensure High Uptime Rates
In addition to the need to educate customers, the Crucial Hosting team has had to overcome various technical challenges to achieve the most reliable uptime rates. The biggest advantage of virtualization is it has helped the company gain a competitive edge and maximize hardware usability.
"You have to be extremely aware of what's happening at the hardware level of a system," Rick said. "For instance, you have to know exactly where your drives are in their lifespan and exactly how they're performing at any given time."
With thousands of systems in operation, manual monitoring becomes impossible.
To manage so many physical (and virtual) servers at once, Crucial Hosting has had to implement special monitoring software that alerts staff to potential hardware failures.
"When we're alerted to that, it becomes quite easy because we have a spare inventory available and ready to go," Rick said.
By preemptively monitoring hardware, Crucial Hosting can migrate systems to working hardware nodes before faulty ones actually begin to fail.
"We can see if a hard drive is experiencing higher I/O Wait than normal, which is a signature for a failing hard drive," he said. "Rather than taking a server offline to replace the hard drive, we would actually move the virtual machine, with zero downtime, to a working system with brand new parts."
Following migration, faulty systems are checked and repaired. This practice, while costly, is the main reason Crucial Hosting is able to ensure consistent uptime.
Staying on the Cutting Edge of Development With Cloud Hosting
In keeping with its goal to provide the most stable hosting, Crucial implements some of the newest and most efficient technologies.
"You're either moving forward or you're moving backward," Rick said. "We consider ourselves a developer's host. Everything that is new on the internet is something that we're involved in, and we want to be on the bleeding edge of development."
Crucial embraces new technology primarily by allowing developers to test their products, such as NodeJS and and all versions of PHP, on its servers.
"We're always looking out for the next thing that's coming down the pipe," he said. "That big thing right now is cloud hosting."
Given its history in virtualization, cloud hosting innovation is a perfect match for Crucial Hosting and the company has already begun modifying its infrastructure. Rick envisions a future where people only have to pay for the resources they truly use, similar to the format of utility bills.
"That's the next big thing — to see how far we can expand into a true pay-per-use format," he said. "For example, a school that doesn't use compute power outside of classroom hours should not have to pay for it."
The cloud hosting format makes it easy to scale services according to need.
As its name implies, Rick's company has provided a crucial component to online business success that goes far beyond simple hosting. With its 100% uptime commitment, Crucial Hosting ensures visitors will always be able to access a client's website or application. Crucial stands by the principle that users should not have to pay for servers that are faulty, unreliable, or not being used to their full capacity.
Advertiser Disclosure
HostingAdvice.com is a free online resource that offers valuable content and comparison services to users. To keep this resource 100% free, we receive compensation from many of the offers listed on the site. Along with key review factors, this compensation may impact how and where products appear across the site (including, for example, the order in which they appear). HostingAdvice.com does not include the entire universe of available offers. Editorial opinions expressed on the site are strictly our own and are not provided, endorsed, or approved by advertisers.
Our Editorial Review Policy
Our site is committed to publishing independent, accurate content guided by strict editorial guidelines. Before articles and reviews are published on our site, they undergo a thorough review process performed by a team of independent editors and subject-matter experts to ensure the content's accuracy, timeliness, and impartiality. Our editorial team is separate and independent of our site's advertisers, and the opinions they express on our site are their own. To read more about our team members and their editorial backgrounds, please visit our site's About page.