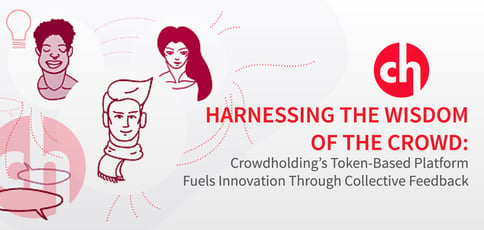 TL: DR: Crowdholding, an open platform for collective feedback, is empowering users to monetize input and startups to make insight-based decisions. Powered by a flexible and transparent tokenized reward economy, the decentralized platform connects businesses to supporters with diverse skills. With plans in the works for opening doors through a new æternity partnership, Crowdholding is furthering its commitment to building a future where people can support the global economy through crowdsourcing.
If you were to put a traditional freelancing platform like Upwork in a virtual beaker and added a dash of blockchain technology, the resulting mixture would look a lot like CryptoTask, a decentralized task market that trades exorbitant third-party fees for a peer-to-peer marketplace.
The solution is being developed to disrupt current freelancing systems by removing censorship, limitations on task size, and monetary barriers to entry — a promising prospect, indeed. But the team behind CryptoTask isn't blind to the fact that startups fail every day, often due to lack of market need or trouble finding the right network.
To increase its chances of thriving, CryptoTask turned to Crowdholding, an open innovation platform for building better businesses through feedback. "Because CryptoTask is in its ideation stage, the company needed to discover the pain points of today's freelancers," said Ethan Clime, CEO of Crowdholding.
CryptoTask then posted a project on the Crowdholding platform asking supporters to join a Telegram channel and leave comments on their experiences as freelancers in exchange for cryptocurrency. That feedback is now being used toward CryptoTask's research and development, and contributors have been paid for their feedback.
CryptoTask is just one of the many companies that have used Crowdholding to enhance its products, validate ideas, and raise awareness. In most cases, the process is as simple as a business posting an idea and pledging rewards for contributions. Through the collective power of the crowd, supporters then improve the product and subsequently earn tokens. With their interests aligned, Crowdholding envisions a future where stakeholders and entrepreneurs can build better businesses — together.
Earn Cryptocurrencies While Contributing to Startups
Ethan said he came up with the idea for Crowdholding around February of 2016. Initially, he envisioned a platform based on sweat equity in which stakeholders in the form of a crowd would contribute labor as a non-financial investment in a company.
But he came across a few problems, namely a lack of transparency on the part of participating businesses, fears that venture capitalists would reject the model, and an overly broad focus for the company as a whole. Then came the Cryptocurrency Boom, which Ethan said opened his eyes to a possible fit within the blockchain industry.
"Moving into blockchain would narrow Crowdholding's focus," he said. "At the same time, businesses in the crypto industry have to be almost 100% transparent, and they are also closely aligned with the concept of sharing an asset for work. These three things made the crypto market a perfect space for Crowdholding."
Today, the open and decentralized platform has hosted more than 130 projects backed by a community of nearly 42,000 users. Two types of users frequent the platform: Co-Creators, who identify solutions for everyday business problems and earn cryptocurrency for their expertise; and Bounty Hunters, who get cryptocurrency for spreading the word about new businesses.
Ethan said these users come from every industry all over the world. "We've done user interviews, and it's everyone, from lawyers to teachers to restaurant owners," he said. "A lot of the users have a day job, and this is a hobby for them. And we have some users who use Crowdholding to earn disposable income."
Make Strategic, Insight-Based Business Decisions
On the startup side, Crowdholding presents opportunities for businesses to activate, engage, and convert customers by tapping into the wisdom of the crowd. The company offers startups the choice of three packages that may be purchased with regular cash or the company's YUP tokens.
The Free option is limited to community feedback, feedback tasks, and a widget that can be placed on your website. The Standard package, available for 50,000 YUP ($100) a month, includes everything in the Free plan plus the opportunity to review submissions. The Expert plan, available at twice the price of the Standard plan, also includes task creation assistance and a feature in a weekly email to more than 50,000 of Crowdholding's subscribers.
"On the admin console, which is what the business see, we now feature premade tasks that they can view from other successful projects, edit themselves, and make changes," Ethan said.
In addition to companies like CryptoTask, Crowdholding has helped multiple startups improve their products through crowd participation. Intelligent Trading Foundation (ITF), a fintech organization that delivers a suite of tools to help cryptocurrency investments achieve their goals, has used Crowdholding to drive innovation, test for bugs, identify competition, and receive real-time feedback.
"By asking for the opinion of the crowd, we involve potential consumers into the design and development while giving them a real and vested interest in the final product," said Thomas Counsell, Head of Engineering and Development at ITF, in a case study on the Crowdholding website.
Other companies, such as Liberland, use Crowdholding for showcasing new ideas to be analyzed. Liberland is a micro-country in between Croatia and Serbia, and it has gathered feedback on Crowdholding for upcoming projects within its Chamber of Commerce Business Program.
A Flexible and Transparent Tokenized Reward Economy
Crowdholding's native cryptocurrency comes in the form of the YUP token, which the company expects will enjoy an increase in growth and demand once more companies and users join the open innovation community. So far, 45% of existing YUP tokens have been distributed via ICOs. The remaining 55% of the tokens are locked for future use (19%), distributed among the team and experts (20%), in a reserve (10%), or set aside for bounties (1%) and seeding businesses (5%).
The company also employs a flexible credit system model. "When you're a business putting a microtask out, you purchase YUPs to reward our users, which creates the purchasing power," Ethan said. "In the future, users will be able to exchange YUPs for disposable income and even purchase products directly on our application, as an example."
While YUP tokens enable a business to publish a task on the Crowdholding site, companies may also choose to award users with any ERC-20 token or even physical products. For example, æternity recently asked users for their first impressions of its blockchain, which is centered on boosting the scalability of smart contracts and decentralized apps by moving smart contracts off the chain in private state channels between parties.
As an award, æternity gave the top five use cases a free Ledger Nano S, built to securely hold crypto assets. "There is such flexibility in our reward economy that the task ideas for a business are almost endless," Ethan said.
Opening Doors Through a New æternity Partnership
Crowdholding recently formed a partnership with æternity Ventures, the investment branch of the æternity blockchain. The two groups have joined forces to support æternity's Starfleet Acceleration Program, which aims to improve the odds of success for startups using blockchain.
Ethan said his immediate goal is to help æternity succeed.
"Our teams both share the vision that dApps are crucial to global adoption," Ethan said. "Blockchains that bring the first successful adoption of dApps will gain solid market share. With our efforts aligned, the future is bright."