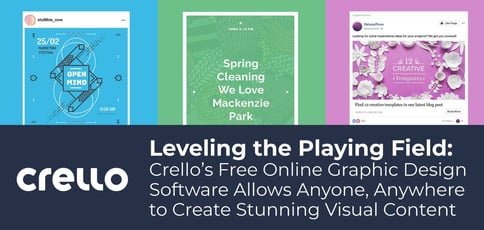 TL; DR: Crello's free graphic design software empowers anyone to create stunning image pieces and animation in seconds, regardless of their design chops. The company, a subsidiary of Depositphotos, offers a wide range of localized fonts and templates, allowing users across the globe to create relevant content. With a startup mentality and a focus on continuous improvement, Crello is on a mission to make graphic design easier and more affordable than ever.
Many software providers serve customers across the globe, but it's rare that they take the extra step to adapt to the cultural, linguistic, and technical requirements of various markets.
After all, software localization requires much more than language translation. Take graphic design applications, for instance. To overcome cultural barriers, developers must provide a range of regional font families, consider local aesthetics, and customize their templates in accordance with local customs and holidays.
Crello, a free visual editing platform that serves customers worldwide, shines in that regard. "Our ability to work with local audiences, understand their needs, and provide design templates for local events and celebrations helps us stand apart from the competition," said Nazar Begen, CMO at Crello.
But that's not all — the company also makes the process ridiculously easy through built-in formatting and graphic elements that enable anyone to create professional designs in a snap. "You don't need to spend time making a design from scratch," Nazar said. "With Crello, you can create a finished piece in just seconds."
It seems like an impossible feat, but with 6,500 templates, millions of images, thousands of video and animated objects, and hundreds of fonts, Crello empowers users to create localized design content quickly and easily. Now, with a growing collection of animation and video templates, the company is bringing drag-and-drop editing to a whole new level. Additions like these are part of Crello's focus on continuous improvement — and its underlying mission to make professional graphic design more accessible than ever.
Great Design in Seconds with 6,500 Free Templates and 260 Fonts
Crello was founded less than two years ago by entrepreneur Dmitry Sergeev, who also started Depositphotos, a commercial platform that brings authors of high-quality licensed stock photos, graphics, vectors, and videos together with buyers of content from all over the world. The company is headquartered in New York with offices in Milan, Kiev, Limassol, Moscow, and Warsaw.
"After the successful launch of Depositphotos and years of work in the photography field, he and his partners decided to launch Crello with the main goal to help anyone create stunning designs in seconds — not minutes, but seconds," Nazar said.
The online graphics editor includes more than 30,000 photos from Depositphotos' library of high-quality images, plus icons, patterns, vectors, frames, shapes, and illustrations. If you're willing to spend a few bucks to access a more expansive selection of photos, the platform offers a whopping 100 million options.
"Crello is offering all of these images through its user interface in just one tap, so you don't need to go somewhere to find visuals," Nazar said. "Some images are free, and the rest are very affordable, with many costing just $1."
Although Crello shares resources with Depositphotos, Nazar said the company works independently. "We act as a separate startup with our own development, marketing, QA, and business development teams," he said. "We have a good connection with Depositphotos, but they have different strategies and target different audiences in different countries."
Nazar said Crello is especially popular in Eastern Europe and the ex-CIS region due to its inclusion of Cyrillic fonts. "Our competitors don't have a strong understanding of how to work with Cyrillic typefaces, and that makes our tool easier to use and more relevant for that audience."
To cater to the platform's Israel-based fans, Crello also provides a wide range of display fonts for the Hebrew language. "Then, of course, English-speaking countries are one of our main priorities, so we feature thousands of Latin fonts as well," Nazar said.
A Range of Vibrant Templates Customized for Local Audiences
Beyond fonts, Crello also provides custom templates specific to clients in the U.S., Eastern Europe, Israel, Russia, and Brazil. The company's vast collection is always growing, in part based on customer feedback.
For example, Crello recently uploaded a selection of Easter-themed design templates intended to help Catholic and Orthodox businesses celebrate the holiday with their audiences. When a subscriber pointed out that Passover templates would help users celebrate the national holiday in Israel, Crello immediately worked with its art directors to provide solutions.
"In just two days, we created templates specifically for Passover to help companies from Israel recognize the holiday in their client communications," Nazar said. "This is our advantage as a startup — we are always ready to jump in and help as needed."
Crello's goal is to provide as many templates as possible, so users don't ever have to waste time creating customized designs from scratch. "We want people to just focus on changing the text and uploading images and videos if needed," Nazar said. "This is one of our strongest points."
To keep up with changing client demands, Crello introduces 300 to 500 new templates each month. To accomplish this substantial task, the company leverages internal design resources, outsources work to design studios, and partners with up-and-coming freelance designers. The result is a unique portfolio featuring a variety of design aesthetics and perspectives.
Create Engaging Designs for Animated Posts
More marketers are turning to video to create engaging advertisements, and Nazar said Crello is prepared to help them. "Over 46% of marketers now use video in their advertising, and 26% of the remaining plan to start in the near future," he said. "In response to this demand, we are providing tools that make it easy and interesting to create video designs in just a few minutes. "
Crello's Animation Maker, for example, helps marketers, entrepreneurs, and social media managers create animated posts and ads quickly and without professional design skills. The tool allows users to add animated icons, emojis, and illustrations to images; combine photos with video backgrounds for stunning visual effects; customize ready-to-use animated templates by adjusting elements; and adapt video designs to platforms such as Facebook, Instagram, Twitter.
"We want to ensure our users have an opportunity to create great animations and videos," Nazar said. "We started this in August, and now feature a number of video formats and about 6,000 video templates. In a few months, we will add additional features."
Nazar said that some professional designers use Crello to create image pieces for clients that would have taken hours if they had to start from scratch. And, because Crello features so many customizable templates, the designer never has to let the client in on their time-saving secret.
The new video and animation features can be tested for free and downloaded with "Created in Crello" branding. To enjoy all of the video design functions and animated collections Crello has to offer, users will need to upgrade to a Pro account.
A Startup Mentality with a Focus on Continuous Improvement
Nazar said Crello has big plans for the future, including the Beta release of its mobile app, which will be available for both iOS and Android.
"The mobile app is the next big move for Crello because it helps the company appeal to a broader audience," he said. "You will be able to record videos with your smartphone, upload them to the app, edit as needed, resize to any form, and publish your creation to social media."
Overall, Crello's goal isn't to innovate as quickly as possible — it's to ensure the company releases reliable, high-quality products.
"When it comes to strategy and product development, our competitors are doing different things very fast," Nazar said. "We're focused on doing things the smart way."