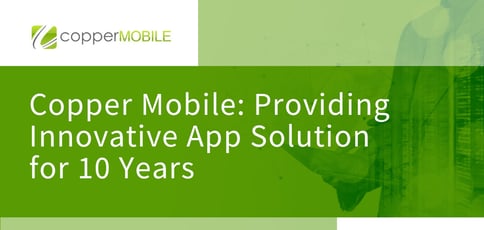 TL; DR: This year, Copper Mobile is commemorating a decade of experience producing mission-critical app solutions for midmarket and enterprise-level businesses. The company takes a boutique-like approach to mobile app development, specializing in meeting the needs of clients in a wide range of industries, including healthcare, ecommerce, transportation, and logistics. Copper Mobile's secret weapon is its highly transparent company culture and flexible, knowledgeable team.
Digital transformation has been reshaping the business landscape for years, but no force has been as effective in expediting the process as COVID-19 — especially when it comes to healthcare.
According to Copper Mobile, mobile apps are laying the foundation for better communication and a safer, more effective patient journey.
Australia's COVIDSafe, for example, identifies residents who may have been in contact with infected individuals to help slow the spread of the virus.
Telemedicine apps, such as MDLIVE and Lemonaid, connect patients with doctors virtually, empowering them to receive diagnoses and prescriptions without the risk of an in-person visit. And digital scheduling solutions help facilities maintain social distancing in waiting areas and lobbies.
"Because of the pandemic, we've seen a dramatic acceleration in the digital transformation of the healthcare industry," said Arvind Sarin, CEO of Copper Mobile. "That's an area where we feel we can add a lot of value based on experience."
Copper Mobile, which is celebrating its 10-year anniversary in 2020, takes pride in its ability to help clients in the healthcare, transportation, logistics, and e-commerce industries, among others, solve business problems using mobile technology.
The company's talented team uses its decade of expertise to deliver comprehensive solutions designed to span the app life cycle. Employees serve as trusted advisors in mobile strategy from user experience design, architecture, and development to quality control, testing, and support. Ultimately, the goal is to equip customers with bespoke mobile solutions that result in substantial business returns.
Mission-Critical Apps for Midmarket Businesses and Enterprises
After graduating with an MBA from the University of Texas at Austin in 2008, Arvind, who previously worked as a software developer at Fujitsu, found himself in the origins of an app-driven world. On July 10 of that year, Apple introduced the App Store, a digital mobile app distribution platform for iOS, taking the iPhone (first released June 29, 2007) to an entirely new level.
"Steve Jobs had totally changed the game," Arvind said. "I knew I wanted to put my skills in business and software development to use, so I joined an outsourcing company based in Chennai, India. I noticed immediately that they were receiving a tremendous volume of inquiries coming in for iPhone app development."
Arvind took the opportunity to set up a revenue-spurring mobile division for the startup, where he worked for two years before deciding to strike out on his own. At that point, he turned to his brother, Aakash Sareen, a Madras Institute of Technology (MIT) graduate working on multitouch technologies in Mumbai.
"I gave him a call and asked him to quit his job and come by to see how we could get started in mobile app development," Arvind said. "We began having conversations with various people in the emerging industry, and the idea for Copper Mobile began to come together."
Soon after, he met Rupak Lohit, a creative individual with a unique background in business, tech, ethics, and thought leadership, who he brought on board to set up the company's India office. Arvind told us he, Aakash, and Rupak knew right away that they possessed complementary skills.
"Whatever success we've had, the credit goes to Aakash and Rupak," Arvind said. "Rupak is super detail-oriented with great experience in a variety of fields. Aakash is our tech genius. When he's having a conversation with our customers — including VPs of engineering and CIOs — we just sit back and watch him take it away with all of his brilliant ideas."
A Mobile App Development Company with a Boutique Approach
At the time of the company's inception, in 2010, Arvind said there was a growing demand for advice from people with experience in mobile app development and the App Store.
"Initially, we were just testing the market for anyone interested in mobile app development,' Arvind said. "We would have conversations with them, share our experiences, give them a quote for projects, and start working. After about a year and a half, we realized that we were really passionate about extending the success of apps in the consumer space to enterprises."
Copper Mobile honed in on two types of business apps: B2C apps that companies launch as a product for the consumer market and apps designed to help employees run a company more efficiently.
"That could include dashboards for executives, apps that eliminate paper-based processes, solutions for automating workflows, or apps for enabling teams to boost sales," Arvind said. "Soon after that, we experienced tremendous growth — for example, one year, we had 1,000% revenue growth."
To manage the flourishing company, the team developed a systematic, documented approach to delivering results across the entire project life cycle — from converting a prospect to a customer to launching, deploying, and supporting that customer's application.
The process is the foundation for a boutique-style approach to mobile app development that's exceedingly flexible to ensure superior customer satisfaction.
"Our main mission is to solve problems that customers face using innovative mobile solutions," Arvind said. "And, because we're having thousands of conversations with technology teams across various industries, we've developed the ability to share valuable experiences."
Solutions for Healthcare, Ecommerce, Transportation, and Logistics
Today, the company's top verticals include healthcare; maintenance, repair, and operations (MRO); transportation and logistics; financial services; e-commerce; and streaming media.
"Healthcare is top of mind, of course; we've seen a rapid acceleration of the digital transformation trend because of the pandemic," Arvind said. "We're also quite passionate about maintenance, repair, and operations (MRO), and transportation and logistics because we feel like there's so much that can be done to create an efficient workflow. We often see immediate results."
Copper Mobile's close relationship with the Green Dot Corporation, a Pasadena-based financial technology and bank holding company, supports many of the company's fintech products. Arvind told us Copper Mobile also helped the Green Dot Corporation design an application for a younger audience.
"They offer Banking-as-a-Service, so they provide the backend for a lot of Silicon Valley startups and even giants like LendingClub and Apple Cash," he said. "They're also responsible for getting Uber drivers getting cash on a daily basis."
On the ecommerce side, Copper Mobile has helped multiple midsize companies and enterprises find ways to increase their online sales by drawing in mobile traffic.
"We've done a number of these types of projects for businesses — a noteworthy one being Jessica Alba's The Honest Company," Arvind said.
Copper Mobile also worked with Sirius XM, a pioneer in the satellite and online radio broadcasting space, to launch its flagship app. The solution allows subscribers to listen to over 300 music channels — no car required.
"We assembled a fantastic team of a couple of dozen people to work on that app, which has been downloaded more than 10 million times and has thousands for five-star reviews," Arvind said. "It's a success story there that we've been able to take to other media companies looking to satisfy a demand for streaming media."
A Flexible, Experienced Team and Unique Company Culture
In addition to a stellar team, Arvind credits Copper Mobile's ethos for the company's rapid growth.
"We have a culture of being extremely open with employees to ensure we are united around common goals," Arvind said. "At Copper Mobile, we share everything with everybody, even in terms of our profitability levels on projects. This way, employees know what the company stands to gain and lose."
Copper Mobile is thankful to be actively hiring employees in a time when pandemic-related layoffs are all too common. To lend a hand to the less fortunate, the company is using its experience in mobile app development to provide free training to local communities.
"There are so many smart people with managerial capabilities who have lost their jobs in industries like hospitality and aviation, so we started a six-week training program on how to transition into a role that's more tech-related — the jobs of the future," Arvind said. "Then, after that six-week period, we offer internships to some of the people that we feel would benefit most."