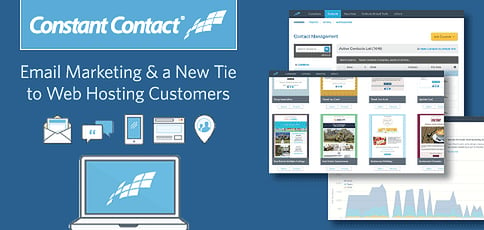 TL; DR: From their start in a cramped attic in Massachusetts to becoming North America's most popular email marketing platform, Constant Contact is primed for more growth by renewing their focus on providing some of the most easy and powerful do-it-yourself tools for small to medium businesses. Behind a next-generation editor and best-in-class deliverability rates, Constant Contact enables users to easily reach more potential customers. General Manager Harpreet Grewal gave us a peek into the company's future plans by sharing how the early-2016 acquisition by web hosting titan Endurance International Group will impact hosting customers.
Although many things have changed over the years — including the name of the company — this mission of Constant Contact has remained, well, constant: to empower small businesses and nonprofits to succeed with email marketing.
Constant Contact, which originally started as Roving Software, balances powerful features with an intuitive interface to help organizations reach more prospects, customers, and donors with well-crafted email campaigns.
After going public in 2007, the company began expanding into event marketing, surveys, and consultancy products. Now, however, they're taking a renewed focus on what General Manager Harpreet Grewal calls the DIY products at the core of the business, rather than the "do-it-for-me" programs.
"We've refocused and really gone back to our roots to do what we set out to do from day one," he said. "Our goal is to be the premier email marketing brand for small- to medium-sized businesses."
The GM's 4 Favorite Features Give Customers a Marketing Advantage
By bringing email marketing to the smallest and simplest of businesses, Constant Contact has spent decades optimizing their tools for usability and effectiveness. That passion permeates all levels of the company, as Harpreet outlined Constant Contact's signature services.
1. Next-Generation Editor Balances Powerful Functionality With Usability
Constant Contact launched a new editing platform in late 2016 after several years of investment and customer research. The editor includes dozens of responsive templates, along with a drag-and-drop portal to change colors, add links, and resize and rearrange content.
Harpreet estimated that when customers interact with the Constant Contact platform, 80% of their time is spent using the editor. To him, getting the editor right meant finding the right mix of impressive features with the fewest complications for customers.
"It is imperative to us that things are easy, intuitive, and powerful because we know most small business folks can't work with code and don't want to work with code," he said. "Making things easy and powerful is what goes through our developers' and marketers' heads when they're creating stuff. That's our Northern Lights, to create success for our customers."
2. List-Building Tools Help You Reach More People
According to Harpreet, the most frequent challenge facing Constant Contact customers is growing their contact list of customers, prospects, or donors. Given the company's focus on helping customers grow their list size, the average customer's list has grown from 2,200 to more than 3,000 in the roughly seven years Harpreet has been with Constant Contact.
"List building is a key piece of the success formula for small businesses and organizations," he said. "We have helped our customers grow their number of contacts. By doing so, they have more people to reach out to when they create and send their new campaign, which drives more revenue, donations, and attendees."
Constant Contact helps users accomplish this with tools such as a custom form that can be embedded in websites and Facebook pages, along with custom QR codes and integrations with WordPress, Hootsuite, Salesforce, and other platforms.
3. Engagement Reports Give Metrics to Track Your Success in Real Time
Constant Contact automatically generates reports each time a campaign is sent. Users can immediately watch the analytics change as contacts receive and open emails, as well as click on links or make donations.
"What we try to do is make sure they understand the reach they're getting, and then we try to optimize and expand on that," Harpreet said.
The engagement reports let you compare the effectiveness of multiple campaigns and use a heat map to track which links garnered the most clicks. Customers can also track whether their emails were opened on desktop or mobile devices, providing insights into optimizing future campaigns.
4. Coming Soon: eCommerce Tools Connect Campaigns With Revenue
Although Constant Contact doesn't currently offer deep eCommerce functionalities, Harpreet said the company will be "aggressively pushing" into the space throughout 2017. The eCommerce tools will capitalize on Constant Contact's analytics to connect email with sales.
"We want to start integrating with the Shopifys and BigCommerces of the world to start closing the loop between the campaign and the revenue," he said. "Those are things that our customers are looking for today that we will soon deliver."
Constant Contact's 3 Paths of Expansion After Acquisition by Endurance
Endurance International Group — the parent company behind Bluehost, iPage, and HostGator — expanded beyond its traditional web hosting boundaries when it acquired Constant Contact for around $1.1 billion in February 2016.
The purchase, however, provides Constant Contact unprecedented access to new customers, especially the emerging small businesses who are just getting started with web hosting.
"The notion is that we can attach with customers even before they're thinking of email marketing," Harpreet said. "We can start building relationships with them, help them start using the product, and they can learn about the value we bring to their business."
1. Partnering With Web Hosts and Special Deals for HostGator Customers
According to Harpreet, Constant Contact will soon test a freemium model with HostGator customers, who will start with a free Constant Contact account. As their lists grow, users will be able to upgrade to paid accounts for as low as $5 or $10 per month.
"If you go to our website, that low entry point is not available," Harpreet said, adding that the company's cheapest plan starts at $20 a month. "You can't get this anywhere else. This is one of the many benefits of coming together with Endurance and across their various brands."
2. Targeting High-Value Customers by Creating a Pro Package
For much of Constant Contact's history, Harpreet said the company has focused on less sophisticated small business needing simplicity. Moving forward, the company will also target those with larger and more complex needs.
"It's a big opportunity, and we've committed ourselves to developing the tools and functionalities these more sophisticated customers need," he said. "We want to cover the gamut of customers from the less to more sophisticated small and medium businesses."
According to Harpreet, those features will include multi-user logins, best time to send recommendations, A/B testing, autoresponders, and marketing automation. Constant Contact is currently testing the core features that will comprise the Pro Package.
3. Continuing to Build Momentum With Constant Contact Core Principles
When in doubt, stick with what works. Constant Contact enjoys strong brand recognition and a positive reputation among small businesses, according to Harpreet, who said the company invests equally in growing the business as well as the brand and reputation with customers.
"We're continuing to build the momentum we've grown over the past five to seven years," he said. "It's the business we know."
22-Year Journey From Attic Startup to $1.1 Billion Valuation
When Constant Contact, then known as Roving Software, set up shop in 1995 in a cramped attic in Brookline, Massachusetts, email was a medium used informally between friends or large companies with the resources to craft marketing campaigns.
"It was complicated. You needed professional marketers, and you needed to know how to write code," Harpreet said. "For small businesses, many of which are sole proprietors or just employ a few people, that just wasn't an option."
Before the Endurance acquisition, Constant Contact had millions of users sign up for their service and more than 600,000 paying customers — twice the estimated number of paid subscribers as their closest competitor, MailChimp — by packaging robust features in an easy-to-use interface.
Joining the Endurance stable of brands brought together two major Massachusetts companies with similar goals of helping small businesses succeed online.
"The Endurance opportunity is exciting because we can now combine some of their new channels with a brand that is known and trusted by so many small and medium businesses," Harpreet said. "That is going to be really powerful."