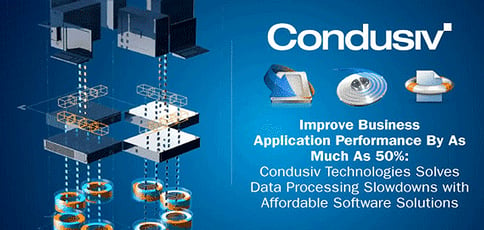 TL; DR: As organizations have virtualized their server environment, many are discovering speed inefficiencies. Sluggish application performance can grind a company's growth to a halt, costing them more money and causing a rush to buy more, expensive server and storage hardware. Condusiv Technologies solves those virtualization slow-down problems for businesses through innovative software products like V-locity® I/O reduction software that streamlines I/O traffic to network storage and offloads I/O traffic from storage, which typically boosts performance by at least 50% or more. The company began 35 years ago as a defragmentation solution but has since moved light-years ahead of that technology by solving I/O inefficiencies before they happen. Now, Condusiv saves companies time and money with software that keeps their systems and people running at peak performance.
The number of businesses using virtualization is nearly 80% and continues to climb since getting the most from server hardware resources is paramount. But virtualizing servers comes with its own set of problems that can slow processing speeds to a crawl.
Most companies believe that purchasing new servers or new data storage systems will make their application processing speed faster and more fluid. However, in large part, those reactionary CapEx purchases can be avoided altogether if attempting to solve the root cause problem first. Virtualization actually makes the data stream less straightforward, which means systems have to process far more input/output (I/O) requests than needed for any given workload.
"Whenever a business virtualizes, complexity is added to the data path, and instead of getting a nice, clean, sequential I/O profile, you're now dealing with a random profile for the underlying storage that is difficult to process," said Brian Morin, Senior Vice President of Sales and Marketing at Condusiv Technologies. "On top of that Windows doesn't play well in a virtual environment, so storage performance gets taxed even further with excessively small writes and reads. So when a company virtualizes, it can end up in a death spiral of having to go buy more and more hardware to improve application performance."
Many IT professionals think the only way to boost processing speed is to add more servers, but Condusiv Technologies' software helps companies boost speeds on the hardware they already have.
The software, used on endpoint devices or servers, works by making sense of all of the data moving back and forth, structuring it for maximum efficiency and adding years to the life of expensive infrastructure. Condusiv has been helping companies with data problems since its early days, but its current technologies provide advanced solutions for businesses committing more resources to virtualization.
Innovating Data Processing Solutions Beyond Defragmentation
Condusiv Technologies was founded in 1981, and its claim to fame was its software's ability to defragment computer systems without having to shut them down, saving businesses and government entities with mission-critical networks from taking them offline.
"We aren't doing defragmentation anymore. Now, we are intercepting that I/O at the point of origin and ensuring that a file never gets fragmented in the first place." — Brian Morin, Senior Vice President of Sales and Marketing at Condusiv Technologies
Eventually, Condusiv branched out from serving mostly Fortune 500 companies and government agencies to bring its solutions to all businesses. And as technology evolved, Condusiv adapted its offerings for servers and datacenters, eventually moving beyond defragmentation altogether, developing a new software strategy.
"We aren't doing defragmentation anymore. Now, we are intercepting that I/O at the point of origin and ensuring that a file never gets fragmented in the first place," Brian told us. "We ensure it is written in a nice, clean, continuous state from the get-go, which optimizes the speed at which you can process that data."
V-locity Solves Well-Known Virtualization Growing Pains
V-locity showcases how Condusiv puts its software to use for any business dealing with slowdowns that turn into financial burdens. Instead of buying more space to process data with the same inefficiency, V-locity allows companies to leverage their current investments in physical servers and PCs to get even better results.
"We are helping organizations get more application performance out of their existing hardware stack," Brian said. "Most people are trained to think that more performance means you have to buy expensive new servers and storage. But companies can just install our software, let us offload I/O from storage, and let us streamline the rest of the I/O profile that remains."
The solution has helped many businesses on the Fortune 500 list reduce their hardware investments while boosting performance and ROI. And many of those customers show up on Condusiv's website to give testimonials as to how well the product worked for them.
Organizations like the University of Illinois had high praise for the V-locity I/O reduction software solution.
"We thought we were getting the most performance possible from our systems, but it wasn't until we used V-locity that we realized how inefficient these systems really are if you're not addressing the root cause performance issues related to the I/O profile from Windows servers. By solving the issue of small, fractured, random I/O, we've been able to increase the efficiency of our infrastructure and, ultimately, our people," said Greg Landes, Manager of Systems Services.
Allowing Businesses to Use Resources for Growth, Not Servers
When businesses don't have to be weighed down by slow application performance from virtualization technology, they can focus on what really matters: growth. But it starts with identifying the underlying problem, which is not the data or hardware, but the ways they interact with each other.
"We solve the root problem for organizations that find themselves overspending on infrastructure by helping them get at least two more years out of the hardware they have," Brian said. "So, now they can take that money they would have spent to essentially keep the lights on and repurpose it to growth initiatives."
In the age of consumer demand for faster and more personalized transactions, speed and computing power are both essential. Condusiv can help companies quickly process all of the data it takes to satisfy consumer desire, meaning more conversions, growth, and more data.
Condusiv Software Saves Retailers From Costly Hardware Upgrades
By solving virtualization problems with software, Condusiv is showing that the conventional wisdom of throwing money away on additional expensive servers or storage for more performance is not wise and should not be the norm. Fixing virtual I/O problems with software is made easy with products like V-locity, and the savings of extending hardware life can produce ROI almost immediately.
"We are helping you get a couple more years of life from the hardware infrastructure you already have," Brian said. "And it is the same value proposition whether we are talking the physical side or the server virtual side."
As its customer base — and its list of case studies — grows, Condusiv hopes to change the way businesses think about their virtualization strategies. Many companies are already convinced, including several Fortune 500 companies that use Condusiv software on every server and PC in their organization.
As for the others, Condusiv is intent on converting them — one download at a time.