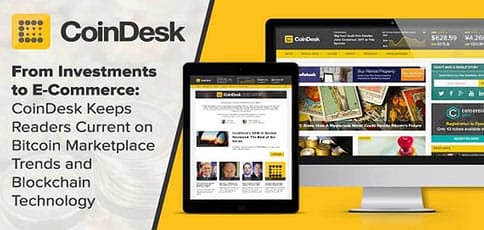 TL; DR: Although bitcoin has yet to be widely adopted, the digital currency's fast, secure, and free of intermediary technology has far-reaching benefits for e-commerce and merchants of all sizes. As a leading resource for news, trends, education, trade, and industry data in the bitcoin and blockchain technology ecosystem, CoinDesk provides a place for merchants and consumers to learn about, engage with, and stay informed on developments in the future of bitcoin. More merchants, from Overstock.com to Dell, have begun to accept bitcoin thanks to conversion services and the ease of installing bitcoin payment systems. With greater customer incentives and enterprise implementation of blockchain technology, the future looks hopeful for wider bitcoin adoption and use.
When bitcoin appeared in 2009, many sectors were excited about its potential applications as an alternative digital currency in the world of investment, peer-to-peer transactions, and e-commerce. With no need for a financial intermediary, bitcoin allows traders and merchants to more quickly and securely complete transactions with fewer fees and red tape.
While it hasn't yet become as popular a currency as the business world expected, retailers continue to prepare for a future in which paying with bitcoin becomes commonplace.
"There are millions of people who own bitcoin," said Alex Sunnarborg, Research Analyst for CoinDesk, the online news source for bitcoin, blockchain technology, and market prices, "and probably a few hundred thousand who actively use it."
The public's preference to save it rather than spend has slowed bitcoin's welcome by merchants. "With most merchants, the general reaction is that it's a bit underwhelming — few purchases are made with bitcoin. That being said, it doesn't cost much to implement bitcoin acceptance," Alex said.
A growing number of major merchants are starting to offer bitcoin as a payment option for their customers thanks to its ease of adoption and clear benefits to other forms of currency.
As trends in bitcoin and blockchain technology continue to unfold, CoinDesk has made it its mission to become the go-to source for information.
"CoinDesk is a news, data, and events company for the whole digital currency and blockchain ecosystem," said Alex. "We have a staff of 6 to 10 full-time journalists who cover every sort of breaking news story in the space, and we publish over 10 articles every day."
With news, market data, and practical guides for consumers and merchants who want to learn more about bitcoin's evolution and uses, CoinDesk is helping to make bitcoin more accessible and understandable for consumers and businesses.
Merchants Save by Adding Bitcoin as a Global, Direct Payment Method
Using bitcoin for retail purchases may not be widespread, but there are key advantages for merchants to implement bitcoin as a payment method. The first is speed. The average bitcoin transaction takes only 10 minutes to process since there are no intermediaries to contend with. By comparison, an Automated Clearing House (ACH) transaction can take up to 4 business days as it makes its way through all the traditional approval channels, and that's just at a national level.
Meanwhile, global payments become much less costly and time-consuming with bitcoin. For merchants who do a lot of international business, bitcoin could prove to be the key to overcoming currency conversion hurdles in the e-commerce world.
A second advantage is the absence of transaction fees when using bitcoin. Third-party credit card companies are notorious for charging fees to retailers who use their payment processing systems. This is especially hard for smaller merchants with less capital to work with.
In a practical sense, however, merchants, like gas stations, have little use for holding bitcoin on their books. To solve this, some services have been developed to help merchants convert their bitcoin to other forms of currency they can use.
The two larger conversion services are Coinbase and BitPay. They act as the payment processors to help merchants, including Dell, Microsoft, Expedia, and Overstock.com, accept bitcoin.
"From their perspective, it's a win-win. If a customer thinks it's cool to pay in bitcoin, they can accept it," said Alex. "They just end up paying a 1% fee to Coinbase or BitPay to convert it for them, which is still less than American Express or Mastercard charges."
Along with the services Coinbase, BitPay, and other bitcoin conversion systems provide, installing a bitcoin payment option is extremely easy.
"Any merchant can easily embed this type of checkout tool," Alex told us. "Setting up a bitcoin wallet is fast, and you don't have to do all the paperwork that's associated with setting up a merchant account with a huge credit card network. Bitcoin's a lot simpler."
Incentivizing Shoppers by Passing Along Savings May Spur Growth
While some larger companies have started accepting bitcoin as payment, it hasn't become a large part of the marketplace yet because users are holding onto the currency. While merchants benefit from bitcoin by not paying transaction fees, this savings isn't automatically passed on to the customer, who may save more money using a credit card offering cash back with a rewards points system.
"Generally I think consumers can be incentivized to spend bitcoin. However, with the current state of credit card cash back programs and bitcoin not being offered at a discount at most merchant checkout processes, it's just not currently advantageous to spend bitcoin." — Alex Sunnarborg, Research Analyst for CoinDesk
By incentivizing shoppers to use bitcoin, e-retailers could benefit from the bitcoin market.
"Generally I think consumers can be incentivized to spend bitcoin," Alex said. "However, with the current state of credit card cash back programs and bitcoin not being offered at a discount at most merchant checkout processes, it's just not currently advantageous to spend bitcoin."
One good example of a company incentivizing the acceptance of bitcoin is Gyft, which allows customers to buy gift cards using a credit card, cash, or bitcoins and offers a discount based on the kind of payment method used.
Enterprise Adoption of Blockchain Technology Could Drive Future Use
In addition to savings incentives for customers who pay with bitcoin, increased adoption of blockchain technology – especially at large financial institutions and banks — could help make it a more widely-used currency.
Blockchain, the technology behind bitcoin that serves as the public ledger on which it's created and stored, is becoming increasingly attractive to enterprises for many uses. For instance, in 2016, Wal-Mart started experimenting with blockchain as a solution for more accurately tracking food recalls across all its stores. Other industries, including health, manufacturing, and even media, are becoming interested in potential uses for blockchain technology.
"It's still mostly used by the public…but now there's this whole new wave of enterprise uses that may rekindle interest," said Alex.
CoinDesk Educates Stakeholders Through Conferences & Events
Eight years after its creation, bitcoin continues to evolve as a currency, and retailers, businesses, and other interested parties turn to CoinDesk to stay informed. In addition to covering news and functioning as a data source in the bitcoin space, CoinDesk hosts two major events a year for developers and business leaders. Construct, CoinDesk's first blockchain developer conference, was held in January in San Francisco. Consensus, hosted in May, caters to the business side of the bitcoin industry.
"Consensus is probably the biggest event in the space. We're estimating about 2,500 people in New York this year. I'm giving the opening speech on the state of the blockchain, and we feature people from all the hottest blockchain startups, as well as the traditional sector," Alex said.
These events tie back to CoinDesk's mission to be the voice of digital currency. By teaching merchants how easy it is to adopt bitcoin payment systems, publishing the latest information on trends, and aggregating market data within the space, CoinDesk encourages the retail and e-commerce sectors to explore the advantages of using bitcoin.
"We want to be the resource for the entire blockchain industry," said Alex, "a place for merchants and users alike to learn where and how to accept and spend bitcoin, how bitcoin mining works, how to buy and sell bitcoin, and help analyze why you might consider bitcoin in various situations."