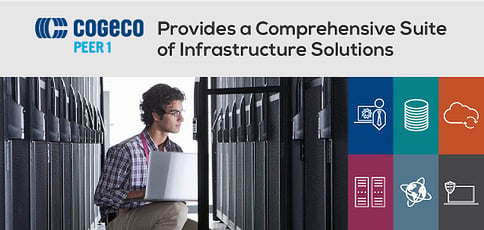 TL; DR: Cogeco Peer 1 offers a broad range of IT and infrastructure solutions to mid-market and enterprise-level organizations. But there's one thing all the company's offerings have in common: They're always tailored around the needs of the customer. Whether businesses are seeking a powerful cloud platform, enhanced network connectivity, or heightened security, Cogeco Peer 1's goal is to understand an organization's pain points and deliver solutions to alleviate them. We recently sat down with GM and VP Cindy Jordan Ford, who told us how the leader in managed technology services advocates for its customers to help foster growth and achieve the highest ROI.
IT has clearly become a necessary focal point for most modern organizations. And for good reason. The productivity, reach, and success of a business largely depend on the efficacy of its technology. In fact, it has been shown that when companies slash technology spending for short-term gains, it ultimately results in decreased revenue over time. And, if enough companies cut tech spends simultaneously, the GDP of entire countries can drop dramatically.
Managed IT solutions aimed at mid-market and enterprise-level companies abound. But, for the past two decades, organizations have been turning to Cogeco Peer 1 for its broad range of technology services — from cloud hosting and colocation to security and compliance solutions.
The Cogeco Peer 1 team strives to give clients high returns on investments with the cutting-edge IT solutions it delivers. However, as GM and VP Cindy Jordan Ford told us, the real differentiator is the company's customer service philosophy.
"Mid-market companies have a significant need for what we offer," Cindy said. "That's because many of those businesses don't have serious IT systems. When they work with us, we're more than just a vendor — we're a partner who's there to guide them and help them achieve their true potential."
It's Not Just About Providing Services — It's About Building Partnerships
Cogeco Peer 1 works with its customers on a consultative basis — measuring what's been working for them and what can work better. The aim is to take the investments a business has already made and reinforce them with complementary technologies.
Cindy noted that most consumers think all hosting services are interchangeable.
"Many people think 'Hosting is hosting is hosting,'" she said. "It has become very commoditized."
As a result, Cogeco Peer 1 takes a more educational approach to selling its services. The company doesn't simply provide tools — the team shows customers which solutions will complement existing infrastructure and then teaches them how to best implement them.
"Mid-market companies without a broad IT organization have a significant need for a partner," Cindy said. "There has always been a tension between IT and entrepreneurs. Often, founders only ask one thing about their IT solutions: How can they save more money?"
While Cogeco Peer 1 works to reduce its customers' IT costs, its larger goal is to add value to the IT solutions that their customers have already implemented.
"We want to deliver measurable business outcomes," Cindy said. "Our approach isn't transactional — it's strategic. That means looking at the direction in which our clients are traveling and mapping solutions that will help them get to their destination faster and more efficiently."
The Strategy: Shaping Products Around Client Need
Cogeco Peer 1 refuses to sell add-ons that duplicate tools their customers already have. The company won't tell clients to buy services that don't add value to their unique business models. Rather, the team studies each individual company and only offers solutions that best fit each customers' distinct needs.
"We ask ourselves, 'What can we do across our products to generate the best business outcomes for the client?'" Cindy said. "So if the customer needs lower latency, we'll do that. We find the metric with which the business can best measure their own success and map out a solution that will help them improve that metric."
Cindy noted that it all goes back to building relationships with customers. The team at Cogeco Peer 1 wants to sit down and understand the technologies and services that can lead to an organization's success.
"That's what we mean when we say we form partnerships with our clients," Cindy said. "We're not going to try to be everything to everyone, nor should we. If your business only needs a Toyota, we're not going to try to sell you a Cadillac."
Don't Believe the Hype — Believe in Proven Solutions
As this strategy has evolved, so has Cogeco Peer 1's marketing. The company doesn't try to upsell customers products and add-ons they don't actually need.
"Everything is based around highlighting our tailored solutions," Cindy said.
Cindy told us the goal at Cogeco Peer 1 is to take the time to teach clients the difference between flash-in-the-pan trends and technologies that are here to stay.
"Recently, we had a client tell us, 'A consultant said that putting everything in the cloud would save my business 11%, so I want all of my environment on the cloud. I don't care what it takes,'" Cindy said. "They were listening to messaging in the market, even though that messaging didn't apply to their company's structure or goals."
This happens often, according to Cindy. Entrepreneurs read blogs and articles that push overhyped crazes, and then they're stuck with a huge bill and solutions that don't deliver real value.
"The bleeding edge isn't always the best place to position yourself," Cindy said. "When a client asks us to do something that's fashionable but would ultimately be bad for their business, we take the time to explain why it won't work. We've seen these manias come and go. If we think a trend is a bunch of hot air, we tell our customers. The goal is to steer clients away from solutions that will ultimately lead to disaster."
A Continued Focus on Educating the Customer
Education plays a crucial role in the partnerships Cogeco Peer 1 forms with its customers. For example, Cindy told us, if a total cloud migration doesn't make sense for a business, Cogeco Peer 1 will devise a hybrid strategy.
"We'll make sure that clients see they don't have to completely abandon their current environment and their deployed assets," she said. "After all, they've spent tons of money on what they've already developed. So why not use that? We can harness the power of the cloud and other technologies without recreating their entire infrastructure."
It's an approach that allows customers to take a step back before diving into the unknown. It's a consultative style that Cindy says is critical to both Cogeco Peer 1's success and that of its clients.
"Our job is not to just give them whatever they want. It's to determine the best course of action for their business," she said. "We're their advocate. We don't just sell products. We sell results."