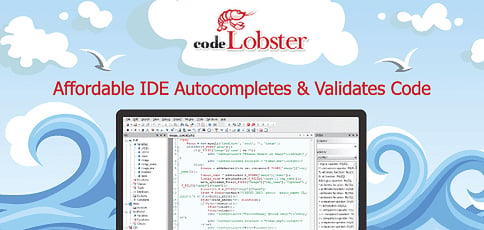 TL; DR: CodeLobster joined the IDE fray a decade ago to provide a free platform that didn't scrimp on features and performance. Further distinguishing themselves by concentrating on PHP, CodeLobster provides a full suite of tools to help both beginner and experienced coders. The free version includes a handy PHP debugger, along with advanced autocomplete and helpful tooltips. Affordable paid features add a validator, version control, and support for popular content management systems and frameworks.
Knowing how to code is only half the battle, particularly for beginner-level developers. Integrated development environments, or IDEs, take basic text editors and add helpful, comprehensive tools to remove the friction of coding a website or application.
Veteran program CodeLobster dove into the sea of IDEs about a decade ago, when developers' options were much more limited and expensive. With a goal of competing with the popular open-source IDEs, such as Eclipse and NetBeans, the CodeLobster team debuted a free product honed to streamline and simplify the PHP and JavaScript development process.
The free edition of CodeLobster comes preloaded with convenient tools, such as a code inspector, PHP debugger, and intelligent autocomplete suggestions. The functionalities are wrapped in a lightweight, portable software program that takes up less than 50MB on your hard drive.
As developers become more familiar with CodeLobster, Project Manager Stanislav Ustimenko said upgrading to paid versions and plugins further enhances the coding experience.
"There was only one way for us to succeed: Offer a free edition that is more powerful than the other options on the market," he said. "After that, we developed paid plugins to cover everything else you need for comfortable coding."
Free Download Boasts Helpful Features for Beginners and Pros
CodeLobster installation is simple: the free download supplies a 30-day trial you can extend by registering for a free serial code.
The Windows-only program needs only about 47MB of disk space and comes with a bevy of features right out of the box — no secondary installations of additional plugins and functionalities. Here are some of our favorites:
Autocomplete suggests tags, properties, variables, and functions for several languages.
HTML/CSS inspector helps you keep track of elements and style attributes.
PHP debugger detects syntax or parsing errors, warnings, notices, and fatal errors.
Context and dynamic help provide information about your code as you type.
Tooltips quickly appear to preview the image, size, or color of various elements.
CodeLobster supports 14 languages and comes with free updates for life. According to Stanislav, the CodeLobster team puts a lot of emphasis on creating helpful systems that appeal to a wide range of developers.
"Our product is as suitable for beginners as for professionals because of the very handy autocomplete and context help for a number of languages," he said.
Lite Version: Code Validator and Support for Version Control
Although you can use the free version of CodeLobster forever, upgrading to the Lite Version adds several features useful for project management and using more coding languages:
Code validator marks and underlines syntax errors in your HTML, CSS, and PHP.
Version control supports Git, SVN, and Mercurial, as well as hotkeys for various actions.
FTP/SFTP support accesses remote projects and allows you to upload files to your server.
SQL manager connects database tables to your project for exploration and autocompletion.
Support for Node.js, SASS, and LESS extends your coding toolbox.
Users can purchase a Lite Version license for $39.95 and won't have to re-download or install the program — just activate the key in the current installation to unlock the added features.
"We have one price for all customers and always provide students with good discounts, per their requests," Stanislav said.
Pro-Level Plugins Add CMS and Framework Integrations
CodeLobster's key advantage, according to Stanislav, is how well the IDE integrates with popular frameworks and content management systems. Experienced developers will enjoy pairing CodeLobster's powerful PHP autocomplete and debugging tools with WordPress-specific functions and arguments, for example.
CodeLobster's Professional Version plugins cost $99.95 and support the following:
Content management systems: WordPress, Drupal, Magento, and Joomla
PHP frameworks: Symfony, Laravel, CakePHP, CodeIgniter, Phalcon, and Yii
JavaScript frameworks and libraries: AngularJS, BackboneJS, MeteorJS, and jQuery
Template engines: Smarty and Twig
CodeLobster debuted a new Magento plugin, with their version 5.11.4 release in December 2016, along with updated jQuery, Symfony, and Yii plugins. CodeLobster publishes updates several times each year to both the IDE and individual plugins.
Coming in 2017: CodeLobster Works to Add Mac and Unix-Based Tools
Answering the calls of Mac and Ubuntu users, Stanislav said the five-person CodeLobster team is working on a cross-platform program that works with a variety of operating systems. As the IDE nears completion in the next few months, he added CodeLobster would bring on more staff members to continue supporting tools and developing new features.
In the meantime, CodeLobster offers Windows users a well-rounded free IDE that scales to meet the needs of professional developers looking for what Stanislav describes as CodeLobster's mission: providing a "comfortable coding" experience.