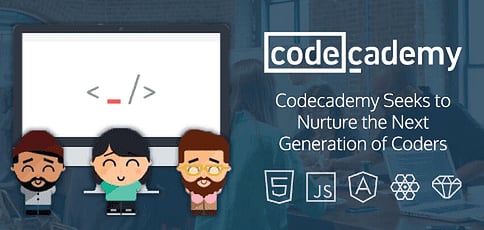 TL; DR: Founded in 2011 with a mission to further computer science education in modern society, Codecademy is an online platform that helps users learn how to program in more than 10 different coding languages. In addition to helping aspiring developers get started, Codecademy encourages computer science and programming education at the K-12 level, furthering the cause with resources and lesson plans for teachers. Knowledge of coding gives people the ability to excel in a wide array of professions, and Codecademy's approachable lessons make it possible for anyone to learn these skills at no cost.
Even outside of obvious fields like programming and information technology, people with coding skills are more employable in the digital age due to their ability to boost productivity through automated processes. Those with programming skills stand out in fields such as graphic design, science and engineering, and data analysis, among other professions.
For those with no prior knowledge or experience, learning a programming language can be intimidating. The mission of the Codecademy team is removing the fear factor some people feel when venturing into new coding territory with easily digestible lessons on more than 10 coding languages, including HTML, CSS, Java, and Python.
Codecademy is an interactive coding platform that seeks to foster a desire for learning in a new generation of students and educate the masses on programming. Users of the site can learn at their own pace, making it easy to fit in lessons whenever they have time to tackle something new. Codecademy takes a different approach than traditional educational models, but the platform represents a tremendous asset to the school system, where it will become increasingly important for younger students to get a head start on coding education.
Previously, courses in programming have only been taught at the college level. But they're now gaining traction in grades K-12. On the Codecademy blog, Co-Founder Zach Sims explains that computer science education is fundamental to our future. Everything is becoming increasingly computerized, so it's more essential than ever to prepare kids for the real world and, hopefully, inspire some to seek careers related to STEM (science, technology, engineering, and math).
These students will eventually become the new IT department at your bank or doctor's office. According to a ComputerWorld article, jobs in IT are expected to grow by 22% through 2020, and programming skills are increasingly important in a world gone digital.
Codecademy courses are a good introduction or companion to an existing curriculum, teaching programming piece-by-piece in an interactive way with hints and detailed explanations of any mistakes students make. This makes it easy for anyone — adult or adolescent — with zero prior knowledge of programming to learn the fundamentals.
Teacher Training and Lesson Plans Get Students on the Right Track
Codecademy also features classes designed with educators in mind. All too often, classes are taught straight out of textbooks by teachers who may or may not have background knowledge in the subject.
Codecademy wants to ensure teachers are confident in what they teach the next generation. They offer an archive of resources that include practice tests and lesson plans.
In addition, a section entitled "Hour of Code" helps new users find a place to start with small and rather engaging coding projects that include animating the user's name, building a small "About You" website, and programming a virtual galaxy.
Try Codecademy Before Considering a Career Change
For adults, Codecademy is useful for testing the waters on a career change. According to a study by Burning Glass, a site dedicated to career advancement, 7 million jobs in 2015 called for programming skills.
Aside from the more obvious fields, like information technology, coding is highly valued in engineering and art design. Furthermore, an increasing number of non-STEM jobs now require or appreciate coding skills because automating processes tends to boost performance and production.
Knowledge of coding gives prospective employees a big advantage in unexpected ways. Anything you can do to help productivity for your company will make you more valuable, and programming is a great way to increase efficiency.
Programming skills allow for the creation of more streamlined software. Depending on the specific field, these programs may be more heavily used and have a greater need for better user interfaces or more efficient features. Having a background in coding also earns you the respect of your colleagues whose job it is to do more of the actual programming itself, even if your department is only tangentially related.
Graphic Designers Who Code are Extremely Marketable
Although few design tools require knowledge of coding in their interfaces, graphic design is another field in which coding knowledge can offer surprising benefits. Skills in Photoshop and Illustrator are marketable, but not as much so when designers can only start projects before handing them off to HTML and CSS coders to turn stunning imagery into functional websites and mobile app user interfaces. Exponentially more marketable is a designer who is a one-stop-shop with the experience to envision and manage the process from art to code to finished interface.
The use of design programs, too, can be enhanced with a little coding knowledge. All the major tools in a designer's toolbox — Photoshop, Illustrator, InDesign, Bridge, Lightroom — can be enhanced and automated using JavaScript.
A designer with the ability to add their own functions to tools has an instant advantage over competitors. Automating repetitive tasks — and there are many repetitive tasks in professional graphic design — speeds a designer's work. That, in turn, means faster work and the ability to take on more work to earn move revenue.
Scientists and Engineers Who Code Work Faster and Discover Creative Solutions
In science and engineering, many simulation and design applications are used. Every scientific field accumulates raw data in the course of experiments and studies conducted in the pursuit of proving or disproving hypotheses.
That raw data has to be collected, collated, and analyzed — typically through the use of purpose-built software. Scientists who can program their own models, their own analyzers, and their own comparison systems can modify their tools to adapt to the specifics of the experiment and the resulting data rather than trying to wring understanding from someone else's idea of how data should be compiled, organized, and presented. They gain deeper insights into their data, which is the entire point of scientific study.
Similarly, the ability to code allows engineers to build tools to fit their own unique needs in analyzing the data. They often also need to built frontend user interfaces to present complex data distilled to layman levels to non-engineering personnel in an intuitive manner.
Programming Skills are Crucial in Data Analysis Jobs
Two of the most popular languages Codecademy teaches are SQL and Python. Python is a programming language commonly used to query SQL databases in data analysis.
Data gathered from research is compiled neatly and analyzed by Python scripts that automate many of the calculations and tasks that would take a human much longer. As a result, productivity is increased regardless of the field, whether science, engineering, art, or business data analysis.
Taking statistics and turning them into something that makes sense is essential because raw data doesn't tend to illustrate much on its own (and is often poorly understood without visuals). A good programmer can take something that looks Greek to most and turn it into something intuitive.
A Computer Science Crash Course That Evolves with Industry Needs
Codecademy has grown along with industry changes by offering new courses as need arises.
When it was first conceived, the project only offered JavaScript education. In time, courses on web-related markup languages, such as HTML and CSS, were implemented and, later, Java programming. Heavy use in mobile applications, especially on Android systems, places Java programming in demand.
Codecademy's classes in coding languages are constantly being updated to keep up with the times, with motivational projects added for good measure. Examples include the New Year's Code Year project of 2012 and the Hour of Code iOS app, which was launched in 2013.
Codecademy is a basic jumping-off point for budding programmers, young or old. While you may not be making a high-end video game the day after you finish one of their courses, it's nonetheless a great introduction to coding that doesn't patronize or overly criticize learners. It has a welcoming approach that many textbooks on the subject won't and can't provide due to a lack of interactivity or updates.
In a recent blog post, Codecademy announced updated versions of HTML, CSS, Python, Ruby, jQuery, and PHP for summer 2017, so it's a great time to get the ball rolling on programming education. Demand for coders across a wide range of industries will only increase tomorrow.