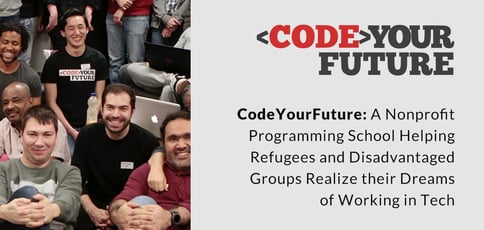 TL; DR: CodeYourFuture is a nonprofit helping refugees and other disadvantaged individuals pursue their dreams of becoming programmers. The organization, run by volunteers, teaches students the technical and soft skills they need to succeed in the tech industry via eight-month education programs in Manchester, Glasgow, Birmingham, and London. Today, the company is ramping up online education efforts to break down geographic barriers and continue its mission despite COVID-19.
Since the European migrant crisis began in 2015, millions of people have risked their lives to seek refuge from conflict and persecution in Syria, Afghanistan, Iraq, and other war-torn countries.
According to the U.N. Refugee Agency USA for UNHCR, by the end of 2016 alone, nearly 5.2 million set forth on desperate journeys to reach European shores. Thousands have died.
Those who survive the harrowing journey must face severely disjointed lives, interrupted educational and career paths, and integration challenges. CodeYourFuture provides displaced communities with free, eight-month educational programs taught by volunteers to help refugees who have a passion for tech find vital learning opportunities alongside other locally born disadvantaged folks.
"A lot of people come to us with a deficit of hope," said Alec McCrindle, Design and Marketing Director at CodeYourFuture. "When they start, they're often low in confidence and have given up on having any kind of meaningful career."
Professional developers teach students the technical and soft skills they need to succeed in the tech industry via courses in Manchester, Glasgow, Birmingham, London, Rome, and, possibly soon, Cape Town. Graduates exit the program with a coveted skill set, employability, and the promise of a better life.
Alec said approximately 70% of CodeYourFuture graduates find careers in the tech field or go on to pursue full-time educational opportunities. But that's only the beginning.
In time, CodeYourFuture hopes to expand to other regions and cities, broadening its support of refugees, asylum seekers, and other disadvantaged adults who dream of becoming developers. Meanwhile, the company is ramping up online education efforts to break down geographic barriers and continue its mission despite the COVID-19 pandemic.
Lowering Barriers to Entry into the Tech Industry
Alec said disadvantaged people lack the financial resources or face other significant barriers to high-quality vocational training, such as a full-time boot camp. These include those with mental or physical disabilities, dependants as a single parent, or those who face discrimination, like ex-offenders, women, or the homeless.
"They have had free online programs and coding tutorials for many years, but when you don't have any experience in coding, and you start from scratch, you need a lot more guidance," he said. "We invite all applicants to apply, regardless of prior technical knowledge."
The CodeYourFuture curriculum includes a blend of the techniques and tools students need to learn and work together effectively. To help them overcome a range of challenges associated with disadvantaged and underrepresented groups, the organization offers self-paced courses and workshops as well as a part-time eight-month full stack development course.
CodeYourFuture also supplies laptops to students (starting as early as the initial application stage), covers child care costs, subsidizes travel expenses, funds internet costs, and provides meals to ensure students are well nourished. Each month, the organization estimates it donates approximately 140 trips to class, 100 hours of child care, and 200 student meals.
"We pay for child care, transport, and internet, among other costs, to ensure that people are able to continue learning in the face of overwhelming challenges," Alec said.
Courses start with the fundamentals of the web, from creating the structure and style of static web pages using HTML and CSS to learning best practices for the frontend. More advanced topics include JavaScript for building web apps, backend development using Node.js, and developing user interfaces with the JavaScript library React.
Beyond Coding: Teaching the Soft Skills Needed for Employment
Alec said volunteers are critical to the program's success. "Without them, we couldn't do what we do," he said.
CodeYourFuture volunteers come from a range of backgrounds in tech, finance, marketing, and consultancy, among other professions, to provide training, recruitment advice, class coordination, and personal support. Volunteers also work to build relationships with corporations that lead to hiring opportunities for students once they graduate.
In addition to in-depth technical training in a number of programming languages, volunteers help students acquire the practical life and social skills they need to thrive in the business environment. According to CodeYourFuture's 2018 annual report, 80% of students said their teamwork, problem-solving, and communication skills improved significantly — as did job opportunities.
"If your only experience of the working world is a fast food outlet or packing boxes in a warehouse, there are lots of soft skills that you need to learn in order to be a productive member of a team in a corporate environment," Alec said. "That's why our course is designed around real people and the barriers they face."
Ultimately, CodeYourFuture's goal is to help the most disadvantaged groups find meaningful, full-time professional work in tech. Between higher salaries and increased job prospects, the program can have a profound impact on students' lives.
"We've had people who are homeless and have never coded before get hired for full-time jobs at great companies in about a year," Alec said. "That's obviously an amazing transition."
The program also has a lasting impact on the volunteers who donate their time and knowledge to advance the effort.
"Whether through helping them find a job, teaching them new skills, or just providing the space where they feel comfortable, helping our students with things that may seem small can have a huge positive impact in their lives," said Lucy MacGlashan, Mentor and Manchester Lead at CodeYourFuture. "I am also lucky to work with an amazing group of volunteers whose skills and dedication to our students have been incredibly influential to me."
Expanding Online Education in the Age of the Coronavirus
Many businesses and organizations are bracing for long-term disruptions of their normal operations due to the COVID-19 outbreak.
CodeYourFuture is no exception. As with many schools around the world, the group has been delivering classes online and is currently looking for additional volunteers who can help in a remote capacity.
But, in a sense, Alec said the pandemic is breaking down previous geographical barriers that existed for the school.
"We've realized that we can get volunteers for some fairly crucial roles to help us from a distance via the internet, and we think that will continue to happen after the virus subsides."