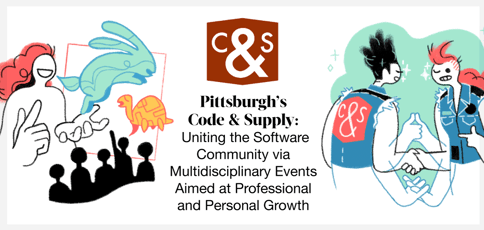 TL; DR: Code & Supply, based in Pittsburgh, is on a mission to bring together members of the software community through events such as Abstractions 2019 and the upcoming Heartifacts 2020. The group aims to provide a wide variety of perspectives applicable to the changing role of the tech specialist across all disciplines. With a future focus on the importance of mental health in the industry, Code & Supply is supporting both the personal and professional evolution of its members.
Pittsburgh, Pennsylvania, once the source of half of the nation's steel, is emerging as an unlikely tech hub in the Northeast. Forward-thinking companies, including Argo AI, Astrobotic, and Duolingo, call the city their home. From 2007 until 2017, Pittsburgh-area tech businesses attracted more than $3.5 billion in funding, including $687 million in 2017 alone.
A growing community of software professionals is also setting up camp in the area, and since 2013, Code & Supply has been bringing them together.
"Code & Supply is Pittsburgh's largest and oldest community of software professionals — from developers and designers to managers, executives, founders, and salespeople," said Colin Dean, Managing Director at Code & Supply. "We not only focus on the professional aspects of the industry but also on how to weave one's personal life into work in a way that preserves work-life balance."
The organization, supported by members contributing $10 to $60 per month, is known for uniting the software community through conferences such as Abstractions 2019 and Heartifacts 2020, currently scheduled for August. These events provide attendees with an opportunity to meet new people, brush up on software knowledge, and attend specialized workshops.
The goal is to provide a wide variety of perspectives on the changing role of the tech specialist across all disciplines. In addition to conferences, members also enjoy access to perks like live-streamed coding sessions and a community-organized job board.
With a future focus on the importance of mental health in the industry, Code & Supply is supporting both the personal and professional evolution of those powering Pittsburgh's tech sector.
Bringing Together Pittsburgh's Software Pros Since 2013
Code & Supply was founded seven years ago by Justin Reese, who wanted to streamline the overlap of tech meetup organizations in Pittsburgh. "They were stepping on each other's toes, scheduling events on the same night," Colin said. "We had a JavaScript meetup, a node meetup, a Ruby meetup — why couldn't we all work together? That's why we started Code & Supply."
Colin said language-specific conferences fail to acknowledge the fact that software professionals frequently jump from one stack or framework to another over the course of their careers. So when Justin and Colin launched their own event, Abstractions, the goal was to create a multidisciplinary environment where techies could get exposure to new languages, frameworks, and even careers.
"We did a survey in 2017 of about 250 members of the coding supply community and found that in Pittsburgh, people are staying at their jobs for a little under three and a half years," Colin said. "And we speculate that that time period has decreased over time."
Colin told us that he recruited an all-star lineup of speakers — as it turned out, all he had to do was make a few calls. "People would ask, 'How did you get Joe Armstrong and Larry Wall in the same room [both are authors of programming languages: Joe is the creator of Erlang, while Larry created Perl],'" he said. "We just had to reach out; they were interested."
Code & Supply's conferences aren't your average conference events, which are typically packed with mid-career professionals who may hit the exhibit hall for a few hours — but are really there for the cocktail hour.
"It's much more dynamic," Colin said. "You're not only learning about code; you're learning about career opportunities, you're learning about community management. You may drink, play some board games, sip some tea. But these events are much more evolved."
Past gatherings have featured more than 150 sessions and widely recognized speakers, such as Heather Miller, Executive Director of the Scala Center at Carnegie Mellon; Matt Griffin, UX Lead at Shopify; and Fereshteh Forough, who founded the first coding school for girls in Afghanistan. Topics have included negotiation strategies, imposter syndrome, conquering social anxiety, and the digital gender divide.
Last year's event also had structured and informal networking opportunities, and unique Side Quests — such as a hat decorating station and an arcade — designed to sprinkle in some fun.
Supporting the Evolving Tech Specialist
Colin said the ideal conference speaker is someone who authored a framework, language, or useful tool — someone interesting enough to have a Wikipedia page, but not so overpriced that other parts of the organization suffer.
"We thought about Edward Snowden," he said. "We knew he was going to sell tickets, but his speaking fee was hefty and he can only presently remotely right now. Instead of paying that much, we could dump more money into our scholarship fund and pay for more people to come to the conference."
The Code & Supply Scholarship Fund was created to help expand Pittsburgh's tech community in two ways: by covering the costs of local conference attendance for low-income individuals as well as supporting the travel of Pittsburgh-based speakers to events around the world. In 2016, for example, the group awarded 57 scholarships, which ranged from a free ticket to covering the cost of travel and accommodations. In 2019, the organization awarded about 50 awards.
"One awardee lost her job but also got accepted to speak at a conference," Colin said. "Using the Code & Supply Scholarship Fund, we were able to send her to the event, where she ended up getting a contract gig that lasted for months."
Through its coworking space in East Liberty, a neighborhood in Pennsylvania's East End, Code & Supply also offers professionals a communal place to work for an affordable monthly charge. The facility, open to visitors by appointment, includes high-speed internet access, standing desks, free coffee and tea, and reservable conference rooms and event space. If you're looking for a sneak peek, the organization has set up an Instagram account dedicated to the location.
Heartifacts 2020: Removing Industry Stigmas Around Mental Health
Though it remains to be seen whether COVID-19 will delay the event, Code & Supply has an intimate event planned for members in Heartifacts 2020. The gathering, limited to 150 attendees, is a special opportunity for software professionals to talk about all things mental health, career management, and community building.
Tentatively scheduled for August 14-15, 2020, at the David L. Lawrence Convention Center in Pittsburgh, the event will serve as a follow-up to Heartifacts 2018, which featured presentations by John Sawers, Jenny Bramble, Aisha Blake, and Aaron Goldsmith.
Ultimately, the event provides a venue where people can feel comfortable discussing their personal lives and share their experiences coping with everything from job burnout and interview confidence to mood disorders such as depression and anxiety.
"The organizers of Abstractions are neurodiverse: many of us think and perceive very differently from the rest of the world," Colin said. "This is something we want people to talk about. We want them to be able to share strategies for navigating mental health in the workplace, and, at a minimum, share their own situations."