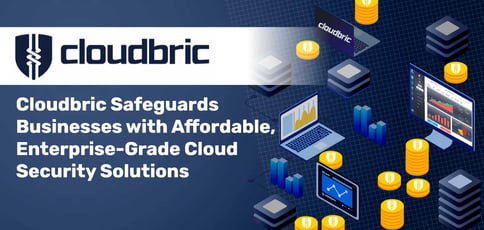 TL; DR: Cloudbric started as a free web application firewall (WAF) provider and expanded into mobile device security, IoT asset protection, and blockchain security. Today, the company offers fully managed, cloud-based security for SMBs, enterprises, and individuals around the world. The pay-as-you-grow service includes a full security suite for web, mobile, IoT, and blockchain at every pricing tier. And Cloudbric aims to make the blockchain industry even safer with a new digital security platform and a suite of AI and machine learning tools that quickly detect patterns and threats. The new suite will bring affordable, enterprise-grade blockchain security to all users and make public threat intelligence available to everyone.
For online businesses, security isn't just about websites and firewalls anymore. Today, these organizations also have to worry about protecting their mobile, IoT, and cryptocurrency assets.
The situation is especially critical for SMBs and SMEs. Nearly 70% of SMBs participating in a study said they experienced a cyberattack in 2018, and 58% said they had experienced a data breach in the last 12 months. But nearly half of SMBs in the study said they still aren't sure how to protect their companies from such breaches, and small operations are constrained even further by a lack of IT staff.
Meanwhile, new threats to blockchain-based technologies and cryptocurrency are emerging every day. And many organizations are struggling to put the necessary safeguards in place to effectively lock-down these assets.
Cloudbric is on a mission to solve both of those problems. Its cloud-based security service brings managed, enterprise-grade cloud security to businesses of all sizes. Its affordable, pay-as-you-grow service includes a suite of comprehensive tools for securing web, mobile, IoT, and blockchain technologies.
And Cloudbric is developing an extra layer of security to the blockchain industry through Cloudbric Labs, which will deliver public threat intelligence to everyone. Currently in beta, the AI-based security suite strives to make enterprise-level web and blockchain security smarter and more accessible.
"We will collect massive amounts of cyber threat intelligence from the platform and public contributions, and then make the data available through APIs," said Karen Cruz, Digital Marketing Manager at Cloudbric. "Anyone can access that valuable threat data, and enterprise organizations can even use it to strengthen their current security software."
While most threat intelligence data is privately held, Cloudbric plans to leverage blockchain technology to decentralize threat information and make it transparent. Its users can contribute to the security system and may receive token rewards through the Cloudbric Labs' threat intelligence reporting system.
From Freemium Firewall Protection to Comprehensive Cloud Solutions
Cloudbric started as an in-house project at leading South Korean enterprise security provider Penta Security Systems, Inc. Then, it began offering a free web application firewall (WAF).
"At that time, no other cybersecurity vendor was providing these kinds of web services for free," Karen said. "Cloudbric's freemium model meant everyone could enjoy enterprise-level security."
The company was spun off in 2017 and added DDoS protection and SSL encryption on top of its award-winning WAF. Its founding members wanted to build an enterprise-grade cloud WAF service that was also the world's easiest to use and the most scalable. At the time a commercial version could cost a company thousands of dollars, an expense that would be tough to justify for small businesses or personal website owners. That's why Cloudbric's website security service scales cost to what a site uses.
Another Cloudbric goal was to simplify security, so even those without extensive IT knowledge could sign up and have their websites protected right away. And the fact that it includes a comprehensive suite of security tools no matter the price level is still a key company advantage.
The growth in demand for cloud services has led Cloudbric to expand its business in both the cloud-based and on-prem WAF market. Worldwide, the public cloud services market is projected to grow 17.5% to $214.3 billion in 2019.
"Cloudbric, as a company, has faced several challenges, including managing WAFs in various versatile environments," Karen said. "Since we started working with more web-hosting providers, managed service providers (MSPs), and value-added resellers (VARs), we've become experts in cloud infrastructure."
Expanding Digital Security in the Blockchain and Crypto Space
Once Cloudbric saw the demand for security grow beyond websites — including security for blockchain and IoT — the company's mission evolved. It began to implement plans for its threat reporting platform (Cloudbric Labs) and the integration of AI.
The Cloudbric Labs web security resource center was established to help developers, webmasters, and end-users work together to improve security across channels — including web, mobile, and blockchain. The lab offers free cybersecurity tools and a Threat Index to analyze recent vulnerabilities.
It is designed to integrate with security platforms through an API.
Cloudbric's deep learning module, VISION, also integrates with its WAF filtering system to increase the accuracy of cyber threat detection. Through the new platform, these two will work with the company's AI detection engine to block incoming malicious traffic, so there's no need for whitelisting or blacklisting. Users can also inspect their web traffic and identify behavioral anomalies. At the same time, sharing data helps VISION learn the characteristics of web attacks to improve the filtering system.
"Cloudbric has already begun testing its AI with current users and allowing the engine to learn the traffic characteristics of user websites and, in turn, provide tailored security to each," Karen said.
The company decided to enter the space when it realized that some of the most significant blockchain technology developers did not put basic, proactive security measures in place. But cybersecurity is paramount for blockchain technology to achieve mainstream adoption.
And Cloudbric's mission is two-fold: to make the internet more secure and the blockchain space safer. It provides security and crypto asset protection for several cryptocurrency exchanges and works with some wallet platforms. The company also plans to release a B2C app soon that's designed to ensure crypto apps are secure. Cloudbric aims to make public businesses more comfortable and trusting of blockchain technology — including exchanges, wallet platforms, and security developers.
"Recently, Cloudbric has started to secure the operation and building of blockchain nodes in our existing data centers and servers around the world," Karen said. That's because blockchain nodes are necessary for the stable operation of exchanges and wallet platforms on the blockchain network, which must typically operate in multiple regions.
Cloudbric: Making Prevention Mainstream for SMBs and Developers
Although Cloudbric was initially formed to help individuals and small businesses, those aren't the only entities that need to worry about website security and firewalls. Cloud and web hosting providers are also getting more involved in protecting customer websites.
Small business owners and developers who can't afford to spend time focusing on security may rely too much on their hosting providers to protect their sites. Many web hosting providers understand the increasing importance of web security but can also be constrained by the expenses — especially for customers who prioritize value. Others may not realize that providing robust security can be a significant differentiator.
Cloudbric recognizes that dilemma, and partners with web hosting platform Plesk to provide its users with a WAF extension and advanced web security — including DDoS protection. The extension will enable easy, one-click activation for all Plesk users, simplifying security for the hosting provider, its clients, and web developers.
By extending its cloud security service and technology to the blockchain space and hosting providers, Cloudbric is doing what it can to make cybersecurity mainstream.
"Those already familiar with Cloudbric may know us for our WAF service, but we aim to be known as an all-around cloud services protection provider operating in cybersecurity," Karen said.