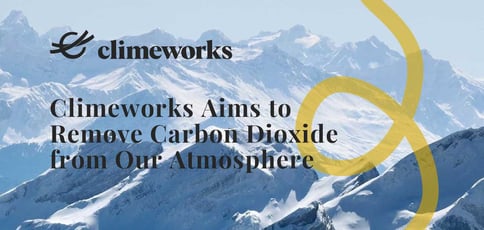 TL; DR: Climeworks is helping achieve a net-zero emissions balance by removing carbon dioxide from the air safely and permanently. The company's direct air capture machines, powered entirely from renewable sources and energy from waste, contain a highly selective filter material that captures and stores carbon dioxide. The climate may be changing rapidly, but individuals and businesses can act now to help Climeworks scale its operations to the levels required to sustain a healthy planet.
On October 8, 2018, the world received a blaring wake-up call from the Intergovernmental Panel on Climate Change (IPCC) via its Special Report on Global Warming of 1.5 °C (SR15).
The report, created by leading climate scientists from across the planet, confirmed that human activity has caused approximately 1.0°C of global warming above pre-industrial measurements, with levels likely to reach 1.5°C between 2030 and 2052.
"Climate-related risks to health, livelihoods, food security, water supply, human security, and economic growth are projected to increase with global warming of 1.5°C and increase further with 2°C," the IPPC warned in its Summary for Policymakers. "Climate models project robust differences in regional climate characteristics between the present day and global warming of 1.5°C, and between 1.5°C and 2°C."
According to scientists, limiting warming to 1.5°C is still possible if we take drastic action to cut emissions by half by 2030 and reach net-zero emissions by 2050 per the Paris Agreement. This half degree of difference will mean less extreme weather, fewer species lost, and decreased water scarcity — and it will effectively prevent a complete wipe-out of the world's coral reefs.
In other words, urgent action is absolutely essential to ensure a livable planet. Part of this effort will include removing billions of tons of carbon dioxide from the air by the middle of the century using methods such as direct air capture.
"The IPCC's reports make it very clear that large-scale carbon removal from the atmosphere is needed to meet the emissions goals of the Paris Agreement," said Christoph Beuttler, CDR Manager at Climeworks. "That's why we've made restoring a healthy balance of CO₂ our purpose."
The company's revolutionary direct air capture machines are within immediate reach for both businesses and companies, who can purchase subscriptions for carbon dioxide removal as a service.
Enabling Cutting-Edge Carbon Removal at Scale for a Decade
Climeworks, based in Switzerland, was launched in 2009 by Christoph Gebald and Jan Wurzbacher, two mechanical engineers.
"They founded the company for personal reasons — they genuinely wanted to do something to fight against climate change," Christoph said. "In the beginning, it was a constant challenge to demonstrate that filtering carbon dioxide from the air was possible at a commercial scale. Now, we are demonstrating that it is indeed possible — and at an affordable price."
Christoph said awareness of the need for atmospheric carbon removal has grown exponentially in recent years, especially following the milestone IPCC report. Microsoft Corp. released plans this year to invest $1 billion in a Climate Innovation Fund to companies and organizations producing carbon-reduction technology.
"Like most carbon-neutral companies, Microsoft has achieved carbon neutrality primarily by investing in offsets that avoid emissions instead of removing carbon that has already been emitted," said Microsoft President Brad Smith in a January 2020 blog entry. "That's why we're shifting our focus. In short, neutral is not enough to address the world's needs."
Climeworks traps carbon dioxide via commercial direct air capture machines powered entirely from renewable sources and energy from waste. A highly selective filter material in the units captures and stores carbon dioxide, which is then stored or sold in pure gas form to customers in the automotive, agriculture, food and beverage, and energy sectors.
The company ensures that grey emissions that arise from the process of removing carbon dioxide from the air stay below 10%. This means that, per every 100 tons of gas captured, 90 tons are removed and 10 reemitted.
Corporate Social Responsibility and Sustainability Initiatives
As IPCC's recent special report illustrates, environmental short-sightedness is no longer an option for individuals or businesses. Many consumers are now using their buying power to support companies that embrace sustainability, underscoring the economic risk of inaction.
Even so, Christoph told us that, without direct air capture and other technologies, the Earth will not be habitable for generations to come.
"Without this technology and everything else we utilize to remove carbon from the atmosphere, we won't make the Paris goals — that's a fact," he said. "That means we won't have a livable planet in the long term, which is most likely within our lifetime."
Christoph said that methods used to remove carbon dioxide from the atmosphere leverage either technology or Biomass Energy for Carbon Capture and Storage (BECCS). With BECCS, scientists extract carbon dioxide from organic matter (such as trees and crops) and store the carbon to remove it from the atmosphere. But BECCS alone, while beneficial, is likely not enough.
"There's now a cluster of companies that understand if they don't drive the scaling of direct air capture, there won't be sufficient scale of carbon removal when we run out of biomass," he said. "And we already know that we don't have enough biomass on the planet to remove enough carbon dioxide to meet our goals."
Fortunately, Climeworks' direct air capture machines consist of modular carbon dioxide collectors that can be stacked to build larger units of any size. By signing up for a subscription to Climeworks, individuals and companies can help immediately scale the system and physically remove their past, present, and future carbon dioxide emissions.
But that's not where the business and economic impacts end. Christoph said that direct air capture is set to become a trillion-dollar industry in itself, growing at a time when many others can't.
A Permanent, Efficient, and Measurable Process
Christoph said the world needs to employ as many carbon dioxide removal solutions to keep global warning at minimum levels.
That said, there are several benefits to Climeworks technology in terms of safety, efficiency, and impact. "We have a comparatively smaller footprint than biomass solutions: We take up approximately 400 times less space than trees would," he said.
The Climeworks solution also removes carbon dioxide from the air permanently. "We do this with renewable and waste energy only," he said. "If you're in the business of removing carbon dioxide from the air, you want to make sure that in the full, cradle-to-grave Life Cycle Assessment (LCA), you remove more than you need for the operations."
Climeworks also has developed a way to safely store carbon dioxide. For example, the company can use natural processes to turn gas into stone.
"It's important that policymakers understand that taking carbon from a fossil fuel stack, such as a coal power plant, and then burying it underground is not carbon removal," he said. "You're just avoiding an emission. We need policies and actions that will help us reach our goals now so we can arrive at a net-zero emissions world in 2050 at the latest."
To scale direct air capture up the levels required and restore a healthy carbon dioxide balance, he said humans need to act now.
The Goal: To Inspire 1 Billion People to Help Remove Carbon Dioxide
Ultimately, Climeworks aims to motivate a whopping 1 billion people worldwide to start removing carbon via direct air capture.
"Anyone can start today — we offer it to everyone and anyone via individual plans, customized packages, B2B sales — just visit the website, it's active now," Christoph said.
From there, the goal is rapid growth.
"We will build bigger plants by an order of magnitude every other year — that's in our roadmap," Christoph said. "Our ultimate aim, and what we are most excited about, is becoming climate-relevant."