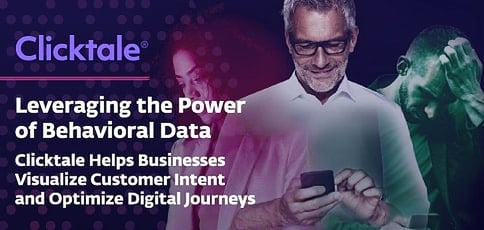 TL; DR: In today's highly competitive online marketplace, it's no secret that good user experiences lead to higher loyalty and conversion rates. As a result, businesses around the world are turning to Clicktale to help optimize their customers' digital journeys. By tracking millisecond-level actions, such as hovers and scrolls, Clicktale analyzes millions of data points to create a digital body language of user behavior and intent. With this information, businesses can design and deliver custom experiences that allow customers to more easily achieve their goals. We recently sat down with Clicktale CMO Geoff Galat, who told us how the company's new Experience Cloud employs cognitive computing, machine learning, and psychological research to enable businesses to understand their audiences and enjoy huge returns on investment.
In the bustling city of Tel Aviv, the weather was hot and so was the product line of the new player in the data analytics space, Clicktale. It was 2006, and digital heat maps were the latest wave of analytical data that delivered information on how users navigated a business's online touchpoints.
By marking areas where people were most active in red and less active in orange, Clicktale discovered the overlaps these datasets produced would allow businesses to precisely predict how a customer would behave. As the company evolved, it added more capabilities, such as session recordings, which enabled site owners to document clicks during visits to recreate user journeys. This showed not only where users ended up on a site, but also what they did to get there.
Clicktale's heat-mapping service rapidly gained popularity, and it soon went from an inexpensive product sold largely through broad web distribution to small businesses to a solution that mid-sized and enterprise-level companies were knocking down doors to buy.
To help foster its growth, Clicktale brought in former Investment Technology Group (ITG) Chief Development Officer Tuval Chomut in 2015 to serve as COO, and in 2016 he took the helm as CEO. Famous for its work with finance giants, such as Morgan Stanley, ITG is the backbone system where most of the world's financial trades take place. The system collects millions of data points at any given time, telling people what to trade based on correlations and causations. By automating the process, it decreased the guesswork experienced by individual traders.
Tuval looked at Clicktale and realized the company's data alanysis process that gathered information on clicks, hovers, rotates, swipes, pinches, and zooms were similar to ITG's system. As such, he concluded there were many other insights that could be gleaned from the data if Clicktale connected the dots.
Responding to the Shift to Big Data and Emergent Security Concerns
As a result of Tuval's findings, the company officially embraced big data and rolled out a new product: the Clicktale Experience Cloud. The platform was a major shift from a system initially designed to work for mid-sized businesses to a system that now catered to enterprises and their massive data volumes.
"The overall goal was to create the Clicktale Experience Cloud platform so that it could give more interesting and visual insights in a way that truly met the need of our really big customers," said Geoff Galat, Clicktale's CMO. "Working with big banks and big retailers with financial services, privacy and security at this kind of gate is wildly important."
The company employs an array of security measures, including allowing clients to block recording and collection of any personally identifiable information (PII) entered by keystroke, blocking third-party cookies, and not retaining user IP addresses.
Not only was the Clicktale Experience Cloud designed as a fast solution for scaling companies — it also carried the benefit of more elasticity. As an example, Geoff cited a Clicktale customer's recent Black Friday experience. A full 24/7 response system was set up to support the company's huge customer base that would suddenly see massive volume increases to their sites. These online touchpoints had to scale rapidly for traffic levels not normally seen, and Clicktale's technology flexible enough to spike with it.
How Clicktale Enhances Traditional Approaches to Customer Engagement
Having been in the big data space for a significant amount of time, Geoff told us that much of Clicktale's external marketing message comes from his personal experience. When working with clients, he is often stunned that many of the questions people are looking to answer today are the same questions they asked in 2001.
"There have been 17 years of technology evolution, with so many more marketing solutions and digital transformations developed during that period, yet those questions are still out there," he said.
Recognizing this real issue, Clicktale wanted to provide definitive answers to these long-standing questions and did so by taking a deep dive into the customer experience.
Geoff told us that what users view as customer experience has shifted. It used to be that a user who visited a site like Amazon and who added an item to a cart and checked out in one click had a great customer experience.
"Now customers want things more involved than that as they believe they should be able to do anything online they could do any other way," Geoff said. "They are frustrated when they can't."
Unfortunately, many businesses are not able to provide such integrated solutions and often miss opportunities to convert. Geoff told us this is one of the biggest problems most products in the market are trying to solve. However, when looking through the prism of customer experience, Clicktale has questioned whether conversion is even the most important factor.
"We have customers who've told us many times that just because someone completed something, it didn't mean they had a good experience, and when they didn't complete something, it didn't mean they had a bad experience," Geoff said.
Heeding this feedback, Clicktale has focused a lot of its effort on understanding how digital behavior online can determine intent offline. A user's intent is what is most important — not necessarily the conversion. What an organization can learn through a user visiting a website and not buying can help change the way business decisions are made.
"It's far more interesting if we can discern whether or not you intended to buy something when you visited and didn't, versus when you just went there randomly and didn't," he said.
Geoff cautioned that a company should no longer assume that, because it successfully sold something, that sale will lead to business growth. User experience has now become the differentiating currency of the industry as businesses are starting to recognize there isn't much consumers can't buy from someone else online. The market has created what Geoff called a new switching economy that forces people to be much more selective about their online interactions, and businesses are now working to maximize that experience. More attention is now given to efforts that keep customers on sites to buy, in addition to delivering an experience good enough to encourage repeat business.
Rising to the Challenge of Personalization Across Online Touchpoints
As an advocate for clean science, Clicktale gathered members of its team with PhDs in behavioral psychology and data science to perform scientific validation of its findings. During the team's research on user behavior while interacting with a digital property, Clicktale found that many behaviors were equivalent to human body language.
As a result, the company coined the term Digital Body Language to describe user behavior, which ultimately revealed a pattern that allowed the segmentation of users into five distinct non-converting groups:
Focused users who know what they want
Exploratory users who just want to learn about a product or service
Mindful users who have an idea of what they want but are not ready to buy
Lack of Interest: These visitors have a lack of motivation to keep exploring the content
Disoriented users who are unsure of the buying process of a site.
Geoff advises that a business should focus on the latter two groups of lack of interest and disoriented users, as they are red flags alerting to a site's weak usability.
Geoff also revealed that most of these issues arise from companies not having established key metrics to measure their business. As eCommerce has grown, many companies have not felt the need to focus on key metrics, and this lack of attention has lead to the cannibalizing of other parts of a company's infrastructure. Yet it's vitally important that companies establish key metrics, especially in regard to user intent, as this goal-oriented focus can potentially yield positive returns from all aspects of a company.
As an example, Geoff shared with us Clicktales's experience with B&Q, a large DIY retailer in the UK. The company's sophisticated digital marketing ecosystem provided data about what was happening on the site but no insights into why customers were behaving as they did. After adjusting its metric expectations, revamping its layout and a round of A/B testing, B&Q was able to double conversions and increase revenue by 110%.
Continuing the Focus on User Intent and Digital Body Language
Clicktale plans to continue placing its resources in user intent data validation as the company's purpose is to help businesses achieve positive outcomes from their efforts. Backed by a team of experts who were specifically hired for their enterprise background, the company is equipped with people dedicated to helping the whole industry define and set new experience-related RTIs.
The Clicktale Experience Cloud and digital body language will also continue to expand as they are huge differentiators for the company. After continued testing and official roll out to get the services into more hands, Clicktale will begin focusing on marketing based on user predictions.
"Think of how much more intelligent search efforts could be if we knew what user intent was," Geoff said.
Advertiser Disclosure
HostingAdvice.com is a free online resource that offers valuable content and comparison services to users. To keep this resource 100% free, we receive compensation from many of the offers listed on the site. Along with key review factors, this compensation may impact how and where products appear across the site (including, for example, the order in which they appear). HostingAdvice.com does not include the entire universe of available offers. Editorial opinions expressed on the site are strictly our own and are not provided, endorsed, or approved by advertisers.
Our Editorial Review Policy
Our site is committed to publishing independent, accurate content guided by strict editorial guidelines. Before articles and reviews are published on our site, they undergo a thorough review process performed by a team of independent editors and subject-matter experts to ensure the content's accuracy, timeliness, and impartiality. Our editorial team is separate and independent of our site's advertisers, and the opinions they express on our site are their own. To read more about our team members and their editorial backgrounds, please visit our site's About page.