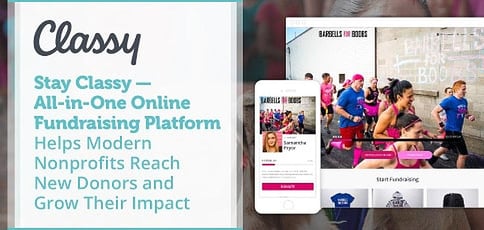 TL;DR: Classy's personable culture derives from a genesis story that includes friendship, charitable giving, and Will Ferrell quotes. Named after a famous line from "Anchorman," the company's fundraising platform helps organizations grow their supporter base and retain donors with optimized branding features, powerful integrations, and comprehensive analytics. CEO and Co-Founder Scot Chisholm chatted with us about the future of fundraising and how the company maintains its grassroots enthusiasm.
When a group of friends, a passion for social causes, and the movie "Anchorman" come together, things get Classy. Scot Chisholm and his friends wanted to raise money for the American Cancer Society in 2006, but none of the usual methods of being a supporter resonated with them.
So the San Diego residents organized an unofficial event called the StayClassy pub crawl, a name they borrowed from Will Ferrell's sign-off in the movie: "Stay classy, San Diego." The event raised $1,000, but Scot said the American Cancer Society wasn't exactly thrilled that they "went rogue," as Scot described it.
"It made us wonder why there's so much friction in the giving process and why it's so difficult for someone to get involved, in the way they want, to support an organization," he said.
From there, Scot and his friends started partnering with local charities to make philanthropy fun and engaging. Eventually, they built an early fundraising platform for a music festival expecting 5,000 attendees. The app allowed people to buy a ticket and set up a personal fundraising page to share on social media.
"It doesn't sound super innovative now, six or seven years later, but at the time it was really remarkable to the nonprofits we were benefitting through the show," Scot said, adding that the organizations asked to continue using the app for their own campaigns — signaling the lightbulb moment when Scot and his friends quit their full-time jobs, rebuilt the platform from scratch, and launched Classy in 2011.
"We had no idea that we were going to turn this into a company someday," Scot said. "It has been super important for us to live by that — to remember this was an organic story, and we were third-party fundraisers ourselves trying to support a cause we cared about."
The Trifecta of Online, Social, and Mobile Fundraising
Classy now supports more than 4,000 nonprofits in the United States, Canada, and Australia, ranging from small, local charities to international organizations, including The Trevor Project, the Salvation Army, Charity Navigator, and Shriners Hospitals for Children.
The platform's all-in-one fundraising suite includes crowdfunding and peer-to-peer campaigns, website donations, custom branding and design capabilities, and integrations with Salesforce, along with event registration, fundraising, and management. Classy prioritizes responsive designs with other mobile-optimized features like text message sharing.
"When we started, about 10% of all traffic across the Classy platform came from mobile devices," Scot said. "Today, it's about 60%."
The emphasis on flexible fundraising methods enables nonprofits to better reach younger generations, according to Scot, while also continuing to serve more traditional donors.
"There's sort of a generational shift that's happening," he said. "Organizations are not only trying to figure out how to make a better experience for someone who came from the offline world that maybe has been doing direct mail for a long time, but also how to nurture and build relationships with the next generation of givers who were practically born with a mobile phone in their hand."
Prioritizing Organizations' Brands to Foster Confidence
To help organizations transition to online fundraising and find success, Classy's platform enables nonprofits to showcase their branding and communicate effectively with supporters — a big step up from design in the dawn of online fundraising, according to Scot.
"The early version of online fundraising was essentially a PayPal form, which is very impersonal and transactional," he said. "Organizations didn't feel comfortable using what's called Online Fundraising 1.0. We've seen how making the platform more personable and putting their brand first helped with their confidence in moving online."
By making the nonprofits — and not the platform — the central focus, Classy gives users total control over their fundraising pages. Scot compared the white-label platform and content management system to user-friendly website builders like Squarespace and Weebly, adding that UX design has been important to the Classy team since the beginning.
"We really elevate them to almost world-class designers from what is usually a really low-resource staff," he said. "We were third-party fundraisers ourselves in the early days, so we built the product we wanted to see. Looking at fundraising from the user's perspective was really fundamental to our success."
Increasing Conversions and Retaining Supporters
Classy's approach to online fundraising seems to be working — organizations generally see a massive jump in conversions, Scot said, adding that some of the larger nonprofits saw rates jump by 20% or more.
With a proven record of attracting new donors, Classy's current focus is retaining those supporters and encouraging long-term donor relationships. Recurring givers have a lifetime value more than five times greater than a one-time donor, Scot explained, but only about 25% to 30% of contributors return regularly.
This subscription-like feature — similar to recurring billing for a product or service — allows supporters to commit to a donation regimen and facilitates more communication between the charity and its patrons.
"It opens up an opportunity for the organization to talk to that donor on a monthly basis and add value, just like you would subscribe to Netflix or another subscription service," Scot said. "There's an expectation that the organization is going to communicate with and update the donor on where their money went and what impact it had, which then strengthens the relationship and keeps the person around."
Social Enterprise is at the Core of Classy's Company Culture
The founders consider Classy to be a social enterprise that isn't just about making a profit. Aside from helping nonprofits be successful, the company frequently promotes clients' causes. The annual Classy Awards recognizes organizations for noteworthy accomplishments — and the charities don't have to be a Classy user to be nominated.
"You can think of it like the Oscars for philanthropy," Scot said. "We're getting thousands of nominations throughout the world from nonprofits who tell us about their programs and how they're solving the world's biggest challenges."
Each year, Classy selects one of the award winners for the company's ClassyGives initiative, where employees run a fundraiser for the chosen organization. Last year, the company raised $130,000 for buildOn to build a school in Nepal and sent 15 people to help with the construction.
Classy also hosts the Collaborative, a conference that convenes social leaders to discuss ideas and technologies advancing the sector. Now in its fifth year, the Collaborative draws thousands of attendees and will take place in Boston from June 12 to 14.
"It's all about driving thought leadership and talking about relevant topics and fundraising and leadership," Scot said. "We like to say we always are thinking of ways we can practice what we preach."