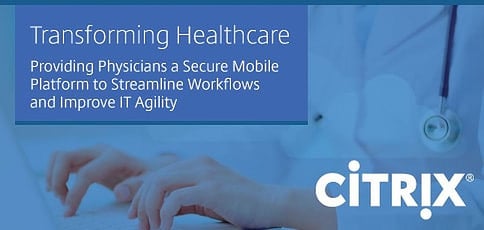 TL; DR: Citrix cloud technologies have proven essential in a number of industries to streamline workflows and securely deliver mission-critical applications to users — and nowhere is this more apparent than in healthcare. Telemedicine means more than just video consults. With Citrix, healthcare providers can easily access patient information and applications, such as electronic health records (EHRs), without leaving sensitive data on endpoint devices. This ensures regulatory compliance for providers and protects patient data from falling into the wrong hands. For Citrix, it's all about empowering providers to deliver virtual care from anywhere to anywhere securely and efficiently.
Dr. Redmond Burke is no stranger to stress. As Chief of Pediatric Cardiac Surgery at Nicklaus Children's Hospital in Miami, he is responsible for the health and well-being of many young lives.
"My babies are the most important thing in my life," Redmond said. "When I prepare to operate, I think of my children lying in bed at home, and I know how much of a life that child could have if he or she lives."
Redmond is dedicated and devotes countless hours to caring for his young patients. However, he can't be present at the hospital indefinitely. When he's away from his post, lives are still at stake, and he needs access to patient information to provide consultations and care remotely. Redmond found a solution with Citrix.
"I don't want to leave my patients unprotected," he said. "Citrix technology allows me to access critical patient information anywhere, anytime, on any web-enabled device."
Citrix operates with the goal to securely deliver mission-critical applications and data to users, and the healthcare industry provides an ideal space to deploy the company's solutions. Through virtualization, Citrix technologies are designed to keep data off endpoints, which is especially important in securing sensitive patient information.
With an accessible, scalable, and secure application and data delivery platform, Citrix is transforming how healthcare providers are interacting with their patients. According to Matt Crawford, Citrix's Director of Healthcare Portfolio Marketing, the company is in the business of creating interoperability between the systems being employed by healthcare practitioners with the aim of streamlining workflows.
"The challenge is found in these disparate systems people are using," Matt said, "and the opportunity for us is to help customers bring those together in a single, secure solution."
Secure Delivery of Apps and Data — and the Vital Tie-In to Healthcare
Matt told us Citrix has been serving the healthcare vertical for almost all of its nearly 30-year history. Because the core of Citrix is focused on the secure delivery of applications and data, the healthcare industry was a natural fit for its products.
"Today, all the major hospital networks use Citrix," Matt said. "We have great relationships with all the electronic health record companies, including Epic, Cerner, Allscripts, among others."
The reason for Citrix's high market share in this area is clear when looking at the functionalities of its products. For Citrix, telemedicine is a use case. Matt noted Citrix doesn't build solutions specifically for telemedicine; however, virtualization and connectivity became necessary as the industry evolved. Providers found Citrix's XenApp and XenDesktop to be ideal solutions to deliver real-time access to applications and data.
"Previously, telemedicine was based solely on video — a doctor needing a consult from another doctor at a remote facility," he said. "Now, it's really not just about connecting with other doctors remotely. It can be video, but it can also be delivery of applications and data."
According to Matt, when it comes to consultative work, the tables have turned. Rather than being centered around doctor-to-doctor communication, telemedicine has shifted to a more patient-driven model.
"The doctor could be at home or looking at the patient information on a mobile device and providing that consult and care," he said. "It's about delivering virtual care from anywhere to anywhere, and it's driven by patient demand."
Most importantly, Matt pointed out, security, accessibility, and scalability are at the center of it all.
A New Era of Healthcare Mobility: Provide Virtual Care From Anywhere
Like most industries, evolving technologies have helped shape how the moving parts of the healthcare space interact and operate. Patient information is now almost always in digital form, which carries both benefits and risks.
The critical applications carrying this patient data need to be readily accessible to providers and secure from threats. This has been the challenge associated with telemedicine. Citrix's solutions have opened up a new era of healthcare mobility that allows providers to deploy its technologies to easily and safely access patient information and applications from any location.
Safeguard Patient Data and Remain HIPAA Compliant from Any Device
It's no secret there are those out there looking to steal personal data, and the healthcare industry has long been an attractive target. Last year, the medical community saw more than 100 major data breaches that exposed more than 13 million patient records. These breaches could be the result of ransomware or something as simple as stealing a laptop from the backseat of a car.
Citrix's virtualization technologies were built to prevent this data falling into the hands of those with malicious intent.
"Healthcare is a natural fit for Citrix because of the way our products are designed to keep data off of endpoints," Matt said. "This is especially important in healthcare with the number of attacks centered around obtaining personal data."
Matt told us healthcare data is especially vulnerable because of the nature of the information it contains. The data is personal and provides an almost complete picture of the individual, which is why there are so many regulatory requirements surrounding it.
"If you're in the manufacturing vertical and your laptop gets stolen, it's an internal problem for the company," Matt said. "But, in the healthcare vertical, it becomes a federal issue. You have to notify the patients. It's a big branding concern for that entity. From a regulatory standpoint, it's a pretty big deal."
According to Matt, that patient data is worth five times more than, say, a financial record. Because of that, healthcare organizations are targeted by ransomware and other threats frequently, which is a huge financial concern for medical organizations.
"We work with our customers to deploy not only our technologies for the EHR but also to extend beyond that into all applications to create a mobile digital workspace," Matt said.
Virtualizing a provider's entire workspace in the cloud removes the risk of losing data stored on endpoint devices. This ensures healthcare providers remain HIPAA compliant and patient data remains safe.
Simplified Access to Patient Electronic Health Records
The security Citrix provides is what makes the mobilization of workflows possible. Matt told us how security and accessibility are two sides of the same coin that come together with Citrix's solution.
"Keeping that patient data off the endpoints but still enabling people to access those applications and that patient data to deliver care is what we're all about," he said. "This is why healthcare, in particular, gravitates toward Citrix technologies."
With Citrix's XenApp, providers can seamlessly access web-based clinical applications, such as EHRs, from any location. But it's not just apps that can be delivered. A full virtual desktop can be deployed that acts as a complete mobile workstation. This gives clinicians real-time, remote access to the information they need to provide care and consults.
Therefore, a surgeon, for example, can log into his or her workstation on a tablet during the commute to work to check a patient's MRI. That same remote access can later be employed to review a patient's post-op status and used for follow-up care.
Scale IT Environments for Enhanced Operational Agility
Citrix doesn't just benefit providers in the healthcare industry. It also allows IT admins to scale and manage large environments from a central location.
"When things are all delivered by Citrix, it's easier for them to all talk to one another in the datacenter, as opposed to them being installed on multiple separate devices where there's much less of a chance of them interacting," Matt said.
With business mergers and acquisitions being common in the healthcare industry, Citrix helps IT become more agile when streamlining systems and managing multi-site tenants.
Citrix's single-image management allows admins to maintain operational continuity through seamless disaster recovery. With Citrix NetScaler, users can access corporate apps hosted in the cloud or on the network to providers in remote locations. Applications can be accelerated, which creates efficient mobile workspaces.
The Future: Skype for Business in a Citrix Wrapper
Citrix's relationship with Microsoft is enabling the company to leverage tools, such as Skype for Business, to help further transform telemedicine. Virtualizing a solution, like Skype for Business, carries the same benefits as delivering EHRs and other applications.
Matt told us when Skype for Business is installed on a local device, certain things can come with it, such as stat logs and file transfers. Patient information can then be housed on that endpoint, which creates security issues.
"A better way is to virtualize Skype for Business itself," Matt said. "When you deliver all that in a Citrix wrapper, it's much more secure and you have better performance. This is emerging today, and we're looking to see more of that over the next few years."
It's forward thinking like this that has allowed Citrix technologies to shine in the healthcare industry. It's also a big reason why providers, like Dr. Burke, are able to monitor and provide care to the most precious of patients from wherever they are.