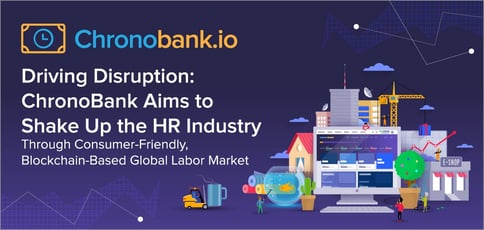 TL; DR: ChronoBank is reimagining the world of human resources and recruiting through a complete blockchain ecosystem. Together, the platform's hiring marketplace, decentralized exchange, multicurrency wallet, and time-based cryptocurrency will help HR managers and candidates interact more efficiently and with less risk. With automatic, inflation-protected payments plus ongoing updates based on customer feedback, ChronoBank is ready to challenge the HR status quo in a major way.
The term "blockchain" is often associated with financial services, and for good reason: The innovative technology has already created seismic shifts in the banking and finance landscape. But blockchain is also sending shockwaves throughout other industries as innovative startups begin to apply the technology in clever new ways.
ChronoBank is one of those startups. Despite its name, the organization is centered on human resources, not banking. Chrono, from the Latinized form of the Greek word Khronos, means "time." And that's what ChronoBank specializes in — helping job seekers and employers save time through the power of blockchain.
Founded in 2016, ChronoBank offers a complete HR ecosystem with a hiring platform, decentralized exchange, multi-signature wallet, and cryptocurrency based on labor hours. The comprehensive blockchain project aims to disrupt recruitment in the same way Uber has revolutionized the taxi industry.
"ChronoBank is committed to making blockchain accessible to everyone with consumer-friendly products and an executive team with years of experience from within the existing Australian HR and recruiting industry," said Florenz Brunner, Community & PR, at ChronoBank.
The decentralized platform facilitates faster, smarter, and safer HR transactions through immutable smart contracts and an automatic, inflation-proof payment system. With the recent release of TimeX, the default exchange in the ChronoBank ecosystem, the organization is one step closer to accomplishing its ultimate mission: To create a fair, sustainable labor system where anyone can trade their most valuable resource — their time.
LaborX: A Peer-to-Peer Marketplace for Decentralized Recruitment
Florenz said the Australian management team behind ChronoBank came together in 2016 with the shared belief that workers should enjoy better work-life balance and be paid based on their skills. Their vision was to make traditional hiring organizations a thing of the past through peer-to-peer marketplace systems for short-term recruitment.
"They believed that blockchain could unlock new employment opportunities that anyone, anywhere can access and get paid promptly and fairly," Florenz said.
ChronoBank kicked off its efforts with a crowdsale intended to raise the funds necessary to launch the platform. From December 2016 until February 2017, the organization collected $5.4 million in a range of cryptocurrencies (however, due to fluctuations in the price of bitcoin and other currencies, this amount was described as "subject to change").
Since then, Florenz said ChronoBank's development, marketing, and management teams have been hard at work building out the blockchain-based HR ecosystem. The result, in its current state, comprises four main products: LaborX, a hiring platform; TimeX, a decentralized exchange; ChronoWallet, a multi-signature wallet; and Labor-Hour Tokens, a unique cryptocurrency.
LaborX, a 24/7 global marketplace currently in Beta, connects companies with potential job candidates while ensuring transactions are processed quickly, securely, and efficiently. The technology introduces revolutionary features such as an immutable reputation system that will save time on background checks; and smart-contract payments that guarantee employees are paid promptly.
Florenz said employers and job seekers in any industry will benefit from LaborX. "What I like most about ChronoBank is that we work to make it as easy as possible for all kinds of people to either search for a job or find someone to join their team," Florenz said. "We facilitate job matching, invoicing, and contract management for all kinds of industries — from warehousing to beauty."
In addition, the decentralized aspect of LaborX's blockchain-based technology allows for the elimination of unnecessary gatekeeping costs. "Traditional job-matching platforms like Upwork or Linkedin charge up to 20% of the employee's earnings," Florenz said. "Through blockchain technology, matching services are completed automatically, so we only charge a flat fee of 1% for every job."
TimeX MVP: The Default Exchange for ChronoBank
In March 2019, Chronobank officially launched TimeX MVP as the default exchange for the platform. Here, traders can exchange the TIME token, an Ethereum-based ERC20 token that will have multiple uses within the ChronoBank economy. The decentralized cryptocurrency exchange enables fast, transparent trading on a peer-to-peer basis, settling trades on the blockchain but matching orders centrally to allow for real-time execution.
TimeX MVP offers a number of improvements over existing centralized exchanges, which Florenz said are fraught with deceptions, security breaches, and hacks due to the fact that they present a single point of failure. By decentralizing the trading experience, the technology provides a transparent trading environment backed by digital assets and enhances security by removing unnecessary middlemen. In addition, users can trade directly from their crypto wallets, which protects them from exchange hacks and fraud.
In the future, ChronoBank will make additional updates to TimeX MVP, which, as its name suggests, has been released in a "Minimum Viable Product" stage. Florenz said further updates will provide additional features intended to leverage the full capabilities of the Ethereum network. And because the company leans heavily on customer input when weighing ongoing development decisions, users are always welcome to submit feedback using the support widget in the bottom right corner of the TimeX MVP website.
"Before we launched TimeX MVP, we had a testing stage where community members previewed the platform and had the option to submit feedback. We received 116 comments," Florenz said. "Every product and every version of our products are tested internally and by members of our community, and all relevant feedback is incorporated into our next update."
A Powerful Cryptocurrency Wallet and Inflation-Protected Payments
TimeX MVP makes it possible for businesses to transfer a salary to employees. Florenz said ChronoBanks facilitates this process through the use of stable coins. "If you pay people in Bitcoin, and the next day Bitcoin goes down 10%, then the salary will go down, too," Florenz said. "We prevent this problem by having our own stable coin, which is at a fixed value backed by the power of the ecosystem."
After the launch of LaborX, token holders will be able to deposit TIME tokens and run a private ChronoBank node on the LaborX sidechain to mine Labor-Hour Tokens. These stable tokens are linked to average hourly wages in the host country and backed by a real labor force from recruitment companies — which ensures employees are rewarded for their work without volatility risk or inflation concerns.
Labor-Hour tokens will be easily accessible through the LH Debit Card, which is part of the plan for a complete ecosystem. Members of the ChronoBank ecosystem will be able to manage all ERC20-standard tokens, including TIME and Labor-Hour, via the ChronoWallet, a secure cryptocurrency wallet that also supports other major cryptocurrencies, including Bitcoin, Litecoin, WAVES, and NEM.
Of course, these technologies will continue to evolve. In the meantime, Florenz said ChronoBank's support staff is on-hand for anyone who needs help. "We already have support for our platforms in MVP state," he said. "Any questions you have, you can address with our support team — we have several people ready and willing to help."