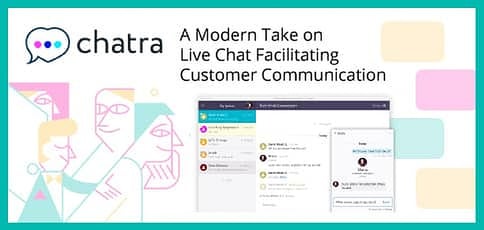 TL; DR: Chatra, a live chat messenger app designed to infuse the most popular elements of mobile messengers into traditional live chat software, is helping small businesses effectively engage with prospective customers. Features like avatars, conversation history, group chat, typing indicators, and more are adding a human touch to a traditionally lackluster process — and boosting sales in the process. With a unified platform for multiple communication channels on the way, Chatra is continuing to serve up modern solutions that provide a fresh twist on communication.
No one enjoys interacting with a faceless company. There are only so many hours in the day, and most of us don't want to spend them hunting down someone who can answer questions about products and services. If we don't find the answers we need, we leave — and the company loses a sale.
What we do value is time spent interacting with our friends and family via our trusty smartphones. The proof is in the numbers: As of April 2017, Facebook Messenger had 1.2 billion monthly active users and counting.
In a world where mobile devices reign supreme, business owners are using a novel approach to keep communication lines with customers open: Take a hassle and make it feel like play. And, with innovations like Chatra — a live chat messenger app that takes its cues from popular services like WhatsApp, Telegram, and Facebook Messenger — they can do just that.
According to Chatra Co-Founder Yaakov Karda, the company was designed to take the tried-and-true aspects of traditional live chat software and combine them with those of modern mobile messengers to create a superior customer engagement process.
"We saw it as an opportunity to build a product that would combine the best of both worlds," Yaakov said. "Our mission was to bring the same convenience and ease of use people are used to in mobile messaging apps to traditional live chat software."
Chatra adds a personal touch to the software through features like avatars, complete conversation records, group chat functionality, and typing indicators. After all, software designed for businesses doesn't have to be boring and stuffy.
A Complete Conversation History Accessible to Customers and Agents
Chatra is an arm of Yaakov's parent company, Roger Wilco, LLC, named after the procedural phrase used in radio communication that translates to "message received; will comply." The name was chosen to reflect the company's history and expertise in effective client communication.
The company was born in 2016 on the heels of Yaakov's original startup, Getwear.com. Though the online custom jeans company ultimately folded, it proved priceless in helping the team realize the value of real-time communication. At the time, Yaakov told us the live chat market was extremely crowded, with at least 20 thriving competitors.
"The fact that we became profitable after one year proved there was demand for what we were doing," he said. "We were able to carve out a piece of the market because of our innovative appeal."
One of the features that helped the company stand out most was its ability to record conversation history. "You can close the wizard and visit again in a year using the same browser, and you'll have your preview conversation right there waiting for you," Yaakov said. "It gives agents and customers the context of the conversation."
Yaakov told us that it didn't take long for competitors to see the value in such features. "In terms of how the market has evolved, the heritage providers are starting to catch up," he said. "They're building the features they were missing."
Of course, that's only encouraged Chatra to add more innovative features. "We do not sit idle," Yaakov said.
Group Chat Functionality, Screensharing, and More for $15 Per Month
One of Facebook Messenger's most beloved features is group messaging — who doesn't enjoy having all of their friends or colleagues conveniently assembled in one place? Research shows that 63% of adults in the US use group chat functionality in messaging apps, with millennials leading the charge.
Yaakov told us group chat could serve an eCommerce strategy for connecting with those shoppers. "This feature really wows customers — people love it," he said. "Customers can talk to a few support agents at once; for example, if a customer has an issue that requires escalation, you can add another person to the chat and solve the problem together."
The company offers three service tiers. A free trial is available for 14 days after signup, during which users can access all of the features included in the paid plan. After that period, a free plan is available that allows one customer service agent at a time to access the system, with paid plan features excluded.
For those who can part with $15 per agent/per month, the paid plan is an ideal option. Billed annually, the service includes as many online agents as you choose to pay for; plus group chats, a real-time visitor list, the ability to preview what a customer types, chat reports, an intelligent pre-chat form, screen sharing, Slack integration, and more.
In addition, Yaakov told us Chatra is open to customizing enterprise plans for businesses with multiple customer service agents. Looking to explore your options? Just send the company a chat message. As you may have guessed, the company's live chat is powered using its own platform.
Increase Conversion Rates and Provide Superior Customer Support
As of the second quarter of 2018, the average conversion rate of online shoppers in the US was just 2.62%. For small businesses, conversion rates can have a massive impact on the bottom line and serve as a reliable indicator of company health.
But companies certainly have the power to improve them. In fact, Yaakov told us that Chatra is often used to help businesses communicate their value propositions. "Basically, we have two use cases: One is when the chat is used for support, and another is when it's used as a tool for sales," he said. "When used for sales, Chatra provides different benefits like generating more leads, contacts, and conversions."
Instant communication with potential buyers helps small businesses take things to a whole new level. When not seated at their desks, Chatra users have the option to access customer inquiries through their mobile phones, making it possible to build relationships on the go.
Features like this have come as a result of the company's appreciation of customer feedback.
"For new feature releases, we mostly go by customer requests," Yaakov said. "Another thing we do is try to have a bird's-eye view of how the market is developing and what the bigger players are doing, and move toward that direction."
Over the last two to three years, the strategy has led Chatra to adopt multiple features and provide a polished user experience. "We want to stay as fresh as we were three years ago — we don't want to ever be an outdated provider," Yaakov said.
In the Works: A New Platform for Multiple Communication Channels
To that end, Yaakov has recently observed an industry shift toward increased market consolidation — and it sparked an idea.
"Instead of people using one product for a help desk, one for a messenger, etc., people tend to prefer using one product that does everything," he said. "We want to become a unified call center for all small to medium-sized businesses."
The company plans to integrate social media functionality into the platform to further streamline customer communication. "You will be able to support communication with your customers from one place, be it Facebook or Twitter," Yaakov said.
The new platform was also built with budgets in mind. It's a well-known fact that business owners often depend on personal savings to fund their start-ups. For those who are strapped for cash, finding the resources to staff a live chat team around the clock isn't always an option. For that reason, the new platform will enable users to chat with their customers both in real time and offline.
"A lot of businesses can't afford to man a live chat," Yaakov said. "We want to make the chat available offline as well so no immediate answer is required."
While the option will certainly help businesses manage staffing costs, it will also provide for a stress-free communication experience. The feature will allow customers to approach support in a casual manner — just like sending a note to a friend through Facebook Messenger. At the end of the day, if your customers see you as a trusted friend, you're in a great spot.