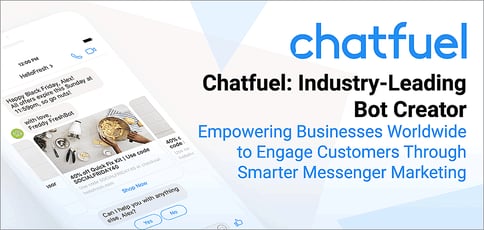 TL; DR: Chatfuel makes it easy for businesses to build Facebook Messenger bots that strengthen audience connections and increase touchpoints for marketing, sales, and customer service. The chatbot creator, which now powers 46% of all bots on Messenger, helps reduce support costs while boosting conversion rates for a higher ROI. With a focus on education-based support and product development founded on customer input, Chatfuel is continuing to help businesses streamline customer interactions.
Lately, the sound of my smartphone ringing makes me uneasy.
Is the person on the other end of the line a phone scammer? A family member with an emergency? Something must be wrong — otherwise, wouldn't the caller just send a text?
I tend to avoid phone calls if possible — and it turns out I'm not alone. According to the Pew Research Center, 33% of adults, including 77% of 18- to 22-year-olds, prefer text over all other communication forms. Texting is also the most used form of communication for American adults younger than 50, according to Gallup.
With mobile messaging apps like Facebook Messenger on the rise, text-based communication is poised to become even more popular. As of September 2017, Facebook Messenger served 1.3 billion active users — a figure projected to reach 2.19 billion this year.
Dmitriy Kachin, Head of Partnerships at Chatfuel, said the trend extends to sales, marketing, and customer service channels. "If the audience a business is trying to reach is most likely to engage in Facebook Messenger, there's no reason to pay someone to communicate with them over the phone," he said. "Today's businesses can use automation to drive value and connect with audiences."
According to Dmitriy, Founders Dmitry Dumik and Artem Ptashnick launched Chatfuel in 2015 to help users build chatbots for the messenger app Telegram. The startup turned to Y Combinator to accelerate funding and quickly grew to support millions of users. "We ended up being one of the largest bot platforms for Telegram, which was a good learning experience," Dmitriy said.
When Facebook Messenger provided Chatfuel with early access to its API, the company used its experience with Telegram to gain a head start on the new market. Today, Chatfuel powers approximately half of the chatbots on Facebook Messenger through an intuitive bot builder that helps reduce customer service costs, boost conversion rates, and strengthen audience connections. With education-based support and ongoing product development based on customer input, Chatfuel is committed to helping businesses engage clients using the technology of today.
Increase Touchpoints for Strengthening Connections with Audiences
Dmitriy said the primary difference between Chatfuel's Telegram product and the platform the company built for Facebook Messenger is the latter's intuitive yet robust user interface.
"Chatfuel has a bit of a learning curve, but once you get into it, it's like operating a word processor; a WYSIWYG, drag-and-drop visual editor of the messages," Dmitriy said. "That functionality, along with the fact that Facebook helped us gain traction by publicizing our bots, sparked tremendous growth."
Today, the Chatfuel user base spans the globe, with a majority of users in North America and Europe, plus additional customers throughout Southeast Asia, South America, Brazil, Africa, the Middle East, Eastern Europe, and Australia.
Dmitriy said Chatfuel continually focuses on ensuring messenger automation delivers maximum value for both customers and end users worldwide.
"The sweet spot for automation is in use cases such as marketing, lead generation, lead qualification, and customer support," he said. "Statistically, we know people are more likely or willing to message a business than to call nowadays, especially in the younger generations."
With Chatfuel, businesses can create bots that engage clients in a tag-team approach combined with human interaction. Dmitriy told us bots are typically responsible for primary outreach via an automated flow overseen by sales or customer service agents, who are available to continue the conversation as needed.
"From the customers' perspective, the business is accessible at their fingertips at any time, with the option to reach a human whenever they want," Dmitriy said. "This creates a positive experience that often leads to higher open rates and better conversions."
Reduce Customer Support Costs While Boosting Conversion Rates
According to Dmitriy, Chatfuel helps businesses increase their advertising ROI by directing clients directly to a chatbot rather than a landing page. "Once the consumer reaches Facebook Messenger, the chatbot can respond to users' text queries and generate responses that can be sent directly to a chatbot administrator," he said. "This can help the business understand what the person is looking for, ask them questions, and really score that lead."
Leeds Beckett, a public university in England, recently used Chatfuel on Clearing Day, an annual opportunity for universities in the UK to offer empty course seats to previously rejected applicants. Instead of conducting the clearing process over the phone, the university used Chatfuel to create "Becky," a bot that guides users through course offers based on qualifying questions and automated responses to frequently asked questions.
"Becky" allowed the admission staff to devote the time they would have spent weeding out qualified applicants to finalizing offer paperwork. The technology allowed the university to nearly double their conversion rates compared to the call-center approach and save money they would otherwise have paid customer service representatives.
"There's a limited capacity to how many calls a human can take in a given amount of time, but bots can perform 24/7, processing countless people simultaneously," Dmitriy said. "This helped the university generate income while cutting costs at the same time."
As a result, the university generated $3.1 million in new enrollments during the one-day campaign.
Product Development Based on Customer Input and Facebook's Evolution
Chatfuel serves companies of all sizes, from SMBs to enterprises with experimental budgets. "We have hundreds of thousands of active bots on our platform; the majority of which are small to midsize businesses," Dmitriy said. "For example, there could be someone building handmade furniture in Mexico who now sells 80% of his stuff through Messenger, whereas before he used to only sell at trade fairs."
The company also helps nonprofits, political organizations, and religious groups increase the number of touch points available for effective outreach. Dmitriy cited an example of a business in the U.K. that provides carpeting solutions to low-income families. "They had a funnel constructed with Facebook ads and Messenger bots behind them, where people would come in, share what they're looking for, and the bots would match them with the type of product that they needed to find," he said.
When it comes to product innovation, Chatfuel employs a data-driven approach based on in-depth conversations with clients. Dmitriy told us the company proactively encourages feedback from different segments of users on a regular basis.
"We ask them to jump on calls with us and so we can really try to understand their needs, how they're using our solution, and how it could help them drive more value," he said. "Some magical things can come out of those conversations, but you have to dig deep and extrapolate solutions through discussions with the product team. It's like the classic Henry Ford quote: 'If I'd asked people what they wanted, they'd have asked for faster horses.'"
In addition to customer feedback, Chatfuel keeps a close eye on Facebook Messenger in terms of updates. "We work closely with them to look at various things that they're doing and ensure those efforts match up with our product road map," Dmitriy said.
Providing Education-Based Support on the Power of Chatbots
When it comes to chatbots, Dmitriy said customer satisfaction is largely an exercise in managing expectations. Bots may supplement human interaction, but they're no self-driving car.
"There's often a misconception where people think, 'We're going to launch a bot and it will take over all of our conversations, and we won't need to do a thing except count our money.'" he said. "The reality is we're not quite there yet."
Through conversations with customers and a comprehensive knowledge base, Chatfuel strives to provide education on what bots can actually do to drive business results, from lead generation and marketing efforts to communication and customer service initiatives.
"In the future, we want to make sure that there's even more of that kind of information out there, so it's easier for people logging into Chatfuel for the first time to really understand what we can do for them," Dmitriy said. "Those are the areas where we now focus most heavily."