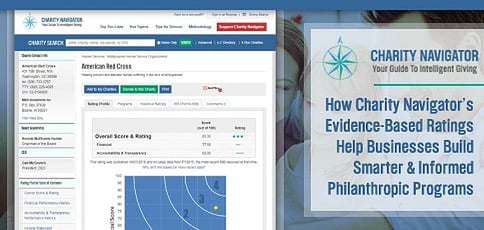 TL; DR: Founded with a mission to make impactful philanthropy easier for businesses and individuals, Charity Navigator has been working to shine a spotlight on organizations worthy of support for nearly two decades. More than 7 million donors consult the site each year seeking guidance on how to best distribute the billions of dollars they donate annually. For startups and businesses following the modern trend of developing robust corporate social responsibility programs, Charity Navigator's evidence-based ratings of more than 8,000 nonprofits present the perfect starting point to incorporate philanthropy into business models. And, with a new strategic initiative to leverage expanded sources of information and innovative technologies, Charity Navigator is positioned to be a go-to resource for those looking to employ smart-giving methodologies well into the foreseeable future.
The tech sector has long been an active player in the philanthropy space. Since 1994, Bill Gates, one of the most recognizable names in the industry, has donated more than $28 billion to charitable causes. While not all CEOs and companies have the expansive resources of Bill Gates and Microsoft, building a robust corporate social responsibility (CSR) model into a business's core mission has become almost imperative in today's socially conscious environment. Companies that are committed to CSR experience average returns 19 times higher than those that have no CSR initiative in place. This is most likely due to the fact that consumers are 60% more likely to buy from a business based on its reputation rather than its products and services.
That's why an increasing number of tech startups and SMBs are beginning life with altruism worked into their philosophies and are laying foundations that place charitable giving front and center. For the businesses and individuals looking to give back, it's essential that their valuable dollars are directed toward vetted organizations and causes that coincide with their missions and are able to most effectively impact change. And, for nearly two decades, Charity Navigator has been providing evidence-based ratings of thousands of charities to ensure donors and their funds are accomplishing their desired goals.
"Before I joined the team, I used Charity Navigator to make some donation decisions about an inheritance after my grandfather passed away," said David Bruce Borenstein, Ph.D. and Charity Navigator's Director of Data Science. "From my experience, Charity Navigator was the only resource I could find as a donor to help figure out what was worth giving to and what wasn't."
David told us that before he found Charity Navigator, the process of finding and vetting effective charities was an overwhelming task. And, as a data scientist, he appreciated the unbiased, numbers-based rating system the site employed to present nonprofits that could best put his donations to use.
"It was an incredibly important resource, punching well above its weight given the small size of the organization in relation to the impact it has on individuals who want to give assistance," he said. "For that reason, I felt that taking a job at Charity Navigator would present me with a great deal of leverage to do good in the world."
Shifts in the Giving Space Call for a Data-Driven Approach to Donating
David told us that the rise of the internet, social media, and new online crowdsourcing fundraising platforms have changed the philanthropic sector. While these new platforms have made it easier than ever to engage the passion of donors or those who've never thought about participating in philanthropy, it has also made it much more difficult to weed out the entities that don't have the resources to most effectively fund or carry out the missions of particular causes.
Though the web introduces an element of agility to the giving space and facilitates donating with just a few clicks of a mouse, it also opens the door for misrepresentation and fraud by malicious parties looking to take advantage of the spirit of altruism. Legitimate nonprofits are regulated by the IRS and must file public tax disclosures via IRS 990 Forms. This obligates these nonprofits to be transparent and prove where their donations are being allocated.
"But, when people attempt to raise funds using the new and largely unregulated online mechanisms, it presents the opportunity for fraud," David said. "And we have heard about alarming cases. For example, after the Orlando shooting tragedy, some rather revolting scams popped up attempting to cash in on it."
Another downside to the shift to social media as a fundraising platform is what David called the virality of fundraising. According to David, this type of fundraising can lead to huge benefits to individual causes, but it can also skew the normal dynamic of how donations flow across different charitable organizations.
One example of this came with the well-known ALS Ice Bucket Challenge. The social media campaign raised vast amounts of money for the ALS Association. However, the organization was then faced with the odd problem of how to use the windfall.
"My grandfather died from ALS, and the ALS Association is a wonderful organization that is working tirelessly to end the disease," David said. "In this case, it didn't have an apparatus in place to immediately put the incoming rush of funds to use."
David told us Charity Navigator had the unique opportunity to follow up with the ALS Association and its chapters directly to learn what steps they had taken to use the unexpected funds and report back to donors on the results of these efforts. The Charity Navigator team published a report titled "ALS Ice Bucket Challenge: 1 Year Anniversary," which details how the more than $100 million raised was distributed to research, patient and community services, education, and further fundraising efforts.
Simplifying the Incorporation of Philanthropy Into Your Business Model
Many of today's tech startups are employing the philanthropic 1/1/1 model made popular by Marc Benioff, CEO of Salesforce. This model helps companies incorporate philanthropy into their core missions at an early stage, encouraging them to donate 1% of their technological resources or products, 1% of their human resources, and 1% of their profits to charitable causes.
Charity Navigator rates charities by specific causes, such as women's issues, famine and drought crises, and refugee placement, to simplify the task of finding a cause close to a business's heart. The site also includes lists of the most followed charities, nonprofits that are rapidly scaling, and organizations with the most consecutive four-star ratings.
So, if your fledgling company is looking to support, say, fostering women's education in the tech sector, you can allocate your donations to some of the top-ranked charities on Charity Navigator such as the American Association of University Women and the Women's Learning Partnership. The four-star rankings of these organizations mean they've been thoroughly vetted and equipped to use your funds to impact change.
David told us Charity Navigator has also developed tools to quite literally incorporate charitable giving into businesses.
"We recently released a new version of our API that allows organizations to integrate Charity Navigator ratings and data into whatever resource seems most appropriate to them," he said. "That can be leveraged to provide additional sources of information to direct charitable giving."
Quantifying How Ratings Impact Charities and Donor Spending Habits
According to David, quantifying the effect a Charity Navigator rating, whether good or bad, has on a nonprofit is very challenging. This is mostly due to the fact that ratings are centered on the donations an organization collects, which is determined by its IRS 990 Form.
Because tax filing is done at different times depending on how an organization has set up its fiscal year, Charity Navigator ratings may not come at the same time an organization submits its tax form. The IRS also processes and publishes these forms the following year, which makes it challenging for Charity Navigator to measure whether increases or decreases of a charity's funding is a result of the site's rating or if the ratings were based on the high funding reports.
"It's difficult to see what came first — what caused what," David said. "The data scientist in me says I don't know. But, looking at this as a donor, it causes me to look closely at some organizations and to skip over others. If that's happening at a larger scale, which I believe it is, it will have a significant effect on an organization's fundraising."
Anecdotally, David told us many of the organizations Charity Navigator rates send feedback on how the site's ratings have affected their fundraising efforts. And, whether positive or negative, these organizations noted Charity Navigator's ratings have impacted donations.
A Continued Aim to Build Tools That Make Nonprofit Data Accessible
For startups, SMBs, or individuals looking to incorporate philanthropy into their business models and lives, Charity Navigator is a great place to begin planning of which charities to support. Going forward, David told us Charity Navigator's team has formed a new strategic initiative to improve the efficiency of the site's ratings process and develop tools to both scale that process and give the public better access to information on charities.
"We've been working very hard to create open-source resources for opening up record data for the general public," he said.
David noted his team is very excited about this direction, as it will present opportunities to crowdsource learning and provide insights into the nonprofit sector and the types of financial disclosures that are made from published tax forms.
"This will bring us breadth in terms of more ratings and depth in terms of richer ratings," David said. "It will make the Charity Navigator product much more powerful and useful for the individuals and companies who are making decisions on where to put their dollars."