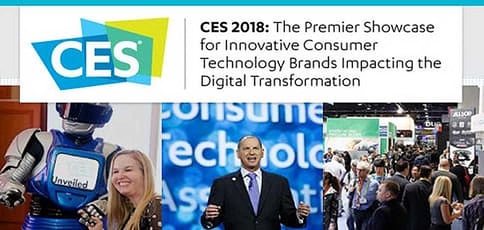 TL; DR: The world's most popular innovation event, CES®, is scheduled for January 9-12, 2018, in Las Vegas. Consumers and professionals alike are eager to catch a glimpse of the new technologies that will shape the consumer lifestyle — and the brands that innovate them. Although exhibitors remain tight-lipped about what to expect, we know CES 2018 will focus on smart cities, feature the Sports Zone, and include a Design & Sourcing showcase for startups. And the return of the popular C-Space Storytellers and Living in Digital Times means brands can explore the rise of AI, robotics, and augmented reality. Retailers can also learn how integral innovative technology is to creating meaningful consumer engagement.
The opportunity to see the technologies of the future holds universal intrigue, especially when those technologies impact the way we live. From home conveniences to smart transportation to revolutionary new ways to engage with brands, media, and personal hobbies, a chance at a sneak peek piques our interest.
Perhaps that's why CES®, now in its 51st year, drew more than 180,000 industry, media, and exhibitor attendees to its 2017 show held in Las Vegas. CES stands out as one of the most popular consumer technology events, bringing together thousands of exhibitors, hundreds of startups, and thought leaders from a wide range of retail industries.
While scheduled exhibitors have been secretive about what they plan to bring to the four-day conference, CES unveiled some events for CES 2018, giving the public a preview of the technologies and products they can expect to see.
"Our exhibitors are super tight-lipped this year, which usually means that big things are to come," said Allison Fried, Director for Global Event Communications for the Consumer Technology Association, the group that owns and produces CES. "We've signed roughly twice as many non-disclosure agreements as we usually do. This year, there's plenty of cool stuff coming down the pipeline, but they're all buttoned up about it until the show."
Last year's 50th-anniversary event, was, as Allison described it, a celebration of technology. "In the last three to four years, we've really seen a focus on technology across all industries presenting at CES," she said. "Obviously, we've seen the automotive world take off, and last year was a great start for smart cities with and Carnival keynoting and announcing its Medallion technology."
And the mystery surrounding what will be unveiled at CES 2018 in January is building anticipation and interest for the most significant consumer technology event of the year.
A Packed Lineup Featuring Sessions, Marketplaces, Events & Awards
CES always delivers an exciting lineup of speakers, sessions, and events during the show, and this year's version is no exception. For the pre-show, Intel will kick things off by speaking to how data and the AI revolution are shaping innovation. Jim Hackett, the new President and CEO of Ford Motor Company, is the keynote speaker for the opening day of CES 2018.
"He's coming in to talk about smart cities, about how self-driving cars will influence that vision of the future, and how Ford hopes to lead the way," Allison said.
The second day will feature Hulu's Randy Freer and Turner's John Martin, who will discuss how content creation merges with technology and innovation. As viewer engagement with multimedia technology becomes more connected and personalized, the entertainment industry — much the same as the retail industry — is in a race to optimize experiences and secure loyalty.
The rest of the conference is packed with more than 200 conference sessions exploring 2018 technology trends, such as VR, AR, IoT, connectivity, smart gadgets, and how these technologies shape consumer preferences.
CES 2018 events include its annual Innovation Awards Showcase, TechHome Mark of Excellence Awards, parties, media events, and competitions like the Shark Tank open call, and Extreme Tech Challenge Competition.
Finally, attendees will interact with the real star of the show — cutting-edge technology. The event sees the return of more than 4,000 exhibitors segmented into 25 unique marketplaces, including the popular Eureka Park for startups and up-and-coming consumer tech innovators.
Focus Areas: Digital Transformation in Cities, Sports & Startups
Attendees can expect to see plenty of returning consumer technologies like drones, self-driving cars, and VR headsets, but they will also see how those innovations apply to the real world.
CES 2018 will have three areas of focus: smart cities, the CES Sports Zone, and a new design and sourcing program for entrepreneurs. These areas are vital to how new technologies will be adopted — and adapted — to benefit consumers.
Smart Cities of the Future
Smart city concepts — such as revolutionizing transportation, energy, and public safety —aren't new to CES, but with global spending on smart cities projected to reach $34.35 billion by 2020, CES is placing greater emphasis on this growing sector.

"There's going to be exhibit space, conference programming, and we're bringing in self-driving cars, mobility, and all the network providers to talk about what the future smart cities will look like," Allison said.
The key sponsor and session speaker for the smart cities lineup is consulting company Deloitte, with support from Ericsson and Itron, ITS America, and the Smart Cities Council.
Sports Zone: How Technology is Transforming the Business of Sports
A new focus area known as the CES Sports Zone, in partnership with Turner Sports, makes its debut at CES 2018. The event has featured plenty of sports technology — related to personal fitness and wearables — but the Sports Zone will focus more on how technology advances the business of sports.

It will address everything from tracking athlete data analytics to creating smart, connected venues to covering how business partnerships can enhance capabilities.
Two-time NBA all-star Baron Davis will be this year's CES ambassador. In addition to sessions and exhibits, Turner Sports will showcase the e-sports content and live tournament brand ELEAGUE.
New Design & Source Marketplace For Entrepreneurs
CES has seen a steady increase in the number of its Eureka Parks startups over the last five years. Last year's edition saw 600 participants, while 800 will exhibit this year. The event's featured startups have found more than $1.5 billion in funding, and the new Design & Source showcase was created to help entrepreneurs develop their ideas from concept to reality and help bring to market..

At Design & Source, startups connect with more than 700 product design, sourcing, and sustainable packaging companies that can help fine-tune products that will appeal to today's consumers.
"And there's going to be conference programming to talk through creative ways to get to market, how to cut through the clutter, and help exhibitors go from ground zero to launching into the market," Allison said.
C-Space & Digital Living: The Impact of AI on Marketers & Retailers
As keynotes from Turner and Hulu executives touch on in Reimagining Television, there's an evolving dynamic between content, technology, and innovation that's impacting not only large media companies but also brand marketers and retailers. It's important for industries to come together to address challenges as the channels through which consumers engage with brands become increasingly connected.
CES leadership realized they had a large group of attendees from the content world after conducting a post-show audit in 2014.
"They were all there having meetings, but there wasn't an actual home base for them. So, we decided to give them a place to meet," Allison said.
C-Space, now in its fourth year, is hosted in the upscale Aria hotel (part of CES Tech South), it's off the main exhibit floors and provides a dedicated space for content creators from various industries to discuss how the digital transformation is impacting the way they connect with their audiences. "The program has such a creative and exciting vibe to it," Allison said.
At CES 2016, C-Space expanded to include C-Space Storytellers, sessions in which creative thinkers and brand leaders offer insights from their own challenges and successes. "Last year, Live Nation talked about how they're using VR with their concerts now," Allison said. This year's lineup includes Fidji Simo, VP of Product for Video at Facebook, Google America CEO Allan Thygesen, and leaders from IBM, Knotch, and TWBA/Worldwide.
The much-anticipated program track designed by Living in Digital Times also returns for 2018. The lineup of events, exhibits, and sessions gives retailers insight into how technology trends impact the consumer's daily life. "This year, they're breaking it into three areas: brick-and-mortar stores, big data, and AI and the future of retail," Allison said.
Living in Digital Times is a pivotal focus for retailers attending the show, especially those in health, fitness, home, and family-focused marketplaces. It includes informative summits and forums for various consumer product divisions, awards including Young Innovators to Watch, competitions like Last Gadget Standing.
Unveiled: A Hint at What Retailers Can Expect at CES 2018
CES Unveiled offers sneak peeks into the technology and products retailers are working on, even though most exhibitors seem to be saving exciting innovations for a big reveal at the Las Vegas show in January.
"I just came from three different Unveiled events, and there's some really fun stuff coming out in the way of robotics. People using them as personal assistants and companions, and something I never imagined: a robot that catches moments on video or camera for you," Allison said. "At our event in New York, I also saw a remote control suitcase you can pack and then ride."
Although limited in what she could share, Allison said to be on the lookout for more in the way of AI — especially for the home and everyday life. "On a larger scale, I would say AI, robotics, and augmented reality. I would name those as bucket areas," she said. "I think we're going to see some neat use cases, especially in retail — such as having a mobile device be able to help you shop what's in-store."
But, for the biggest tech announcements, attendees will have to wait. They can witness how technologies continue to take shape and which brands are leading the way in digital transformation at the world's hottest consumer technology event — CES 2018.