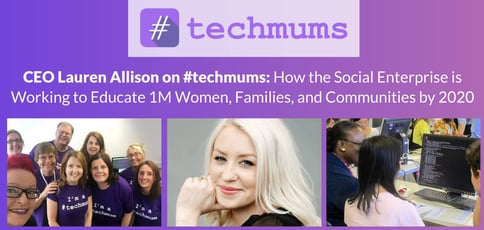 TL; DR: #techmums provides opportunities for women to contribute to the UK's digital revolution through workshops and confidence-building online support. Those of all skill levels can join to soak in everything from basic computer knowledge to online security and app design. Schools, businesses, and other supporters can get involved to help #techmums achieve its goal of reaching 1 million women, their families, and communities by the end of 2020.
Sue Black was 12 when her mother died of a brain hemorrhage. She was 16 when she left school, and 20 when she got married. And by the age of 25, she found herself in a women's shelter with three children — but no job and few qualifications — after fleeing a violent marriage.
But she persisted, enrolling in a year-long math course at a local college that eventually led to a four-year degree in computing from London South Bank University. She secured her place for a Ph.D. and full-time lectureship.
In 2008, Sue started a successful campaign to save England's Bletchley Park, the central site for vital codebreaking efforts during World War II, from shutdown due to a lack of funding. But that wasn't her only legacy.
In 2018, Sue found a way to help other mothers with similar backgrounds as hers by relaunching #techmums, a social enterprise initially founded in 2012 to give women the skills and confidence to participate in the UK's digital revolution.
"She is an incredible woman," said Lauren Allison, who recently joined #techmums as the company's first CEO. "Her whole aim with techmums is to ignite potential in mothers, their families, and wider society, so they feel more familiar, confident, and even excited about the use of technology in their personal and professional lives."
The organization views mothers as skill multipliers. "If you ignite potential in a mother, that helps with a child's homework, with her partner, her wider family, parents, etc.," Lauren said. "In this way, we believe mothers are the key to addressing the skills gap we currently face."
Teaching Key Tech Skills While Building Confidence
In July, #techmums completed new research demonstrating how digital exclusion affects the lives of mothers across the UK. As our society becomes increasingly digitized, mothers who do not possess basic digital skills are facing dire impacts. "While we weren't surprised to see some of the statistics, they were still desperately upsetting, especially in terms of things like effects on mental health and feelings of inability to keep children safe online," Lauren said.
#techmums is helping buck these trends by providing opportunities for women to be part of the UK's digital revolution via in-person workshops, "club" sessions, and confidence-building online support. The organization teaches crucial technology skills through free programs that require no prior IT experience and is both dynamic and engaging.
"When I founded #techmums, I did it with one aim: to empower women through technology," Sue stated in a quote on the #techmums website. "As a single mum, I brought my own family out of poverty through tech education, so I know its power first hand. Our courses help women harness that potential in their own lives, giving them the confidence, skills, and inspiration to play an active role in our shared digital future."
According to Lauren, evaluations of the organization's programming demonstrate that #techmum graduates experience increased confidence in both their ability to use technology and their self confidence.
From Basic IT Know-How to Online Safety and App Design
The #techmums curriculum was designed to introduce attendees to a spectrum of technological opportunities while building confidence, knowledge, and employability.
The series of courses begins with the basics, demystifying the definition of tech itself before moving into safety considerations, including password best practices, setting up child controls, and protecting your family from common online threats.
The courses then show attendees how to make technology work for them with a review of skills such as setting up a family calendar, creating a blog, connecting with others via social media, or setting up a LinkedIn profile. The program also covers online shopping via sites like Etsy and Shopify.
High-level topics, including the basics of app design, website design, and coding, round out the curriculum.
"It's pretty comprehensive, but at the same time, it's designed to provide a taste of a wide range of topics," Lauren said. "We don't cater to one specific type of mum or ask that everyone become a coder — that's not our aim. We strive to ignite whatever potential a mother sees in herself."
Lauren said that one mother with a school uniform business came to class in her second week and announced that #techmums had changed her life. After learning how to attach photographs to emails, she no longer had to send her son across London to share uniform samples. "That radically changed her business and the way she invests her time," she said.
Get Involved as a School, Supporter, or Business
#techmums leans heavily on support from schools, businesses, and corporate sponsors to further its mission to nurture and connect tech-savvy mothers. In February 2018, a partnership with Facebook enabled the group to launch #techmumsTV, a series of live, hour-long shows focused on staying safe, managing your finances, finding a job, finding your voice, and buying and selling via the power of the internet. The programs, broadcast publicly from the #techmums Facebook page, also featured the stories of inspiring young mothers who used technology to break down barriers in their lives.
The organization also joined forces with Capital One UK to host a panel discussion on digital exclusion among mothers. The July event, held in London, featured the real-life experiences mothers and featured independent research funded by Capital One UK, which is supporting #techmums to raise awareness of the need for greater digital inclusion, particularly for people from underprivileged communities. "We are grateful for corporate sponsorships from organizations that help support the #techmums vision and values," Lauren said.
Other groups and individuals volunteer their space, hardware, or expertise to facilitate local #techmumsClubs.
"We always say that it's not about knowing every inch of the material," Lauren said. "Our programs are designed to connect people through conversation. It shouldn't be a teacher-student atmosphere — a lot of the mums left school because they don't like that structure. We want to make this fun, not a burden."
To expand reach to an even greater number of mothers, Lauren said #techmums is planning to host a free online course. Remote learning could open up a world of opportunities for women with young children who can't afford childcare.
Building Up the #techmums Network Ahead of 2020
If the secret to success is aiming high, #techmums has a bright future ahead. The organization has set an impressive goal: to reach 1 million new tech members by the end of 2020. To make it happen, Lauren told us #techmums will employ different forms of outreach, whether through online shows or in-person events.
The organization is also seeking additional funding and volunteer participation to fuel its efforts.
"We're also looking for individual volunteers that could share how technology has made a difference in their lives and possibly facilitate a club in their home town," Lauren said. "It would be amazing to build our network that way, as well."